Photo Flash: KISS ME KATE at the Broadhollow Theatre Company
Passions run high both onstage and offstage in Cole Porter's classic jazz musical "Kiss Me Kate," now playing at Broadhollow Theatre Company's Bayway Arts Center, soon moving to the Broadhollow Theatre in Elmont. It's the late 1940s in Baltimore, and leading lady of the stage and silver screen Lilli Vanessi battles it out with her ex-husband, actor, director, and producer FrEd Graham, in a tryout production of William Shakespeare's "The Taming of the Shrew." Sparks fly between the former flames, especially when young up-and-comers Lois Lane and Bill Calhoun get the entire company entangled with a $10,000 IOU debt pursued by two madcap mobsters. With romance, comedy, sophistication, and behind-the-scenes hijinks, "Kiss Me Kate" is an enduring crowd-pleaser, combining the irreverent humor of two brilliant writers: William Shakespeare and Cole Porter.
"Kiss Me Kate" finishes its run at the Bayway Arts Center in East Islip Saturday, 10/21/17 at 8 pm, and Sunday, 10/22/17, at 2:30 pm. The show resumes its run in the Elmont Theatre, running 10/28/17 until 11/12/17.
For tickets, call the box office at 631-581-2700.
Directed by Matt Stashin; choreography by Tommie Gibbons; musical direction by Liz DeGennaro; costumes by Joe Kassner; set design by Bob Butterley; lighting design by Raj Budhram; stage management: Allegra Mattel and Mia Sessa; fight choreography by Sinead Atkinson.
The cast features: Michael Mandato (Fred/Petruchio); Emily Nadler (Lilli/Katherine); Sinead Atkinson (Lois/Bianca); Kevin Burns (Bill/Lucentio); Bob O'Neill (Man 1); Scott Hofer (Man 2); Stephanie Shrader (Hattie); BRyan Bowie (Paul); Danny Schinina (Gremio); Anthony Pizzuti (Hortensio); Tony Davino (Harry/Baptista); Robert Gold (Ralph); Mike Cesarano (GenerAl Harrison Howell); Mairead Atkinson (Dance Captain); Edward Martinez (Ensemble/featured dancer); Samantha Free (ensemble/featured vocalist); and Gary Tifield (Man 1/Man 2 Swing).


Sinead Atkinson and Kevin Burns as Lois Lane and Bill Calhoun in Kiss Me Kate at the Broadhollow Theatre Company Photo credit: Bruce Gotlieb

The company of Kiss Me Kate at the Broadhollow Theatre Company Photo credit: Raj Budhram

Emily Nadler as Lilli Vanessi in Kiss Me Kate at the Broadhollow Theatre Company Photo credit: Raj Budhram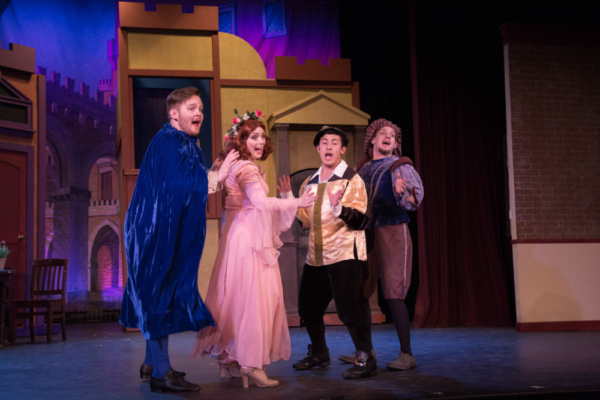 Kevin Burns, Sinead Atkinson, Danny Schinina, and Anthony Pizzuti as Lucentio, Bianca, Gremio, and Hortensio in Kiss Me Kate at the Broadhollow Theatre Company Photo credit: Raj Budhram

Samantha Free, Stephanie Shrader, Mairead Atkinson, and Emily Nadler in Kiss Me Kate at the Broadhollow Theatre Company Photo credit: Raj Budhram

Michael Mandato and Emily Nadler as Petruchio and Katherine in Kiss Me Kate at the Broadhollow Theatre Company Photo credit: Raj Budhram

Michael Mandato (Petruchio), Scott Hofer (Man 2), Emily Nadler (Katherine), and Bob O'Neill (Man 1) in Kiss Me Kate at the Broadhollow Theatre Company Photo credit: Raj Budhram

Anthony Pizzuti, BRyan Bowie (Paul), and Edward Martinez in Kiss Me Kate at the Broadhollow Theatre Company Photo credit: Raj Budhram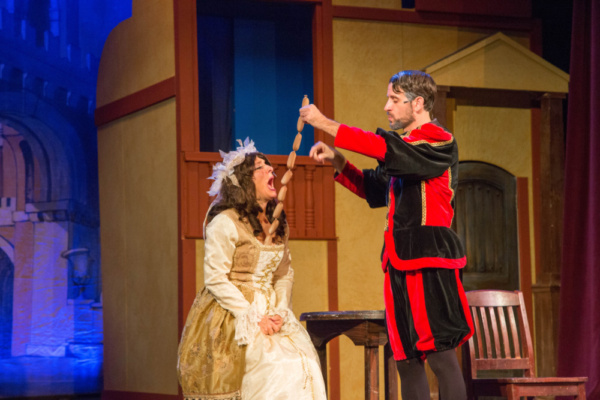 Emily Nadler (Katherine) and Michael Mandato (Petruchio) in Kiss Me Kate at the Broadhollow Theatre Company Photo credit: Raj Budhram

Scott Hofer (Man 2) and Bob O'Neill (Man 1) in Kiss Me Kate at the Broadhollow Theatre Company Photo credit: Raj Budhram