Larry 'Ratso' Sloman Latest Guest On SOUNDS OF FILM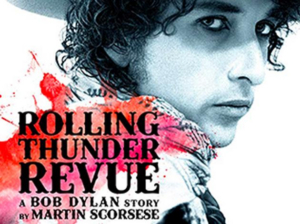 Larry "Ratso" Sloman, who is featured prominently in Netflix's ROLLING THUNDER REVUE: A Bob Dylan STORY BY Martin Scorsese, is Tom Needham's exclusive guest this Thursday at 6 pmon WUSB's THE SOUNDS OF FILM. This critically acclaimed documentary is about the Rolling Thunder Revue, the legendary 1975 tour that reunited Bob Dylan with Joan Baez, Rambling Jack Elliot and Roger McGuinn.
"Ratso" is most well-known as Howard Stern's collaborator on what were then the two fastest selling books in publishing history, PRIVATE PARTS and MISS AMERICA. He has written over ten successful books including ones about Bob Dylan, Mike Tyson, Peter Criss, Houdini and Red Hot Chili Pepper lead singer Anthony Kiedis.
Over the years, he has collaborated with rock stars Rick Derringer and John Cale on over 30 songs. Recently, Larry "Ratso" Sloman released his first album, STUBBORN HEART. The first single, "Our Lady of Light" is a duet with Ratso's good friend, Nick Cave.
This Thursday's SOUNDS OF FILM will feature a good amount music from ROLLING THUNDER REVUE: A Bob Dylan STORY BY Martin Scorsese and Larry "Ratso" Sloman's STUBBORN HEART.
TOM NEEDHAM'S THE SOUNDS OF FILM is the nation's longest running film and music themed radio show. For the past 30 years, the program has delivered a popular mix of interviews and music to listeners all over Long Island, parts of Connecticut and streaming live worldwide on the internet at wusb.fm. Past people interviewed for the show include Warren Ellis, Billy Joel, Laurie Anderson, Cheech & Chong, Jim Breuer, Alec Baldwin, Carter Burwell, Marco Beltrami, writer Chris Hedges, Alexander Payne and Public Enemy's Chuck D.
More Hot Stories For You