Bay Street Theater Announces Special 4th Mainstage Production CONFESSIONS OF A MORMON BOY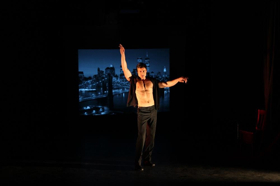 Bay Street Theater is pleased to announce Confessions of a Mormon Boy as a special Mainstage Season bonus production this summer, written and performed by Outer Critics Circle Award Nominee Steven Fales and directed by Bay Street Theater's Artistic Director, Scott Schwartz. The one-man play will have five showings only from July 17 - July 22 and is Part 1 in Fales' new Mormon Boy Trilogy. Performances will be held on Tuesday, July 17 at 7 pm; Thursday, July 19 at 5 pm for a special Twilight Performance; Friday, July 20 at 8 pm; Saturday, July 21 at 5 pm for a second Twilight Performance; and Sunday, July 22 at 2 pm. Tickets are available now as an add-on to any 2018 Subscription for only $39.99 each by calling the Box Office at 631-725-9500. Single tickets are also on sale through the Bay Street Box Office or website baystreet.org.
Ahead of its time for its "unflinching honesty" (Salt Lake Tribune) and "astonishing generosity of spirit" (Boston Globe), Confessions of a Mormon Boy has become a national and international one-man sensation: "Ranks beside the best of the solo genre" (Los Angeles Times), "As moving as it is funny" (NY Daily News), "Epic and powerful" (Washington Post), "Staying away would be a mistake" (
Chris Jones
, Chicago Tribune), "A triumph" (Newsday).
In this true story of extremes-from perfect model Mormon in Utah to perfect rent boy in Manhattan-outcast and insider's insider Steven Fales ultimately finds a middle ground and learns what it means to finally come home. After conversion therapy, excommunication, divorce, prostitution and drugs, an exiled sixth-generation Latter Gay Saint reclaims his kids and Donny Osmond smile. This extraordinary, life-affirming journey to hell and back is told with humor, song, and The Book of Mormon. Now Part One in Mormon Boy Trilogy and updated since its original highly successful 2006 Off Broadway run at the SoHo Playhouse. Bay Street Theater's production of Confessions of a Mormon Boy will feature a compelling, never-before-seen rendition of the script.
The summer run of Confessions of a Mormon Boy will be followed by free readings of the other two plays in Mormon Boy Trilogy which are called Mission Statement and Prodigal Dad. Exact times and locations to be announced soon. This development production and process will give the Bay Streetaudience an exclusive, advanced look at these three interconnected but stand-alone solo plays that will open in repertory Off-Broadway in the winter of 2019 as a special solo performance event executive produced by
Joe Watson
and
Richard Frankel
, who are also general managing the project with FGTM (
Frankel Green Theatrical
Management).
From Los Angeles to London, Houston to Halifax, Salt Lake to SoHo, actor/writer/producer Steven Fales has been performing his award-winning solo work for over a decade at venues ranging from church sanctuaries to comedy clubs; fringe festivals to historic movie houses; coffee shops to cabaret rooms; gay resorts to regional theatres; universities to concert halls. Whether doing standup at Caroline's On Broadway, cabaret at Joe's Pub, or solo plays at the Coconut Grove Playhouse, Charing Cross Theatre in the West End, the Edinburgh Fringe Festival, or off Broadway at the SoHo Playhouse or the Mitzi Newhouse Theatre at Lincoln Center, Steven has been honing his craft wherever he can-often receiving awards like the Oscar Wilde Award nomination for Outstanding New Writing for the Theatre at the International Dublin Gay Theatre Festival and an Overall Excellence Award at the New York International Fringe Festival.
Before specializing in solo performance, Steven worked extensively as an actor in classic plays and musicals in regional theatres including the Utah Shakespeare Festival, Pioneer Theatre Co., Stages St. Louis, Sundance Summer Theatre, Connecticut Repertory Theatre, among others, and in commercials, film, and television including the CBS mini-series Perfect Murder, Perfect Town. His first union job (AEA) was playing Hap in Death of a Salesman at New Harmony Theatre with Gil Rodgers and Jacqueline Brooks. He worked closely with Broadway director/producer Louis Burke at the short-lived Stratford Shakespeare Festival Theatre (formerly the American Shakespeare Theatre) where he performed with Elaine Stritch, Len Cariou, Douglas Sills, and others.
His first book, Confessions of a Mormon Boy: Behind the Scenes of the Off Broadway Hit, was a Lambda Literary Award Finalist. He is currently expanding his Mormon Boy Trilogy into a book called Oxy-Mormon Memoirs. In addition to his solo work, he has several plays and musicals in various stages of development.
Steven attended the Boston Conservatory as a freshman on scholarship. After completing a two-year mission to Portugal for the LDS Church, he transferred to BYU where he earned his BFA in music/dance/theatre. He received his MFA in acting from the University of Connecticut and later trained at the American Comedy Institute. He has continued to study acting privately and in group classes with
Larry Moss
.
Steven was born in Provo, Utah while his parents were attending Brigham Young University. He is a sixth-generation Mormon formally excommunicated from the LDS Church for "the practice of homosexuality." He has two grown children from a previous marriage to actor/writer/producer Emily Pearson, daughter of legendary Mormon poet/playwright Carol Lynn Pearson.
Director
Scott Schwartz
is an internationally known artist whose work has been seen on and Off Broadway, across the United States, in Great Britain, Europe and Asia. Currently, his production of Disney's The Hunchback of Notre Dame is running in both Japan and Germany and his world premiere stage production of DreamWorks The Prince of Egypt just opened in Denmark. He is the Artistic Director of
Bay Street Theater
in Sag Harbor, NY. For over twenty years, he has built a reputation for pursuing and embracing a wide range of works for the stage, from new plays to classics to musicals and opera. Schwartz directed Golda's Balcony,
William Gibson
's one-woman play about
Golda Meir
, starring
Tovah Feldshuh
(Best Actress,
Lucille Lortel
Award; Best Solo Performance, Drama Desk Awards), which enjoyed a successful run at off-Broadway's
Manhattan Ensemble Theatre
. Golda's Balcony transferred to Broadway's
Helen Hayes
Theatre where it went on to become the longest-running one-woman show in Broadway history. He also directed London, Los Angeles and San Francisco productions of the play with Ms. Feldshuh, and a national tour starring
Valerie Harper
.
Schwartz directed the hit Off Broadway musicals Bat Boy: The Musical at the Union Square Theatre (2001 Drama Desk Award Nomination, Outstanding Director of a Musical, 2001 Outer Critics Circle Award and Lucille Lortel Award - Best Off-Broadway Musical), Jonathan Larson's tick, tick...Boom! at the Jane Street Theatre (2002 Drama Desk Award Nomination, Outstanding Director of a Musical), Murder For Two at Second Stage Uptown and subsequently at New World Stages, and Rooms: A Rock Romance also at New World Stages.
Schwartz made his Broadway debut as co-director (with John Caird) of the new musical Jane Eyre which played the Brooks Atkinson Theatre and made his off-Broadway debut at age twenty-three with his production of No Way To Treat A Lady for the York Theatre.
He has directed for major regional theatres including the Ahmanson,
Alley Theatre
,
ALLIANCE THEATRE
,
Arizona Theatre Company
, Asolo Rep, Berkshire Theatre Festival,
Cleveland Playhouse
, Colorado Shakespeare Festival,
Dallas Theater Center
, Denver Center Theatre Company, 5th Aveneue, Geva,
Goodspeed Opera House
,
La Jolla Playhouse
, North Shore Music Theatre, Old Globe,
Paper Mill Playhouse
, Prince Theatre,
Pasadena Playhouse
, Rubicon, San Jose Rep,
Signature Theatre
, Studio Arena, TheatreWorks, Virginia Stage Company,
Westport Country Playhouse
, and others.
Other notable credits include: The US Premiere of The Hunchback of Notre Dame at La Jolla Playhouse and Paper Mill Playhouse, the first hald of the World Premiere of The Prince of Egypt at TheatreWorks Silicon Valley, the World Premiere of Conviction at Bay Street Theater starring Sarah Paulson and Garret Dillahunt, Shakespeare's Othello and Much Ado About Nothing and the World Premiere of Theresa Rebeck's What We're Up Against for The Alley Theatre in Houston; and many others. He is a graduate of Harvard University and a member of the Stage Directors and Choreographers Society.
For more information or to purchase tickets, log on to
www.baystreet.org
or call the Box Office at 631-725-9500, Tuesday - Saturday 11 am - 5 pm.
Bay Street Theater & Sag Harbor Center for the Arts is a year-round, not-for-profit professional theater and community cultural center which endeavors to innovate, educate, and entertain a diverse community through the practice of the performing arts. We serve as a social and cultural gathering place, an educational resource, and a home for a community of artists.
Photo Credit: Dave White