Review: SATURDAY NIGHT FEVER THE MUSICAL at John W. Engeman Theater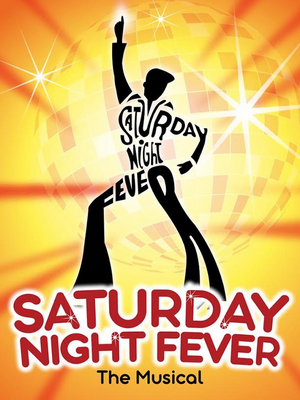 Put on your bell-bottoms and hustle your way down to the Engeman Theater where "Saturday Night Fever The Musical" is electrifying groupies and keeping disco alive! The stage musical based on the 1977 movie starring John Travolta is an entrancing blast from the past and a blissful trip in a radical time machine.
Right where we left him, Tony Manero is still working in the paint store by day and has dance fever by night. His brother the priest stole the limelight at home and dancing is Tony's love and passion, besides his hair. Michael Notardonato is our big star here and he is an outstanding Tony. In true Travolta fashion, Notardonato roped us in with his looks and moves from the very beginning and had us rooting for him the whole way. Whether putting on his boogie shoes or igniting a disco inferno, Notardonato carries the production on his theatrical shoulders and dazzles us from start to finish.
Poor Anette, played by a charming Andrea Dotto, wants Tony bad but he's got his eyes set on the prize for best dancer and a Brooklyn born dancer/do-gooder Stephanie played by knockout Missy Dowse. Both Dotto and Dowse shake and shimmy their way into Tony's heart and light up the dance floor every chance they get. Kudos to Stephanie for wanting to better herself yet our heart always went out for Anette!
Tony's four main confidants and thugs are in terrific form. Matthew Boyd Snyder, Christopher Robert Hanford, Steven Dean Moore, and Casey Shane are all top notch performers with snappy moves and spirited voices. Look out for Mr. Snyder's brilliant falsetto! Other major standouts include Gabriella Mancuso as Candy, Colin E. Liander in a multitude of roles, and a talented ensemble chock full of young stars and starlets.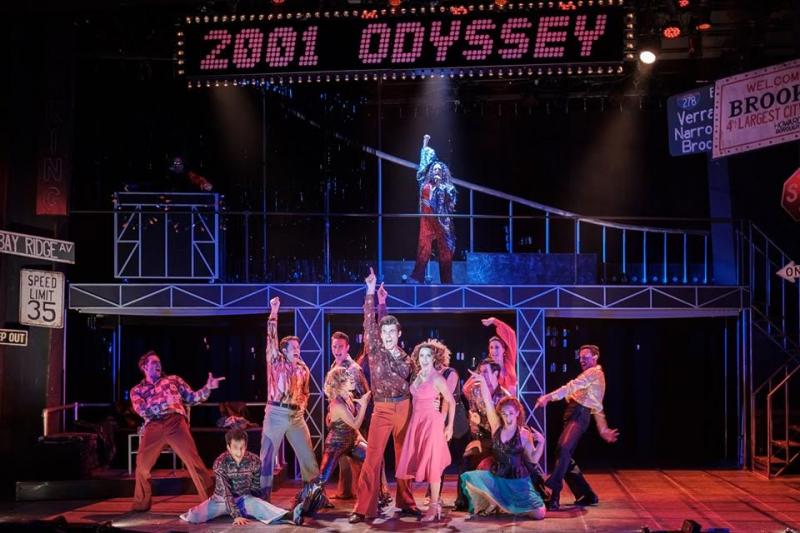 The retro choreography created by Breton Tyner-Bryan keeps the show soaring above the 70's clouds along with the best of The Bee Gees song catalog performed by a swinging band led by Chris Rayis. Director Richard Dolce did a fine job essaying this cult musical to the Long Island stage.
When "Saturday Night Fever" the movie opened, fans flocked to it making it one of the most successful movie musicals in history. This groovy stage adaptation does not disappoint and for those of us old enough to have seen the movie about a hundred times, there's certainly no harm in revisiting an old classic and gazing back into the disco ball now and again.
---
Staring: Kelsey Andres, Ashley Brooke, Andrea Dotto, Missy Dowse, Audrey Federici, Christopher Robert Hanford, James LaRosa, Colin E. Liander, Gabriella Mancuso, Nick Monaldo, Steven Dean Moore, Lane Northcutt, Michael Notardonato, Melissa Perry, Abby Prem, Yael Reich, Casey Shane, Matthew Boyd Snyder, Sheldon Steele, Daniella Tamasi, Eduardo Uribe
Stage adaptation by Nan Knighton, in collaboration with Arlene Phillips, Paul Nicholas and Robert Stigwood. Featuring songs from The Bee Gees. Scenic and Costume Design by Michael Bottari and Ronald Case. Costume Coordinator Amanda Lee, Lighting Design John Burkland, Sound Design Ethan Carleton, Wig Design Kurt Alger, Props Design Kristie Moschetta, Casting Director Wojcik/Seay Casting, Production Stage Manager Leila Scandar, Music Director Chris Rayis, Associate Choreographer Emily Ulrich, Choreographed by Breton Tyner-Bryan and Directed by Richard Dolce.
For more information and tickets please visit the box office at the John W. Engeman Theater in Northport or call: 631-261-2900 or visit: www.engemantheater.com