The Wolves Begins at TheatreSquared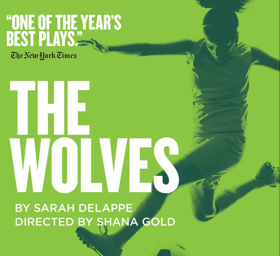 A 2017 finalist for the Pulitzer Prize for Drama, Sarah DeLappe's critically acclaimed new play, The Wolves, takes the stage February 27 in Northwest Arkansas. A "smart, hilarious, delightful meditation on society, sex and soccer" (The Village Voice), The Wolves is "an incandescent portrait" of nine American teens (NY Times-Critics' Pick). Performances are scheduled February 27-March 2, and tickets are on sale now from $17-$48 at (479) 443-5600 or theatre2.org.
A girls indoor soccer team warms up. From the safety of their suburban stretch circle, the team navigates big questions and wages tiny battles with all the vim and vigor of a pack of adolescent warriors. The Wolves is a snapshot of life, liberty, and the pursuit of happiness for nine American girls who just want to score some goals.
"It's so exciting to see these nine young, amazing, complicated women share a space," said director Shana Gold. "On this turf, they're battling as individuals and as a pack, even as they forge the kind of bond that lasts a lifetime. In the face of all the clashing pressures put on young women, it's cathartic, hopeful and empowering when they come together to cheer, 'We are the Wolves!'"
Director Shana Gold returns to T2, where her previous credits include The Humans, Intimate Apparel, Rapture Blister Burn, Reasons to be Pretty, 4000 Miles, Proof and Underneath The Lintel, as well as Uncle and Transatlantic for the Arkansas New Play Festival. Her Off-Broadway and world premiere credits include Food and Fadwa (New York Theatre Workshop/Noor Theatre); Goldor & Mythyka: A Hero is Born (New Georges); andIn the Crossing (The Culture Project). Her regional credits include Hkeelee, Talk To Me (Arena Stage/Mosaic Theatre); The Storyteller, (Kennedy Center); Detroit (TheatreWorks); Circumference of a Squirrel by John Walch (Zach Scott Theatre Center) and Foot (NYU-Abu Dhabi's Voices Festival). Her work in new play development has been seen at Manhattan Theatre Club's Sloane Series, Lincoln Center Director's Lab, Soho Rep's Writer/Director Lab, and The Public Theatre's New Work Now, among others.
The ensemble cast of The Wolves includes Alex Dauphin, Angel Tian Lin, Annie Munch, Lily Talevski, Jonny Schremmer, Brenann Stacker, Isabel Thompson, Emily Tomlinson, Dyllan Rodrigues-Miller, and Madi Watkins (Miss Bennett).
The creative team for The Wolves includes scenic designer Kim Powers, lighting designer Jacquelyn Cox, costume designer Ruby Kemph, sound designer Sinan Zafar, properties master Brodie Jasch, and production stage manager Shannon Jones. Former Razorback Soccer player Rachel Riggs serves as Soccer Consultant/Choreographer to the production.
TheatreSquared's production is made possible in part with support from show sponsors Ellis and Kay Melton, and Bob and Diane Shaw.
Critical Acclaim
"Thrilling. The scary, exhilarating brightness of raw adolescence emanates from every scene of The Wolves. One of the year's best plays." - The New York Times
"A firecracker of a play, spilling over with humor, insight and searing pathos." - The Hollywood Reporter
Performances are scheduled August 22-September 23, Tuesdays through Sundays, at Walton Arts Center's Nadine Baum Studios.
Tuesday-Friday: 7:30pm
Saturday: 2:00pm; 7:30pm
Sunday: 2:00pm
PLEASE NOTE: The Wolves contains strong language and themes.
Questions? Call (479) 445-6333.
Tickets range from $17-$48 and are available at (479) 443-5600 or online at theatre2.org.
Performances are held at the Walton Arts Center's Nadine Baum Studio Theatre (505 W Spring St, Fayetteville, AR 72701).
Through T2's Lights Up! For Access program, supported by the Walmart Foundation, SNAP benefit recipients can purchase $5 tickets and patrons under the age of 30 can purchase $10 tickets. For more information, visit theatre2.org/lights-up.