Delirious Comedy Club at The Fremont Room
Dates

2/4/2021 - 12/31/2021

Theatre


206 N. 3rd St.
Las Vegas, 89101
Facebook Instagram

Tickets Info

39.95
Phone: (702) 541-2660




Delirious Comedy Club brings you some of the funniest, top headlining comedians from across the globe. You may have seen them on The Tonight Show, HBO, Netflix, Conan, Bob & Tom, Comedy Central, Late Night, BET, Showtime, Howard Stern, Youtube, Amazon, USO Tours entertaining the troops and more, as well as showcasing the next generation of comedy stars.
Seating is on a first come, first served basis and begins at approximately 30 minutes prior to showtime. Full bar service is available in the showroom. We also offer VIP Seating, groups sales, holiday and celebration packages. Be sure to check out our website, social media links and purchase your tickets early for guaranteed seating.
Delirious is a proud sponsor of Battle Comics, as many of our comedians are dedicated to entertaining the troops. Delirious Comedy Club offers free validated self-parking, valet is available and there is no drink minimum. If you're looking for night of laughter, then you've come to the right place!
Ages
: 21 and over
News About Delirious Comedy Club at The Fremont Room
Pauly Shore Returns to the Delirious Comedy Club
December 10, 2020
Comedian, actor, writer and director Pauly Shore returns to the Delirious Comedy Club stage at Downtown Grand Hotel & Casino for one weekend only, Dec. 18-19, 2020. Shore will headline the 10 p.m. show inside The Fremont Room each night and will be joined by locally celebrated comedians Guy Fessenden and Kathleen Dunbar.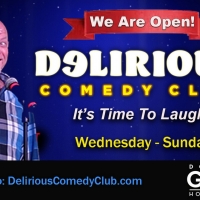 Delirious Comedy Club Continues to Bring Live Comedy to Las Vegas While Working Within Nevada Restrictions
November 24, 2020
Working withing the new guidelines of Nevada, comedian and producer Don Barnhart continues to bring the laughter to downtown Las Vegas with the continuation Delirious Comedy Club.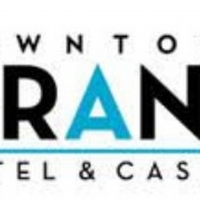 Delirious Comedy Club Adds Additional Shows Every Friday and Saturday
November 16, 2020
Due to popular demand, Delirious Comedy Club adds additional showtimes to its back-to-back lineup on Fridays and Saturdays inside The Fremont Room at Downtown Grand Hotel & Casino. The Delirious Comedy Club now brings the belly laughs with 10 shows every weekend.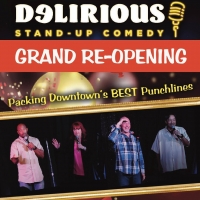 Don Barnhart, Kathleen Dunbar and Brandon James Return to Delirious Comedy Club
October 12, 2020
Downtown Grand Hotel & Casino will pioneer the return of live, ticketed entertainment in Downtown Las Vegas with the reopening of the Delirious Comedy Club on Oct. 15.