MINDFREAK LIVE! to Play Final Performance October 2018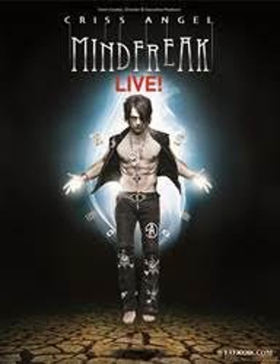 After 10 years and over 4000 performances, Cirque du Soleil and Criss Angel Productions today announced its collaboration will culminate with the final performance of MINDFREAK® LIVE! at Luxor Las Vegas on October 28, 2018. The decade-long collaboration between Cirque and Angel has resulted in some of the most talked-about productions and most incredible magic ever seen on stage. Tickets for all remaining performances are on sale now.
"It has been an extraordinary experience working with Cirque du Soleil and Luxor these past nine years. They have been amazing partners and will always be part of my family," said Criss Angel. "I am so proud of what we have created together and I am extremely excited about the new illusions we will be adding in our final year of MINDFREAK® LIVE!"
Jerry Nadal, senior vice president, Cirque du Soleil, said "it has been a pleasure to work with Criss Angel for the past nine years. Criss is a visionary artist and watching his illusions come to life on stage has been an incredible experience. We respect his decision to explore other opportunities after 10 successful years at Luxor and we are looking forward to a tremendous final year showcasing Criss' most spectacular illusions in MINDFREAK® LIVE!"
Celebrated as "the most watched magician in history," Criss Angel's MINDFREAK® LIVE! has been called the "Magic Experience of a Lifetime." Based on Angel's hit TV show MINDFREAK, which smashed records with more than 100 million viewers each season, MINDFREAK® LIVE! showcases 90 minutes of the most unbelievable, original and thrilling illusions ever performed on stage.
Jim Murren, Chairman and CEO, MGM Resorts, said, "I am inspired by Criss Angel's commitment to the Las Vegas community and to raising funds and awareness for childhood cancer. I share both of those passions. In honor of our decade-long partnership and shared values, MGM Resorts will host a fundraising effort with Criss next year."
Nik Rytterstrom, President of Luxor Las Vegas, said, "MINDFREAK® LIVE! has been a huge hit for our guests and we look forward to sharing his show with new audiences in the months ahead. "Criss has been a tremendous part of our Luxor family and we wish him great success."
The final performance of MINDFREAK® LIVE! at Luxor Las Vegas is scheduled for October 28, 2018. Tickets for all remaining performances can be purchased by calling 702-262-4400or by visiting www.cirquedusoleil.com.