BWW Interview: Kevin Burke of DEFENDING THE CAVEMAN at The D Showroom At The D Las Vegas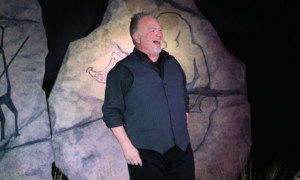 Kevin Burke the star of Defending the Caveman will be leaving the Las Vegas production. Celebratory champagne toast and Caveman club salute will end Burke's final performance at the D Las Vegas on Aug. 2.
Burke has been the face of Defending the Caveman in Las Vegas for the 12 years it was in Las Vegas and the last Caveman to be hand-picked by original Caveman and writer, Rob Becker. Burke has performed the show worldwide since 2003 with more than 5,000 performances. Burke holds the Guinness World Record for "Most Theatrical Performances in 50 Days."
Burke took time from his busy schedule during the last week of performances to speak with BroadwayWorld.com.
After 15 years, you are hanging up your loincloth. What are you feeling after becoming so synonymous with the part?
Kevin Burke: First, I'd like to thank the entire Las Vegas community for so wholeheartedly embracing Caveman of the past 12 years of our residency. You've all have been incredible. That said, I'm not entirely hanging it up. Defending the Caveman is like any other Broadway show. I'll be joining a touring unit playing venues like The Smith Center, which is what I did before joining the Vegas residency.
How have you changed as a performer over the past 15 years?
Kevin Burke: I would like to think I've learned how to pare a performance down to its essentials and to trim away the excess.
How has the show changed in the past 15 years?
Kevin Burke: We've updated the Vegas show tremendously. We've brought in new script elements to reflect the changing nature of relationships regarding technology and the Internet. We've added a ton of technical effects including light, sound, and video. We've also opened up the show to include the audience's experience. We let them add their stories, which we then weave into the fabric of that night's performance. For example, 20 percent of all long-term relationships now begin online. We LOVE to hear those stories, and are often surprised to find marriages lasting over 12 years started on an Internet dating site! Who knew online dating had been around that long?
What are your plans after leaving Las Vegas?
Kevin Burke: I'll be heading back home to the Midwest. My new play, EAT YOUR %$#% FISH STICKS, opens mid-August at the Indianapolis Fringe Festival. It's a one-man play about being a dad. If anyone would like to come to see it, info can be found at indyfringe.org. I also plan to create an acting group, which will go into schools and improvise short scenes based upon creative writing assignments given to the children. Young writers will see their creative work come alive right there in their school. Inspiring creative writing and imaginative theatrical play are essential in a time of tightening school budgets.
What advice would you give the next Caveman?
Kevin Burke: Las Vegas audiences are like audiences nowhere else. They come from all over the world and have high expectations. They decided to see YOU tonight, instead of Elton John, or Cirque, or Celine. Be worthy of their time and attention.
Producers of Defending the Caveman at the D Las Vegas will be hosting open casting calls to find their next lead Caveman. The show is Broadway and Las Vegas' longest-running one-man show.
Auditions for the comedy show at the D Las Vegas will be hosted at the D Las Vegas showroom 11 a.m. to 2 p.m. Aug. 3 and 10 a.m. to noon Aug. 4. Those interested in auditioning should send an email to casting@ivorystar.com by Aug. 2. The email should include a headshot, a bio, and a resume. This position is non-union. Local talent is highly encouraged to audition, as actors will not be relocated if cast.
Performances for Defending the Caveman is 8:40 p.m. at the D showroom at the D Las Vegas. Click here to purchase tickets, or phone the box office at 702-388-2111.