SOUTH PACIFIC Comes Ashore at Theatre in the Park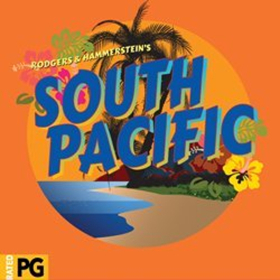 Love conquering prejudice is one of the powerful themes of Rodgers and Hammerstein's memorable musical SOUTH PACIFIC, the second production on Theatre in the Park's (TTIP) 2018 summer outdoor season. TTIP's most often requested musical, SOUTH PACIFIC will have seven performances at the outdoor amphitheater Friday through Sunday, June 22-24 and the following Wednesday through Saturday June 27-30. Showtime for all productions is 8:30 p.m. with gates opening at 7 p.m.
Rated PG, SOUTH PACIFIC features two parallel love stories both set on an island in the south pacific during World War II. Stationed on the island, Nurse Nellie Forbush is far from home. She falls in love with a mature Frenchman Emile de Bucque, who owns a plantation and is very different from those back home in Arkansas. Nellie is charmed and falls in love with Emile, yet when she discovers the mother of Emile's children is of mixed race, she rejects his marriage proposal. Meanwhile, Lt. Joe Cable falls for an island girl and he too struggles with his own racial prejudice. Joe embarks on a secret and dangerous mission with Emile assisting him. While Joe loses his life, it sends a wake-up call to Nellie who confronts her fears, overcomes her prejudices and decides to marry the man she loves.
SOUTH PACIFIC features such memorable songs as "Nothing Like A Dame," "Some Enchanted Evening," "I'm Gonna Wash That Man Right Out of My Hair, "You've Got TO Be Carefully Taught" and "Bali Ha'i".
SOUTH PACIFIC is based upon James A. Michener's Pulitzer Prize-winning 1947 book, "Tales of the South Pacific". SOUTH PACIFIC was ahead of its time, premiering on Broadway in 1949 before the Civil Rights movement forced racial equality into law. Now nearly 60 years later, the issues of racial equality and prejudice still resonate with audiences today.
Julie Ewing leads the cast in her TTIP directorial debut, along with her production team of Musical Director Marsha Canady and Choreographer Carolyn Braverman, both TTIP veterans. The large cast of talented local performers includes a number of people participating in their first TTIP production. (Cast list follows below.)
Because SOUTH PACIFIC is rooted in historical events, Ewing and the cast have focused on bringing a high level of authenticity to this production.
"I believe in simple, honest story telling," Ewing said. "We had several World War II veterans, as well as other veterans from both war and peace times, who came to talk with the cast sharing their experiences of serving their country. This has helped our relatively young cast learn an appreciation for the story that is centered around World War II."
Because of the military connections in this musical, TTIP will recognize area veterans each night at SOUTH PACIFIC thanking them for their service.
Full details are on the TTIP web site, www.theatreinthepark.org.
---
Cast of SOUTH PACIFIC
(Performer & Character)
Madeline Clem, Ensign Nellie Forbush, Kansas City, MO
Paul Morel, Emile de Becque, Kansas City, MO
Julia Balino, Ngana, Olathe
Alex Cross, Jerome, Overland Park
Bob Ehler, Henry, Bonner Springs, KS
Zenia Lee, Bloody Mary, Overland Park
Ivy Huang, Liat, Lenexa
Katarina Romero-Vega, Bloody Mary's Assistant, Olathe
Janiel Balino, Bloody Mary's Assistant, Olathe
Daniel Versheldon, Luther Billis, Lee's Summit
Jacob Thomas, Stewpot, Overland Park
Zach Greer, Professor, Overland Park
Jon Rizzo, Lt. Joseph Cable, Grandview, MO
Don Leonard, Capt. George Brackett, Olathe
David Kepper, Cmdr. William Harbison, Shawnee
Paul McArdle, Lt. Buzz Adams, Kansas City, MO
Wyatt Walberg, Yeoman Hebert Quale, Olathe
Ryan Russell, Radio Operator Bob McCaffrey, Roeland Park
Jonathon Arnold, Seabee Mortin Wise, Kansas City, MO
Zachery Russell, Seabee Richard West, Overland Park
Joel Walley, Seabee Johnny Noonan, Bolivar, MO
Mark McNeal, Seabee Billy Whitmore, Overland Park
Charlie Meacham, Seaman Tom O'Brien, Overland Park
Nathan Bills, Seaman James Hayes, Olathe
Stephen Holbert, Sailor Kenneth Johnson, Olathe
Donnie Miller, Petty Officer Hamilton Steves, Olathe
Andrew Rovello, Seaman Thomas Hassinger, Overland Park
Tom Heathcote, Lt. Eustis Carmichael, Overland Park
Joy Richardson, Lt. Genevieve Marshall, Kansas City, KS
Katie Vereen, Ensign Dinah Marshall, Overland Park
Ann Eddy, Ensign Janet MacGregor, Gladstone, MO
Andrea Bates, Ensign Connie Walewska, Lenexa
Natalie Crane, Ensign Sue Yaeger, Olathe
Klarissa Sheffield, Ensign Cora MacRae, Chesterfield, MO
Lakin Allen, Ensign Lisa Minelli, Olathe