SCHOOL GIRLS; OR, THE AFRICAN MEAN GIRLS PLAY Makes Regional Premiere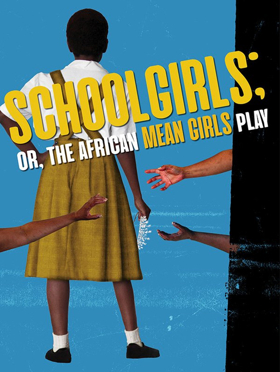 Next up in Kansas City Repertory Theatre's 2018/2019 season is the multiple award-winning Off-Broadway hit SCHOOL GIRLS; OR, THE AFRICAN MEAN GIRLS PLAY, written by Jocelyn Bioh and directed by KCRep's Artistic Associate/Resident Director, Chip Miller. Bioh's hilarious reimagining of Tina Fey's Mean Girls story is a once joyful and heartbreaking, bitingly funny, and poignant. SCHOOL GIRLS, running February 22 through March 17, 2019, at Copaken Stage, is a loving exploration of the real lives of young African women trying to negotiate the confusion around Western ideas of beauty.
Director Chip Miller calls Bioh, "a singular voice in theater today. I'm so thrilled to share this play with Kansas City audiences because I think it will resonate deeply with our audiences. It's a brilliantly hysterical play about a group of young black African women confronting the impossible and absurd beauty standards that we are all inundated with every moment of our lives. That it is able to have this important conversation while being one of the funniest comedies I've ever read excites me to no end."
Paulina is the reigning Queen Bee at Ghana's most exclusive boarding school, who has her sights laser-focused on the 1986 Miss Universe Pageant. But the mid-year arrival of Ericka, a new student with undeniable talent and beauty, captures the attention of the pageant recruiter AND Paulina's hive of friends. While it seems like Paulina is the perfect pageant girl, her dominance is threatened when this outsider enters the scene. The charming mixed-race Ericka wins the other girls over with her lotions, hair products, concert stories, and lighter skin, much to Paulina's dismay. Ericka's arrival threatens Paulina's chances at winning Miss Ghana and shows that she'll do just about anything to win. Equal parts hilarious and heartbreaking, SCHOOL GIRLS perfectly capturing the universal similarities facing teenage girls across the globe.
The all-Kansas City, all-star cast for KCRep's SCHOOL GIRLS; Or, The African Mean Girls Play features Chioma Anyanwu as Eloise Amponsah, Yetunde Felix-Ukwu as Ama, Alison Jones as Gifty, Amber McKinnon as Headmistress Francis, Bree Patterson as Mercy, Shon Ruffin as Nana, Morgan Walker as Ericka Boafo, and Brianna Woods as Paulina Sarpong. The design team includes Scenic Design by Brittany Vasta, Costume Design by Dominique Fawn Hill, Alan Edwards is Lighting Designer and Lana Palmer is Sound Designer. Tenley Pitonzo is the Production Stage Manager, Lydia Krause is the Assistant Stage Manager, and Scott Davis is the Assistant Director.
This will be Chip Miller's last directing experience as a KCRep employee, as he begins his tenure as Associate Producer at Portland Center Stage at the Armory. "It is bittersweet to be leaving my first artistic home, but I am incredibly grateful for the six years of experiences, friendships and great theatre that KCRep has allowed me. I am ecstatic to be relocating to Portland to work with the amazing Marissa Wolf and the awesome staff at PCS! "
Interim Artistic Director Jason Chanos reflects on Miller's time at KCRep, "One of my fondest memories over the past four seasons I've been at KCRep will be working with and learning from Chip. I have never met a more passionate and committed advocate of the theatre or the Kansas City community. His growth as an artist and a person while working under Eric Rosen and Marissa Wolf has been a joy to witness. We will miss him greatly and know he will be a part of the KCRep family for years to come."
Jocelyn Bioh is a Ghanaian-American writer and actor. She graduated from The Ohio State University with a BA in English and Theater and got her master's degree in Playwriting from Columbia University. Jocelyn's Broadway credits include The Curious Incident of the Dog in the Nighttime. She has performed in regional and Off-Broadway productions of An Octoroon, Bootycandy and For Colored Girls. She has written many of her own plays that have been produced in national and collegiate theaters. Some of her more well-known works include Nollywood Dreams and School Girls; Or, the African Mean Girls Play. She is a playwright with Manhattan Theatre Club (MTC) and Atlantic Theater Company, is a resident playwright at Lincoln Center and is a 2017-18 Tow Playwright-in-Residence with MCC.
KCRep is underwritten in part by the Missouri Arts Council, a state agency, and an award from the National Endowment for the Arts.
Founded in 1964 by Dr. Patricia McIlrath, Kansas City Repertory Theatre, the professional theatre in residence at UMKC, is led by interim artistic director, Jason Chanos and executive director, Angela Lee Gieras. KCRep is nationally known as an incubator of new plays and producer of innovative musicals and reimagined classics. Together with an active board of directors, a year-round, part-time, and seasonal staff of 210, and over 300 volunteers, KCRep serves patrons from more than 40 states on their two stages, the Spencer Theatre and Copaken Stage in downtown Kansas City. More than 12,000 school students and educators see live theatre productions at KCRep annually, many of whom are experiencing the genre for the first time. The company dedicates itself to producing works which are compelling, passionate, and entertaining. Visit www.kcrep.org.
Tickets for SCHOOL GIRLS start at just $38 and may be purchased by visiting https://kcrep.org/show/school-girls or by calling the KCRep box office at 816-235-2700. Groups of nine or more receive discounted tickets by calling Andrew at 816-235-6122.