Photo Flash: First Look at OCTA's SENSE AND SENSIBILITY
Up next at Olathe Civic Theatre Association is Jane Austen's beloved classic, SENSE AND SENSIBILITY. This witty comedy of manners is directed by Jessica Franz and runs at OCTA November 2 - 18, 2018, with performances Fridays and Saturdays at 8pm and Sundays at 2pm.
Audiences will recognize this powerful play by Jane Austen but will get a special treat with this Jon Jory adaptation. When two sisters who are alike only in their pursuit of happiness find themselves financially destitute and socially vulnerable after their father's sudden death, they must struggle to determine what and who is truly important to them. Will Elinor's common sense or Marianne's impulsive passion offer up the key to living "happily ever after"? Expect the unexpected as this spirited tale of flirtation and folly bounds onto the OCTA stage in this boisterous adaptation of one of the theater's beloved stories.
Franz did her first show at OCTA onstage as Suzanne in PICASSO AT THE LAPIN AGILE in 2010. "I was able to jump right into my next show, directing DAVID'S MOTHER in 2011, then directed FUDDY MEERS in 2011. I travelled up north (North KC) for a few years, and was very excited to come back to the OCTA stage for ARCADIA and last season's production of UNNECESSARY FARCE.
Looking at the OCTA history and shows they have recently done, Franz was drawn to a familiar, classic story that came with a contemporary perspective. "Jon Jory wrote (and directed) this adaptation of SENSE AND SENSIBILITY for Northlight Theatre in Chicago in 2011. The goal was to take Jane Austen's amazing storytelling and construct it to flow on stage. He was the producing director at Actor's Theatre of Louisville for 31 years and is a prolific playwright, with a knack for creating shows to fit in small theatres with small ensembles. I read several adaptations, and Jory's popped out at me as staying true to the book, while being able to tell an exciting, engaging story on stage."
Therefore, her interpretation on the OCTA stage is going to relate the story to new audiences by focusing on the sisters and their relationships. "We really focused on how the outside world & society affects our heroines, the Dashwood sisters. From the beginning, their lives are not their own. They have no inheritance, no options open to them, they are at the mercy of their next-door neighbors." Franz notes how Jane Austen was actually an incredibly witty writer, but that her stories tend to cause people to remember just the romance parts. "This interpretation challenges that thinking, while also bringing out the humour that is Jane Austen's writing."
When asked about her favorite characters, Franz was quick to mention Marianne, one of the sisters. She appreciates the "pure & unadulterated love of passion and throwing herself 100% into whatever she chooses to at that moment, her 'living life to the fullest' mentality. Of course, there are consequences, but... what's life without a few Willoughby's in the road!" Another intriguing component of the show is the staging, which allows the characters to move the story forward without really leaving the world they've created, and without slowing down the action with set changes. "One of my favorite moments is when a chaise turns into a horse and whisks one of our heroines away. The actor playing the... horse, truly made it his own." Franz reflects how she was "not the first person to put wheels on chairs," but that she is very proud of the world that the design team and actors put together. "I hope you'll join us for the ride."
Up next for Franz? "In March I'm acting in BEAU JEST at The Chestnut just down the road. And May 2019, I am extremely excited to be directing THE CURIOUS INCIDENT OF THE DOG IN THE NIGHT-TIME at the Barn Players. It has been at the top of my radar for a few years now, and is an incredible insight into an autistic boys' mind." Audiences better catch her SENSE AND SENSIBILITY at OCTA while they can.
The cast includes: Derrick Freeman(Colonel Brandon), Khalid Johnson (Edward Ferrars), Erika Crane Ricketts (Elinor Dashwood), Amanda Bass (Ensemble), Kyle Tichenor (John Willoughby), Jeannie Blau (Lady Middleton),Amy Reinhardt (Lucy Steele), Meghann Deveroux (Marianne Dashwood), Don Leonard (Mr. John Dashwood), Irene Blend (Mrs. Ferrars), Tracy Fox (Mrs. Henry Dashwood), Karla M. Fennick (Mrs. Jennings), Victoria Hoffman (Mrs. John Dashwood), Lauren Crane (Ms. Grey), Patrick Peterson (Robert Ferrars), Charles Christesson (Sir John Middleton).
The creative team includes: Director - Jessica Franz (Director), DK Evenson (Stage Manager), Valerie Martin (Choreographer), Bill Wright (Set Designer), Chuck Cline & Camille Lerch (Lighting Designer), Rita Marks (Props Designer), Sarah Jeter (Costume Designer), Erin Brown (Sound Designer), Tamara Kingston (Dialect Coach).
SENSE AND SENSIBILITY runs for three weekends on November 2, 3, 4, 9, 10, 11, 16, 17, and 18.
Check out official show photos on facebook HERE. The video, Talking Sense with Jessica Franz, can also be found on OCTA's facebook page HERE.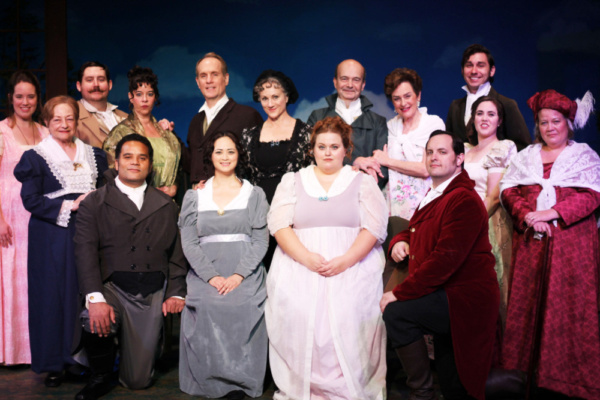 The cast of OCTA's SENSE AND SENSIBILITY

Meghann Deveroux, Tracy Fox, and Erika Crane Ricketts

Meghann Deveroux and Derrick Freeman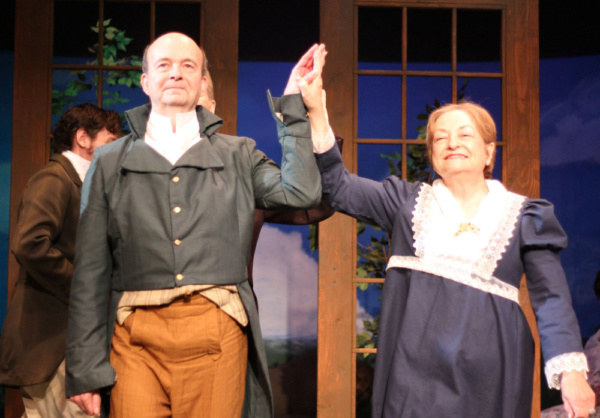 Charles Christesson and Irene Blend

Don Leonard and Victoria Hoffman

Erika Crane Ricketts and Karla M. Fennick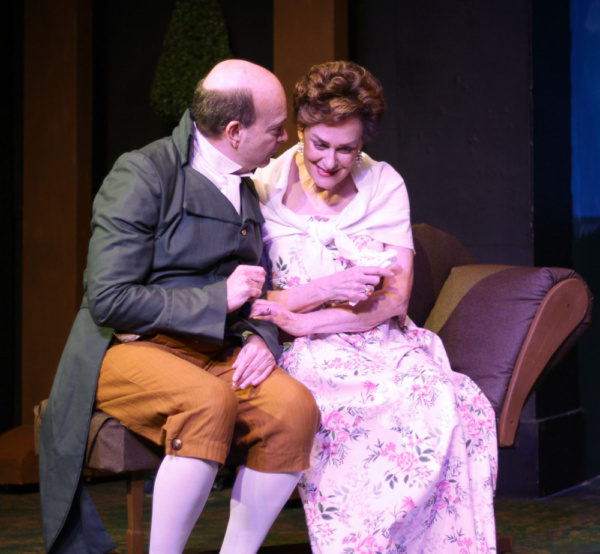 Charles Christesson and Jeannie Blau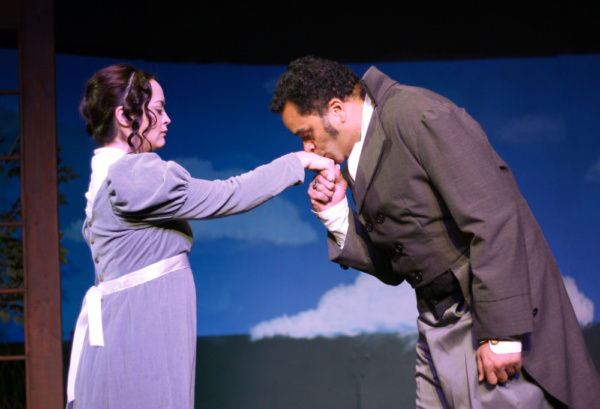 Erika Crane Ricketts and Khalid Johnson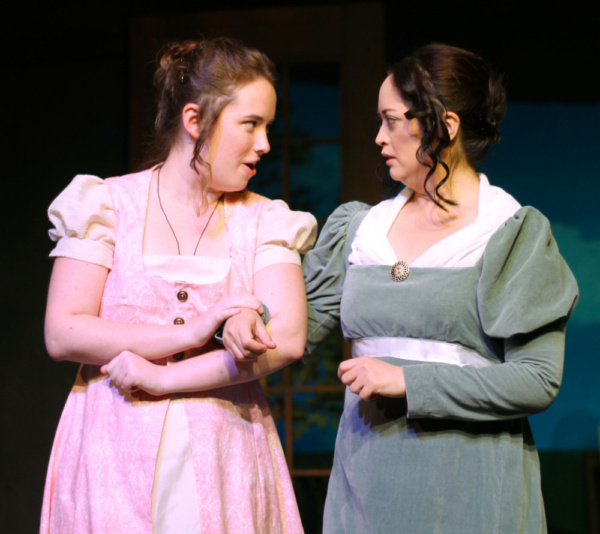 Amy Reinhardt and Erika Crane Ricketts

Kyle Tichenor and Meghann Deveroux

Tracy Fox, Khalid Johnson, and Erika Crane Ricketts

Erika Crane Ricketts and PatRick Peterson

Post-Show Talkback: Director Jessica Franz and Dr. Jennifer Frangos (UMKC English Professor and member of the Jane Austen Society of North America-Metropolitan KC Region).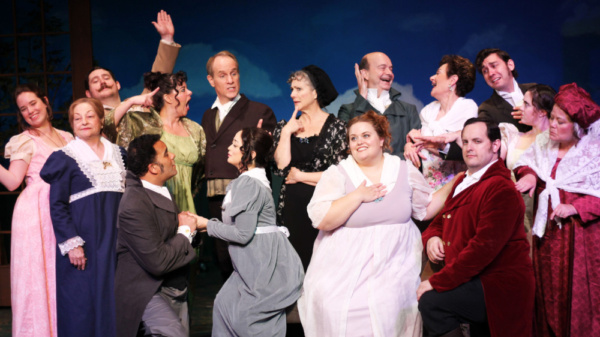 The cast of SENSE AND SENSIBILITY - Costumes by Sarah Jeter and photos by Shelly Stewart Banks.