BWW Review: THE MASCOT at Living Room Theatre
Chicago playwright Jerry Hickey offers a first-time production of his pleasant and entertaining new play entitled "The Mascot" at "The Living Room Theatre" in the Crossroads near downtown KC. In a single sentence, "The Mascot" works. The play has a very good cast of nine. Hickey's accessible sense of humor keeps the audience smiling, guffawing, occasionally groaning, and even spontaneously applauding between scenes.
Matt Rapport (Darby) is a professor of Biological Sciences at the University of Notre Dame at South Bend, Indiana. He sits in one of those academic chairs with the potential of big time profit from a research patent. Darby is husband to the comedy note perfect, Norwegian-born, former actress, Astrid (Jen Mays) and Dad to the unfortunately monikered Knute (Sam Cordes).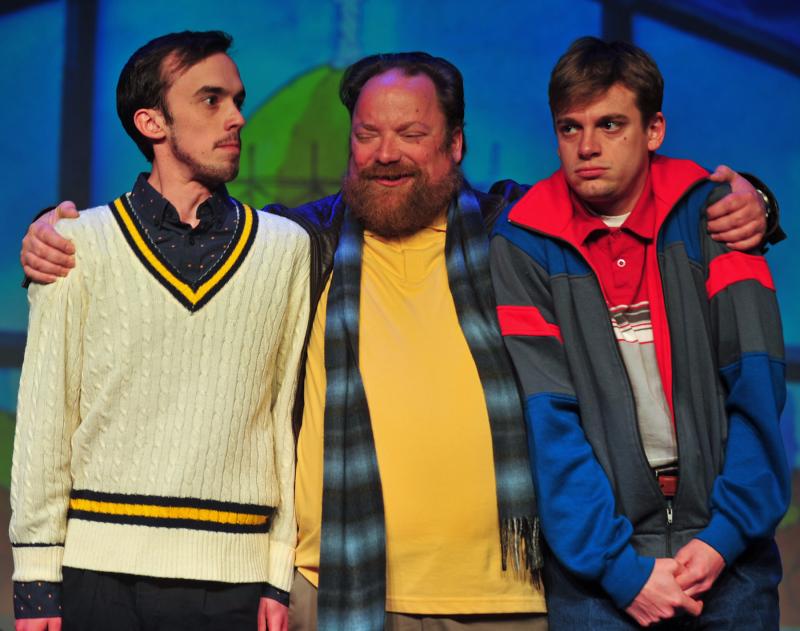 Darby is the crazy, college football fan Dad last seen in the sentimental movie "Rudy." His dream is that son Knute (named after 1918-1930 ND football coach Knute Rockne) will someday quarterback the "Fighting Irish" Blue and Gold. Like many comedy scientists, Darby is super detailed oriented, frustratingly overbearing, and stereotypically Irish Catholic. He has married Astrid not only because of her beauty, but because of an imaginary blood relationship to the revered Coach Rockne. He has forced an almost non-English speaking (at the time) Astrid to sign a super restrictive contract reminiscent of Sheldon Cooper's roommate agreement.
Astrid has outsmarted Darby. Son Knute turns out not to be an athlete. Instead, Knute yearns to be a musical comedy actor. He longs to be a "Trojan" amid the motion picture atmosphere and surf beaches of Southern California.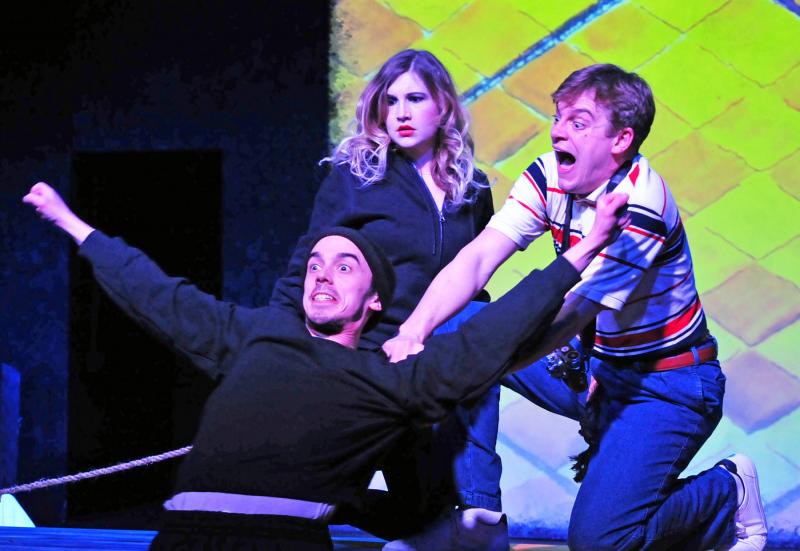 Darby accepts that Knute will never be a football hero, but cannot give up on the notion that his son will tear up the ND gridiron at least as the team's Leprechaun Mascot. He demands Knute attend Notre Dame and audition to be the Mascot. Knute agrees in a typically teenage, passive-aggressive way.
All this so far is simply the setup for the joke to follow. Knute's junior roommate is the almost certainly certifiable and e---veeel Dooley (R.H. Wilhoit) who lusts after the title of N.D. Mascot, peeps at convent residing Dia (Emma Katherine Carter), and accumulates a pot of 24 karat gold leaf pried tile by tile off the university's golden dome. Dia is Notre Dame's only other theater student. She is part noviate, part Goth terrorist, and eventually Knute's girlfriend. Chaplain Reamus (Coleman Crehshaw) is the physical comic butt of most of the jokes. Every time he appears, he seems a bit more damaged.
"The Mascot" is a show composed of two acts and a number of scenes. Each time a change occurs, a three person silent Greek chorus appears. They are dressed as Notre Dame Cheerleaders, move around set pieces, prance around the stage, and serve as the source of sound gags from a visible corner of the stage. The chorus idea is an unusual choice (almost like a three person Harpo Marx mashup), but (with subtext projections to the next scene) the idea works.
I won't ruin the rest of the joke by revealing the punchlines to you, but suffice it to say that the story resolves positively. "The Mascot" owes a debt to situation comedy. It is 90 minutes and an intermission pleasantly spent.
Comedy is tough. It requires exceptional attention to detail with special consciousness paid to stage movement, eye rolls, comic timing, sound cues, sight gags and scene changes. Director and UMKC Professor Peter Zazzali captures the author's intention and keeps the action moving. The hard thing with this kind of broad comedy is you never know if it works until you try it out with a real audience. The audience jury has so far returned a positive verdict.
"The Mascot" continues its run at "The Living Room" through April 29. Tickets are available on the web at https://agilerabbitproductionsllc.ticketspice.com/the-mascot or for information by telephone at 1.816.550.0748.
photos courtesy of Living Room Theatre and Manon Halliburton
Related Articles View More Kansas City

Stories

Shows