BWW Review: THE DECISION FALLS ON THE AUDIENCE AT SECRET SOLDIERS: HEROINES IN DISGUISE NOW PLAYING AT THE COTERIE THEATRE
The 40th season of live theatre for families and young audiences continues at The Coterie Theatre with a marvelous production of SECRET SOLDIERS: HEROINES IN DISGUISE. The very entertaining and highly educational show is a co-production with the University of Missouri Theatre and The Coterie Theatre. Jeff Church, Producing Artistic Director, and Bree Elrod co-direct this important interactive drama.
SECRET SOLDIERS: HEROINES IN DISGUISE was written by Wendy Lement who is a co-founder of Theatre Espresso where the play made its debut. Lement and Theatre Espresso create and produce interactive historical dramas in order to help foster a generation of involved citizens. The theatre located primarily in Massachusetts brings their productions to schools, museums, and courthouses along with providing workshops, teacher training, and curriculum materials for teachers and students.
The Coterie produces SECRET SOLDIERS as a community partnership with Girls on the Run, a nonprofit organization and positive youth development program for girls 3rd through 8th grade. The 10-week program is headed by over 800 trained volunteer coaches and will be host to more than 4,000 participants.
There are over 250 recorded stories and many undiscovered stories of women who served in the Union Army dressed as men. At least three African American women are known to have fought in "colored" regiments. There are stories of women fighting in disguise as men in the Confederate Army, but due to the lack of record keeping numbers are unknown. The accounts of the four women depicted in this play are based on details of true incidents. In researching for the play Bree Elrod discovered there is a statue in Leavenworth, Kansas of Cathay Williams a woman who fought in the Civil War dressed as a man.
The play opens with Dr. William Hire, wonderfully played by Jason Francescon, asking the audience to stand and take the Hippocratic Oath. He explains that an unfortunate situation has arisen in the hospital involving a Union Soldier, who has been identified as a woman, and a nurse who falsified records to continue to recognize her as a man. At the end of the play, Dr. Hire opens the program up to the audience (who he refers to as doctors) for questions before he asks everyone to decide the fate of Private Lyon Wakeman and Nurse Bartlett.
Emilee Karas portrays Sarah Wakeman (alias Private Lyon Wakeman) who tells her story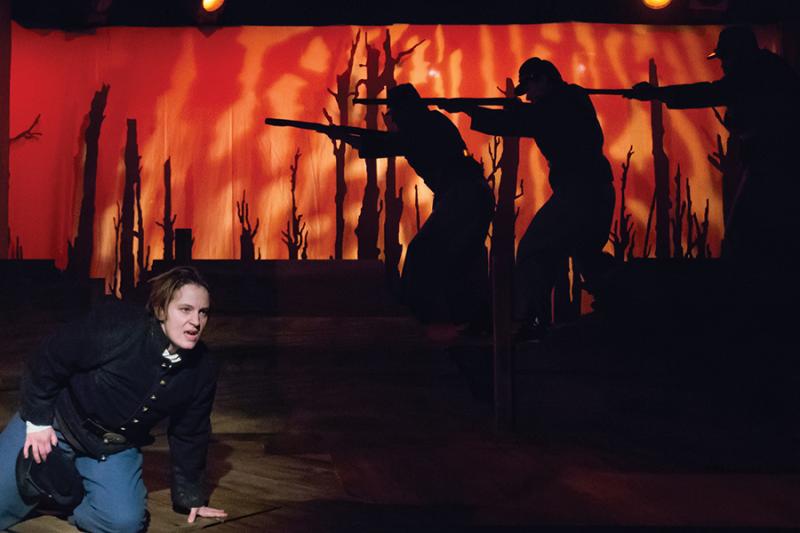 of joining the army to help her family. Karas magnificently brings both her characters to life as she fights to remain identified as a male. Marianne McKenzie gives a dramatic performance as Nurse Jacobs (the nurse who has brought charges against Nurse Bartlett, played by Chelsea Kinser). McKenzie also plays the parts of Lois and Loretta Janeta Velazquez (alias Major Harry T. Buford) with equal enthusiasm.
Khalif J. Gillett is splendid as Joseph O. Cassell a slave trying to flee to the north and freedom. Other members of the cast; Freddy Acevedo, Yetunde Felix-Ukwu, and Roan Ricker play multiple parts. All the actors are students at UMKC, except Ricker who is the Coterie resident artist.
SECRET SOLDIERS: HEROINES IN DISGUISE continues at The Coterie Theatre through February 10th. Tickets may be purchased by calling 816-474-6552 or online at www.thecoterie.org.
Photos by J. Robert Schraeder and courtesy of The Coterie Theatre