BWW Review: THE CURIOUS INCIDENT OF THE DOG IN THE NIGHT-TIME at Kansas City Repertory Theatre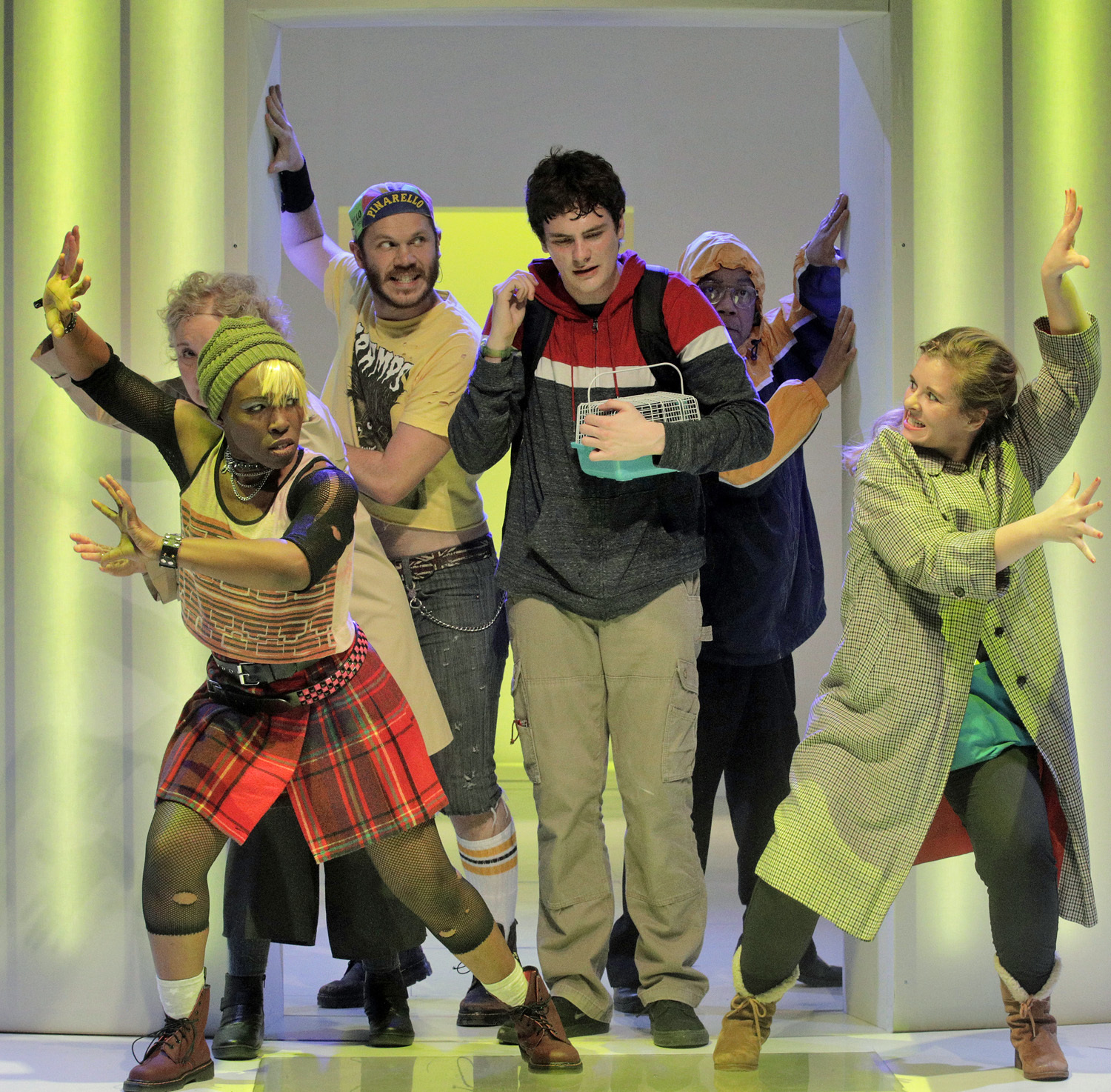 Christopher Boone (Jamie Sanders) is a fifteen-year-old mathematics savant who labors under the burden of living within the Autism spectrum of behaviors. Kansas City Repertory Theatre's reimagined production of Simon Stephen's 2013 award winning "The Curious Incident of the Dog in the Night-time" is funny, inventive, touching, and deeply engaging for its audience.
Director Marissa Wolf has created a unique rendering of an Oliver (seven wins in 2013) and Tony (2015 Best Play) award winning play. "The Curious Incident" has a unique structure that works exceptionally well after some initial confusion. It is a play within a play, a mystery, a family drama, and the story of a lost boy coming to terms with his unfamiliar disability.
The audience is told that Christopher lives alone with his widowed father, Ed (Jason Chanos) in a rural section of the United Kingdom. Christopher visits a neighbor's dog only to find the animal has been killed with a pitchfork (a garden fork). The police at first think that the oddly behaving teenager may be the culprit, but quickly understand his behavior is the result of autism rather than criminality.
In spite of his father's instructions to remain home and uninvolved, Christopher determines he will turn amateur detective and find the dog's killer. He interviews neighbors and keeps a detailed journal of his findings for delivery of evidence to the police. The journal becomes the jumping off place for the rest of the story.
Christopher is enrolled in a special school for children with disabilities. Unlike many of his classmates, Christopher is not slow, he is just behaviorally challenged. Ed struggles with the school to allow for Christopher to be allowed to sit for an advanced placement test in mathematics.
The boy has become close to a particular teacher, Siobhan (Bree Elrod) and shares his journal with her. We eventually realize the play is staged mostly in flashback. As the play opens, Siobhan reads from the journal to the audience.
Ed is enraged when he discovers what Christopher is doing with his detective work. He hides the journal from his son. As a result, the family drama is revealed. Ed is not widowed. Wife Judy (Stephanie Rae Roberts) has had an affair and left the family. Ed has explained her absence by telling Christopher she has died. Ed has killed the dog in a fit of rage after an argument with a neighbor.
Christopher discovers the deception while he searches for his journal. He finds a stache of unopened letters from his mother who is now living in London. Christopher confronts his father. Ed admits to the lie. Ed promises to be always truthful from this point on and admits he is the killer of the dog.
Christopher is terrified. He fears his father may do the same to him. He decides to find his mother and ask to live with her.
Act II deals with Christopher's struggle to reach his mother, the resolution of the family dynamic, and Christopher's triumph over his disability. Boiled down, the audience experiences the internal journey of a troubled young man looking for safety in spite of a disability that makes it difficult for him to be touched.
There are a number of additional peripheral characters. Director Wolf has used a descendent of a highly choreographed Greek chorus to show us the action from Christopher's point of view. Voices, innovative lighting, clever staging, complicated choreography, and disappearing set pieces combine to make the audience feel some of the panic Christopher must be experiencing.
The set by Arnulfo Madonado is exceptional. Set against a reflective cyclorama, it appears to be an amphitheater of doubled arches across the back of the stage. A series of trap doors on the stage floor raise and lower to create disappearing set pieces. The entire arched infrastructure moves on a track to simulate an abstracted train station and trip to London as Christopher searches for his Mom. Somehow, the entire conception works and gives us all we need to see inside Christopher's controlled panic.
All the actors in this production are excellent. Jamie Sanders as Christopher is a standout. Jamie (the actor) is also an inheritor of Tourette's Syndrome (a condition that can mirror some of the Autism behaviors endured by Christopher). Jason Chanos, Stephanie Rae Roberts, and Bree Elwood are all remarkable in their portrayals.
"The Curious Incident of the Dog in the Night-time" continues at the Spencer Theatre through February 18. Tickets are available on the Kansas City Repertory Theatre website www.kcrep.org or by telephone at 816-235-2700.
Photo courtesy of Kansas City Repertory Theatre and Cory Weaver.

Related Articles View More Kansas City

Stories

Shows