BWW Review: SCHOOL OF ROCK at Theater League
Audiences at "School Of Rock, The Musical" (now playing at the Kansas City Music Hall) are in for an evening of fun. This production is pure entertainment highlighted by a dozen songs from the reigning King of musical theater, Sir Andrew Lloyd Webber. "School Of Rock" onstage offers a lot to admire and much to enjoy including a ridiculously talented cast of mostly pre-teenagers.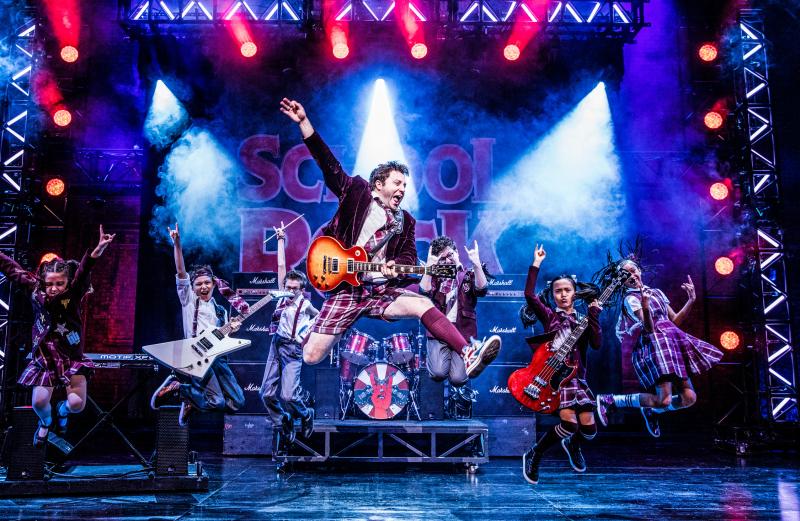 Don't scratch down in the plotline looking for a bunch of meaning. It just isn't there, but the show fulfills its original intention. "School Of Rock" is based on a 2003 comedy film that originally starred comedian Jack Black as Dewey Finn.
Dewey Finn is a failed, filthy, disorganized, overweight, wannabe rock musician who lives free in the apartment of his childhood best buddy Ned and Ned's foxy girlfriend Patty. Patty is none too happy with the arrangement. Patty demands that Dewey clean up his act and pay rent. Actually, she just wants him gone.
We get the impression that Dewey was not the most popular kid in his class. Dewey's friend Ned is Dewey's former school bandmate, working as a substitute teacher, and dating out of his league. Dewey intercepts an invitation for a long-term high paying substitute job at a prestigious prep school and accepts on his own behalf.
The kids in Dewey's class are bright and talented, and not that different from himself as a kid. He uses their talents to form an excellent rock band and helps them recover their senses of net worth. The plot goal is to win a Battle of the Bands contest at the end of the show.
The plot is predictable. The adults are more than good. The kids are fantastic. Merritt David James is Dewey. Lexie Dorsett Sharp is the closed-down prep school principal, Ms. Mullins. The kids in the band are Leanne Parks on bass, Cameron Trueblood on drums, Mystic Inscho on guitar, Theo Mitchell-Penner on keyboard, and Grier Burke on vocals. Gabriella Uhl manages the band.
"School of Rock" is a pro-group throughout. This is a huge cast of thirty-five. The settings by Anna Louizos are impressive and designed to fly and pull and push every which way. It is clever, smooth, and adds to the action rather than getting in the way of it. Lawrence Connor's direction teaches excellent fundamentals to these very young performers and pays great attention to gesture, stage picture and stage movement. Choreographer JoAnn M. Hunter does a great job of understanding these young growing bodies and maximizing the possibilities.
"School Of Rock" is a tough show to move on the road. There are tons of set pieces and fly-ins, a huge company, and all the extra concerns generated by needed supervision of all those young actors for guardianship and tour education. From the product on the stage, this company appears to have stepped up and successfully confronted the challenges.
I recommend "School Of Rock." It continues are the Music Hall through Sunday, November 18. Tickets are available at www.BroadwayInKC.com or by telephone at 800-776-7469.
Theater League Photos Courtesy of Evan Zimmerman-Murphy Made.