BWW Review: JACK AND THE BEAN MAGICO at The Coterie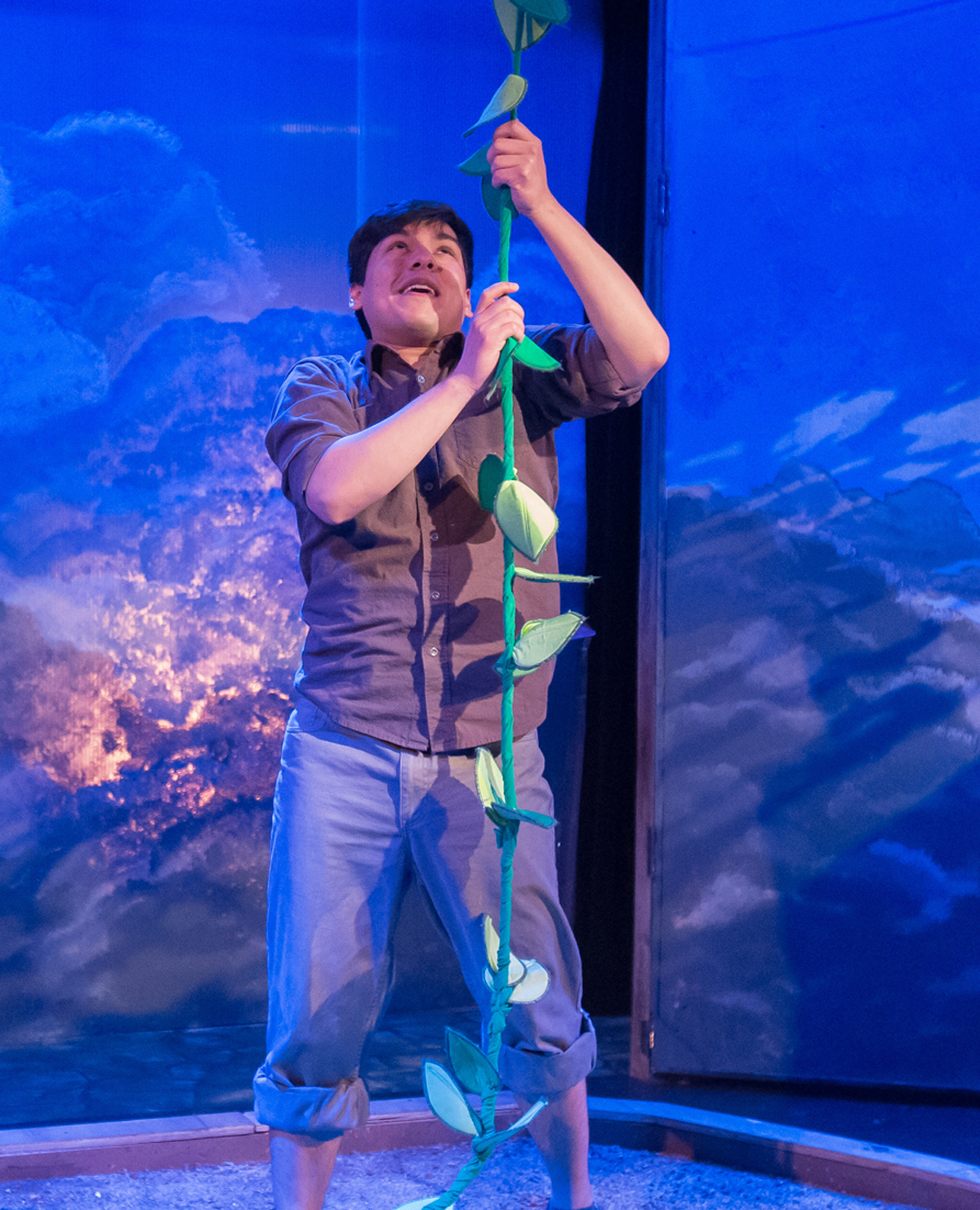 "The Coterie Theatre" has opened a new and clever retelling of the classic 1734 English fairy tale about a boy, a giant, and a magic beanstalk. For adults, the enduring charm of "The Coterie" is seeing a gaggle of squirmy preschoolers and primary schoolers morph into a rapt and respectful audience as soon as house lights begin to dim. The kids sit in bunches on the carpeted floor next to the stage and chatter and wrestle (sometimes restrained by concerned parents - sometimes not) waiting for the show to begin.
This interpretation of the classic tale is called "Jack and the Bean Magico" has been uprooted from 18th century rural Great Britain and plopped down onto a Spanish speaking land that is never fully identified, but where the farm soil has been thoroughly exhausted.
The children are introduced to a Gardner / Storyteller (Jake Walker) who engages his young charges and spins the magic still to come.
The farmers, in this unidentified land, are starving. With no means of production, they have no way to pay their rent and are forced to sell their remaining possessions just to avoid being thrown from their homes. Jack, a farmer's son, must sell his last toys. He distributes them among the assembled children, but none can afford to pay him. Jack must have money for the toys so his family can eat. Jack reclaims his last cherished things. One little boy way is so distressed at the loss of a toy truck, he breaks down in tears.
The Gardner has no money for Jack (Freddy Acevedo), but he does have... a magic bean. It is offered in trade for the promise of a magic beanstalk. Of course, the stalk eventually grows and Jack eventually climbs to a Giant's garden in the clouds lush with veggies and the secret of how to renew farm soil.
There are only two actors, the Gardener in several roles and Jack. In the space of an hour, our Gardner becomes, Jack's Papa, a comic, scary Giant, and a Worm, before reappearing as the Gardener once again. At risk of revealing my age, I could not help but flash back on Lumpy Brannum as Mr. Greenjeans on Captain Kangaroo as they shared a story or on Buffalo Bob Smith as he engaged his Peanut Gallery.
What makes this rendition a bit different from the normal fare is how this enjoyable hour slyly accomplishes more. The youngsters sing and dance and participate in two languages (in the way that most children learn a second tongue), get a real biology lesson about how food grows, and witness magic tricks without ever realizing they are learning all this valuable stuff and having good old fun time.
The sets and costumes transform simply and slickly to establish the magic. I like these actors and the way they join with their audience. This "Jack" is designed to be a traveling show with music and the set and costumes are constructed to surprise and with traveling in mind. Playwright Linda Carson and Canadian Director Kim Seledy have teamed up to create a special experience that teaches and spins the magic sprouts of live theater across a generation still coming up.
"Jack and Bean Magico" continues at The Coterie Theater several times each day through May 20. Tickets are available at www.thecoterie.org. "The Coterie" is located on the ground floor of Crown Center in downtown Kansas City.
Jake Walker (as the Gardner/Giant) and Freddy Acevedo (as Jack). Photos by J. Robert Schraeder and courtesy of The Coterie Theatre.