BWW Interview: Josh Davis of LES MISERABLES at Kansas City Broadway Series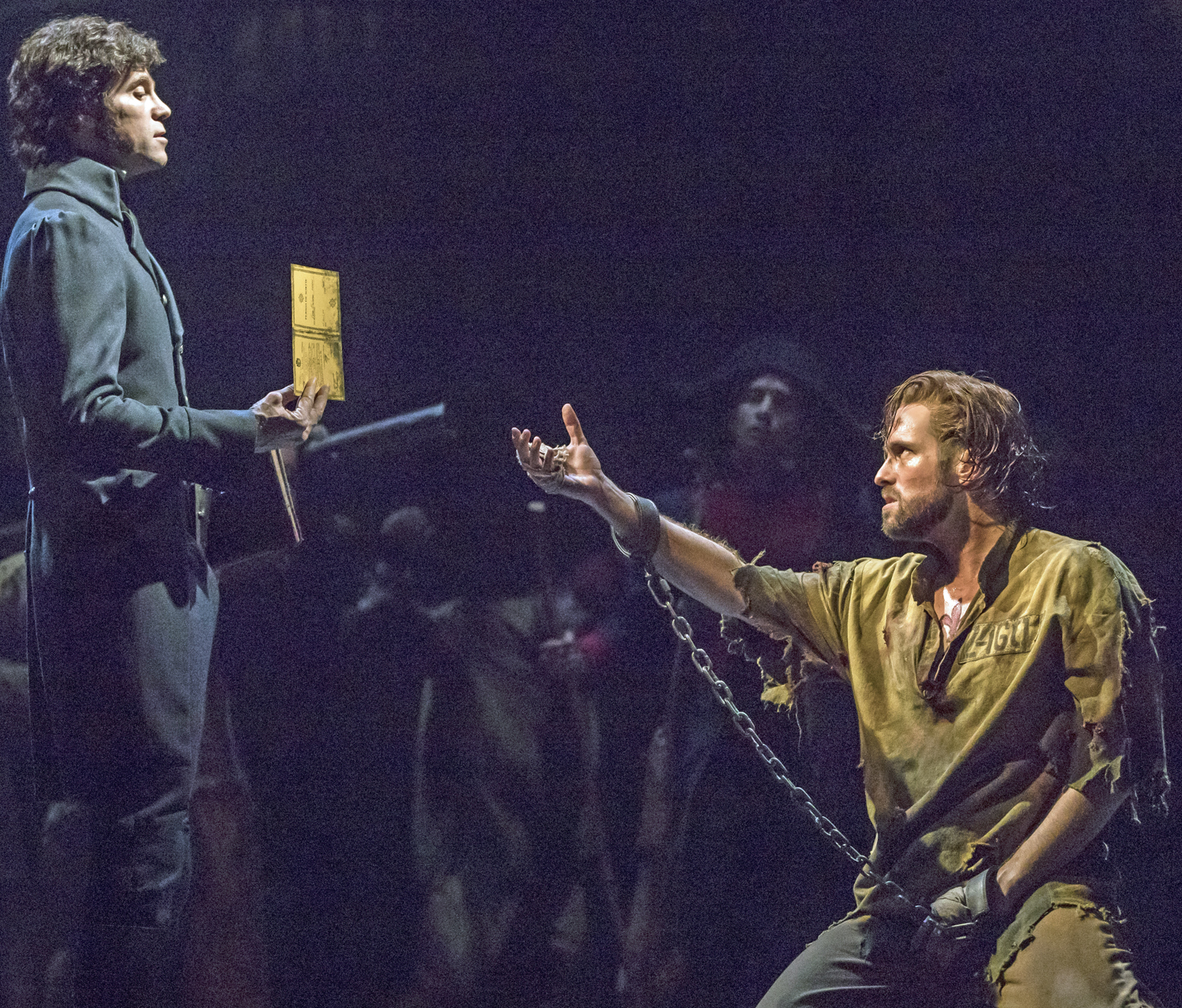 The barricades of Paris are about to be re-installed on the stage at the Kansas City Music Hall December 5 through December 10. For one week only, the new, 25th Anniversary edition of Claude-Michel Schönberg's epic musical version of Victor Hugo's 2500 page 1862 novel "Les Miserables" performs to what is expected to be full houses.
Claude-Michel Schönberg, Alain Boublil, and Jean-Marc Natel first created "Les MIserables" as a concert album and then as a play that opened in Paris in 1980. Five years later, an English version made it to London's "West End." Two years later, "Les Miserables" opened on Broadway.
"Les Miserables" whisks its audience to France in the first third of the 19th Century. Jean Valjean is a petty thief. As the play opens, he is about to be paroled after serving nineteen years in prison for stealing a loaf of bread and more than one escape attempt. His jailer, a policeman known only as Javert, warns him that any offense at all will land him back in prison.
Valjean cannot find work because his yellowed papers identify him as a parolee. He is taken in by a kindly priest, but Valjean is so embittered that he steals from the priest. Police arrest him with a hoard of church silver, but the priest says the silver has been a gift. Valjean is released. The priest counsels Valjean, and gives him the opportunity to turn his life around.
Jean Valjean grabs opportunity with both hands. Years pass. He assumes a new identity, becomes an exemplary employer of dozens of workers, and finally the Mayor of the town. All is well until an acquaintance reappears. The Jailer Javert is now a police inspector newly assigned to Valjean's town.
There is much more to the story, subplots, tragedy, comedy, recompense, two romances, and, of course the Paris Rebellion of 1832. It is a story about redemption of the human spirit. I will leave all the rest of that to you in the theater.
Broadway World-Kansas City recently enjoyed a pleasant conversation with Josh Davis, the actor who appears in the pivotal role of Inspector Javert in the touring company.
Davis, a Broadway veteran, appeared in the Broadway Company of "Beautiful, the Carole King Musical." Davis previously toured to Kansas City with the Kennedy Center's Opera for Young Audiences. That job earned Davis his Actor's Equity Card. His current show "Les Miserables" has had significant impact to his life.
Broadway World: How does a nice guy from Columbia Maryland with a marketing degree from the University of Delaware end up as a 19th Century suicidal French cop?
Josh Davis: It has been cool for me. "Les Miz" was the first show I ever saw in the early 1990s. It blew me away. Following college, I worked at a Production Company for the Discovery Channel in DC. On September 11, 2001, I had a photo shoot at a government facility.
My girlfriend at the time worked at the Smithsonian and I drove downtown hoping to find her. It was just crazy. People were driving the wrong way on one way streets. They ran everywhere. (The Pentagon was billowing black smoke. The south façade was gone.) It was scary.
After 911, I decided to give (musical theater) a try. I had been wanting to do it since school and who knew how much time anyone really had? I left my job and started to audition in DC and the rest is history. I got to Broadway about ten years later. Of course, there was a lot between there.
Broadway World: What makes the 25th Anniversary edition of "Les Miz" special for a new audience?
Josh Davis: For anyone who has seen the original version of "Les Miz," this will be very familiar, but the story is told in a more progressive way. The direction (by Lawrence Connor and James Powell) is almost like watching a movie because of the seamless way the scenes transition. The audience will feel like they are moving through time and through the space with the story. This (Les Miz) is a tighter more streamlined version of itself.
Broadway World: You have previously played Inspector Javert in a regional production at the Pioneer Theater Company of Salt Lake. As a Broadway veteran familiar with the material, how has this production surprised you?
Josh Davis: I've learned the author of "Les Miserables" was an artist in addition to being a writer. I did not know that Victor Hugo was so prolific. Matt Kinley (the production designer) has included projections of the contemporary Hugo paintings as backdrops. It is really beautiful. The visuals move and really add to the look of everything.
Broadway World: What else would you have audiences pay special attention to?
Josh Davis: There are the projections and then there is the way the lighting focuses what is going on. "Les Miserables" is now highlighted with beautiful color. The lighting lets the audience know where they should be looking on-stage.
Broadway World: Tell me about your cast mates.
Josh Davis: Nick Cartell leads us as Jean Valjean. Gorgeous voice. He has previously sung several different roles in "Phantom of the Opera."
Broadway World: Melissa Mitchell as Fantine comes from the 2014 Broadway revival. Your Cossette is Jillian Butler who has previously toured in "Wicked." Marius is Joshua Grosso who won the 2012 Jimmy Award. Phoenix Best is Eponine last contributed to the Broadway cast of "The Color Purple." J. Anthony Crain is Thenardier reprising his role from the Broadway production with Allison Gunn as Mrs. Thenardier has sung on Broadway with "On The Town" and in the revival of "Hair."
Josh Davis: Tony Crain is fantastic -- a very funny guy. The ensemble is made up of a lot of fresh talent. Many are experiencing "Les Miz" for the first time. Their performances are very fresh and exciting. The people that were chosen are really good actors in addition to being singers. It is a young cast. I think am one of the older persons in the cast. And it helps that we all like each other.
There are fifteen in the orchestra. It is a very full sound. When we heard the full orchestra for the first time, the cast was screaming and cheering. It blew us away. And it is such a big show that you have to have a big sound. We really accomplish that under our musical director, Brian Eads from Nashville. He is really great. It is nice to have him at the helm.
Broadway World:
Is there anything I can tell you in preparation for your time in Kansas City?
Josh Davis: Where do I find the best Barbeque?
Josh got several suggestions for culinary haunts. "Les Miserables" plays at the KC Music Hall December 5 through December 10. Curtain for most performances is at 7:30 p.m.
Photo provided by Kansas City - Broadway Series