I AM YOUR GRANDMA Comes to the Cameri Theatre This Week
Performances run 1 February - 12 March.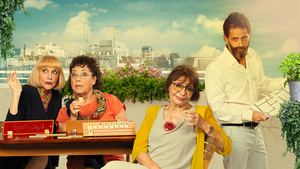 Odelia, a tough and cynical pensioner, refuses to sign a renovation project in her apartment building, which will ruin her late son's bedroom. When she finds a form from the sperm bank in his room, she realizes that somewhere in the world she has a grandson. Odelia and her two best friends, Deborah and Chaya, make a deal with Yoni, the renovation project manager: he will help them find the grandson, and then Odelia will sign.
And so, the three golden girls and the young man embark on a wild, emotional and funny journey, easily breaking the generational gap. And in the end of that journey maybe, just maybe, Odelia will say for the first time in her life "I'm your grandma".
A wild and emotional comedy about choosing life.
Performances run 1 February - 12 March.