Panti Bliss Returns to Dublin With IF THESE WIGS COULD TALK
The performance is on 14 May.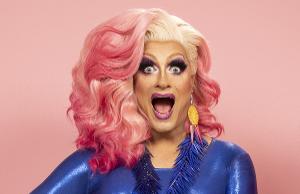 This summer, Queen of Ireland Panti Bliss is hitting the road with her smash-hit comedy If These Wigs Could Talk. First up is Dublin's Vicar Street for the only Dublin outing of the show on 14 May.
Fresh from making history on RTE's Dancing with the Stars, If These Wigs Could Talk meets notorious drag queen Panti, age 54, after a lifetime of accidental activism, far-fetched shenanigans and making a full time show of herself, now taking a moment to question what her purpose and place in this changing world is.
Expect salacious stories, impassioned polemics, and some seriously funny soul searching as Panti takes us from rural Mayo to London's glittering West End to the Irish Ambassador's residence in Vienna, where the answer to her existential question presents itself where she least expects it.
Following a record-breaking sold-out run at the Abbey Theatre last November, Panti invites you to learn from her ridiculous mistakes, laugh at her glittering failures, and share in her triumphs, in this big, beautiful and brilliant night out.
Tickets are €40, on sale at 11am this Friday 10 March via www.thisispopbaby.com
Sign up for an exclusive pre-sale at 10am on Friday 10 March via http://eepurl.com/imi6Kc
CREATIVE TEAM:
Written & Performed by Panti Bliss
Directed by Phillip McMahon
Produced by Jennifer Jennings and Laura Rigney
Graphic Design by Niall Sweeney, Pony Ltd
Publicity Image by Patricio Cassinoni
ABOUT: THISISPOPBABY
For sixteen years, THISISPOPBABY has been ripping up the space between popular culture, counterculture and high art, providing vehicles for our associate artists' dreams and exhilarating access points to the arts for diverse audiences. Our shows have played
 to 280,000 people (and counting) around Ireland, the UK, Australia and beyond, winning major theatre awards and thrilling audiences.
THISISPOPBABY is currently also presenting Conversations After Sex, by Mark O'Halloran at the Irish Arts Center in New York to sell-out houses and rave reviews, and recently set the city alight with their smash-hit, critically acclaimed show WAKE, playing to over 7000 in The National Stadium as part of Dublin Fringe 2022.
Other recent highlights include: Best Ensemble, Best Lighting (SHIT by Patricia Cornelius, directed by Jennifer Jennings) & Best Movement Direction (Party Scene by Phillip McMahon and Philip Connaughton) nominations in the upcoming Irish Theatre Awards. Winning Best New Play for Conversations After Sex by Mark O'Halloran (Irish Theatre Awards 2022); Winning Best Production (Dublin Fringe Festival 2016) and touring the world with RIOT; a sold-out world tour and accompanying film of Panti's High Heels in Low Places in 2015; Where We Live Festival in 2018 as part of St Patrick's Festival, a highlight of which was Tara Flynn's acclaimed Not A Funny Word.