Dublin Dates Added to Dance Consortium's UK and Ireland 2019 Tour of Mark Morris Dance Group in PEPPERLAND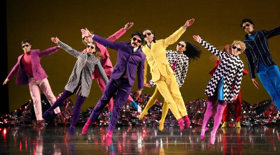 The Beatles' ground-breaking 1967 Sgt. Pepper's Lonely Hearts Club Band album is the inspiration behind Mark Morris Dance Group's (MMDG) Pepperland, presented by co-commissioner Dance Consortium and touring across the UK and Ireland between 20 March & 1 May 2019.
Pepperland is legendary choreographer Mark Morris' unique tribute to the 50th anniversary of the release of the iconic LP. Hailed as the first-ever 'art rock' album and widely regarded as the best rock and roll album of all time, it spent 27 weeks at number one on the UK Albums Chart and 15 weeks at number one in the USA. It won four Grammy Awards in 1968, including Album of the Year, the first rock LP to receive the honour.
Mark Morris is renowned as an intensely musical choreographer and is undeviating in his devotion to music. The New York Timessaid Morris is the "most successful and influential choreographer alive and indisputably the most musical". Since founding MMDG in 1980, he has created almost 150 works for the company, many of which are widely considered masterpieces.
By request of the City of Liverpool, Morris created Pepperland to pay homage to The Beatles, the album and its landmark anniversary. Its world premiere performances kicked off Liverpool's Sgt. Pepper at 50 Festival in May 2017 and received critical and audience acclaim for both its dance and music.
Now, set to tour across the UK and Ireland in 2019 - London, Birmingham, Salford Quays, Bradford, Edinburgh, Canterbury, Cardiff, Plymouth, Southampton, Norwich, Newcastle and Dublin - Pepperland features an original score by composer Ethan Iverson, inspired by some of the album's most enduring hits: Sgt. Pepper's Lonely Hearts Club Band; With a Little Help From My Friends; A Day in the Life; When I'm Sixty-Four; Within You Without You; and Penny Lane. Iverson's fresh arrangements of the original tracks will be performed live by MMDG Music Ensemble - Pepperland's unique chamber music group - and is interspersed with six original Pepper-inspired pieces that complement Morris' profound understanding of classical music styles of allegro, scherzo, adagio, and the blues.
The septet music ensemble is led by Iverson on piano. Best known as long-time pianist with the trio Bad Plus, which he left last year, Iverson was selected by Time Out New York as one of 25 essential New York jazz icons, "perhaps NYC's most thoughtful and passionate student of jazz tradition-the most admirable sort of artist/scholar." For Pepperland he is joined by New York City's finest musicians specializing in voice (Clinton Curtis), theremin (Rob Schwimmer), soprano sax (Sam Newsome), trombone (Jacob Garchik), organ/harpsichord (Colin Fowler) and percussion (Vincent Sperrazza).
Costume designer Elizabeth Kurtzman has designed numerous pieces for MMDG, including Dancing Honeymoon, Sang-Froid,The Argument, Greek to Me, Four Saints in Three Acts, Empire Garden, Visitation, Crosswalk, Petrichor and Pure Dance Items. Her bright, candy-coloured costumes, often splayed in geometric patterns, recall the swinging sixties as Morris' dancers evoke the freedom and energy of a time that revolutionised social and political norms.
Artistic director and choreographer Mark Morris, said: "The music for Pepperland, arranged and extrapolating from tracks on The Beatles' Sgt. Pepper's Lonely Hearts Club Band is important to me because of the enormous impact the album caused in popular culture at large. Beatlemania in the UK and particularly in the US was a pivotal event in the turbulent social/political semi-revolution of the late 1960s. As a very young person, I was dazzled and confused by the music. I loved it and I loved The Beatles. Then, over the years, I lost touch and lost interest partly because of overexposure. When I was approached to participate in the commemorative project in Liverpool, I re-examined the recording and found so much of interest in it that I eagerly took on the big project of turning these very familiar songs into an evening length music and dance show. Pepperland is the exciting result."
Composer Ethan Iverson, added: "The Pepperland score is a suite of chamber music performed by some of New York City's finest iconoclasts. Half the piece is arrangements of the songs we all know, half is new danceable pieces responding to the strong undercurrent of classical music present on the original album."
Community engagement is a vital component MMDG's work. The group integrates opportunities for dance, music, talks, and education at its Brooklyn home, the Mark Morris Dance Center, as well as on tour around the world.
Pepperland's UK and Ireland Tour 2019 will feature talks and participation events including MMDG's renowned Dance for PD®workshops - born from the idea that people with Parkinson's could benefit from the insight and specific techniques and methods used by dancers to guide their own bodies and minds. The workshops strive to increase coordination, balance, flexibility, and strength through music and movement from a broad range of dance styles.