Industry: New iPad App Streamlines Creative Process for Broadway, TV & Film Teams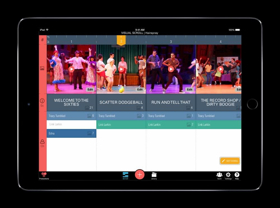 Leading theatrical licensor Music Theatre International has partnered with ProductionPro Technologies Inc. to bring an innovative new iPad app successfully used by creative teams in TV, film and Broadway to theatrical organizations in the U.S. and Canada. The app has been custom-tailored to the specific needs of MTI's customers.
Designed to enhance the creative process, ProductionPro's Digital Rehearsal Notebook fosters collaboration among members of a musical's creative team by providing a digital breakdown of every scene in the show, so users can skim the entire show and all of its creative elements at-a-glance. The intuitive iPad app automatically pulls together all research, designs, and reference videos into one place that enables and enhances communication and the decision-making process.
ProductionPro has already been used effectively in notable Broadway productions including Disney's Frozen the Musical, Hamilton, Groundhog Day, Kinky Boots and Miss Saigon.
"We've been working with some of Broadway's greatest talents for the past year developing a platform that inspires creative collaboration," says Alexander Libby, Founder and CEO of ProductionPro Technologies Inc. "We are very excited to be launching our first product for schools, community and regional theatres with MTI. Now everyone can put on a show using ProductionPro."
Libby created the app out of necessity while he was working for acclaimed director Stephen Daldry on the film, Extremely Loud and Incredibly Close. He wanted to centralize all the relevant production information, while giving the creative team a way to literally see the big picture.
ProductionPro has also attracted the attention of The Walt Disney Company, recently being selected as a participant in the Disney Accelerator - a program offering innovative new companies the mentorship and support from Disney's leadership teams.
"There is obviously a great deal of excitement in the entertainment industry about ProductionPro. The product has worked very successfully on a number of Broadway shows, and participating in the Disney Accelerator is a big vote of confidence in the technology and its applications. We know ProductionPro will add tremendous value to our customers' theatrical experiences," stated Drew Cohen, President of Music Theatre International.
Music Theatre International (MTI) is one of the world's largest theatrical licensing agencies, granting schools, amateur groups, and professional theatres worldwide the rights to perform musicals from a catalogue of more than 400 titles, from Broadway, Off-Broadway, the West End and Hollywood. MTI works directly with composers, lyricists and book writers of these musicals to offer official scripts, musical materials and dynamic theatrical resources to over 70,000 theatrical organizations in the USA and in over 60 countries worldwide.
Conceived in 1996 by MTI CEO, Freddie Gershon, Broadway Junior musicals are condensed, author-approved versions of classic musicals, Disney favorites and modern works, custom-tailored to the needs of young people and schools.
MTI maintains its global headquarters in New York City (mtishows.com), with additional offices in London (MTI Europe: mtishows.co.uk, mtishows.eu), and Melbourne (MTI Australasia: mtishows.com.au).
ProductionPro is an entertainment technology company focused on improving creative collaboration in Film, TV, and Theatre production. Based in Brooklyn, New York, ProductionPro presents directors, choreographers, and designers with a Digital Production Notebook that automatically pulls together all scripts, research, designs, and reference videos into one simple place that enables and enhances communication and the decision-making process.
Related Articles View More Industry

Stories
Industry Classifieds
More Hot Stories For You