Summer Stock Stage's Eclipse Presents DOGFIGHT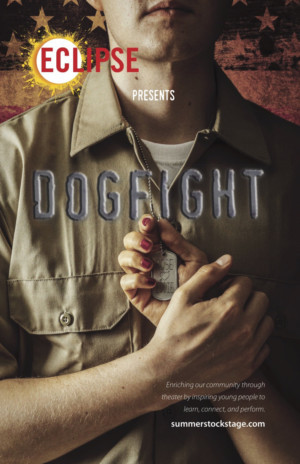 Eclipse, the emerging artists program of Summer Stock Stage, will present the contemporary musical "Dogfight" May 31 - June 17 at IndyFringe Basile Theatre.
Summer Stock Stage, a premier educational theater company, provides students ages 13 to 19 with an extraordinary performing arts experience. In 2017, Summer Stock introduced Eclipse, an offshoot for young professionals and college students from central Indiana. The performers, who are SSS alumni, have the opportunity to showcase their talents in challenging musical theater productions.
"We believe providing professional opportunities for performers who are just embarking on their careers helps attract and retain emerging artists in our community," said artistic director Emily Ristine Holloway. "There's a need for this type of work in the Indianapolis market."
"Dogfight" will feature performers who graduated from central Indiana high schools and attend or attended nine different colleges. The musical was written by Benj Pasek and Justin Paul, the songwriting team behind "Dear Evan Hansen," "La La Land" and "The Greatest Showman."
The story of "Dogfight" takes place on November 21, 1963. On the eve of their deployment to a small but growing conflict in Southeast Asia, three young Marines set out for one final boys' night of debauchery, partying and maybe a little trouble. But when Corporal Eddie Birdlace meets Rose, an awkward and idealistic waitress whom he enlists to win a cruel bet with his fellow recruits, she rewrites the rules of the game and teaches him the power of love and compassion
Tickets for the 12 shows are available at summerstockstage.com. Tickets are $20 opening weekend and $30 for all other performances. Dogfight includes mature content and strong language.