Photo Flash: Opening Night Reception for Theatre at the Center's NOISES OFF
The first production to ever be produced at Theatre at the Center in the summer of 1991, Noises Off kicked off the milestone 20th anniversary season for this award winning theatre. The uproarious comedy opened on February 18 at Theatre at the Center, 1040 Ridge Road, Munster, Indiana, and will run through March 21.
The story follows the on and off stage antics of an inept acting troupe as they stumble from bumbling dress rehearsal to disastrous closing night. Everything that can go wrong does, as actors desperately try to hang on to their lines, their performances, and the furniture.
Noises Off is directed by Theatre at the Center Artistic Director
William Pullinsi
, who is considered by many to be a master of directing the farce. He has directed dozens of farces including last season's smash hit LEADING LADIES. The cast consists of a "dream team" of Chicagoland's favorite comedic actors including
Marilynn Bogetich
as "Dotty Otley",
Dale Benson
as "Selsdon Mowbray",
Will Clinger
as "Lloyd Dallas",
Jeff Cummings
as "Garry Lejune",
Clay Sanderson
as "Frederick Fellowes",
Laura Leonardo Ownby
as "Be
Linda Blair
",
Anna Hammonds
as "Poppy Norton-Taylor",
Jason Wroblewski
as "Tim Allgood" and
Laura E. Taylor
as "Brooke Ashton".
"The Funniest Farce Ever Written" is how the New York critics described the awesome hilarity and mind-boggling mayhem of Noises Off. It follows a troupe of has-been, never-was, and wanna-be actors led by a somewhat pretentious and strained-to-the-breaking-point director. They are touring in a typical English bedroom farce called Nothing On through the hinterlands of the outer regions of Britain (the equivalent off Off OFF Broadway in America). As the show progresses from one town to the next, the little romances, intrigues, and foibles of the cast begin to wear on them until, by the time they arrive in the last town, all semblance of the play that they were rehearsing has vanished into the mayhem of their personal and professional vendettas. Shoelaces are tied together, plates of sardines are dumped on heads, alcohol is consumed in quantity, and sexual peccadilloes and dalliances are revealed both onstage and off.
In theatrical stage directions, the term "noises off" specifies sounds that are meant to originate offstage. The play premiered at the Lyric Theatre in London in 1982. Shortly after, it transferred to the West End's Savoy Theatre in The Strand, where it ran until 1987 with five successive casts. It won the Evening Standard Award for Best Comedy.
On December 11, 1983, Noises Off opened in New York City at the Brooks Atkinson Theatre, where it ran for 553 performances. It earned Tony Award nominations including Best Play and won a Drama Desk Award for Outstanding Ensemble. On October 5, 2000, the National Theatre in London mounted a revival which ran for two years, transferring to the Piccadilly Theatre in the West End on May 14, 2001. The production then returned to Broadway, again at the Brooks Atkinson, on November 1, 2001, with Patti LuPone, Peter Gallagher, Faith Prince, T.R. Knight, and Katie Finneran. The production was nominated for a Tony and Drama Desk Award as Best Revival of a Play, and Finneran was awarded Best Featured Actress by both groups.
In addition to William Pullinsi as Director, Fight Choreography is by R & D Choreographers. The design team for Noises Off is Scenic Designer Lee Brasuell, Costume Designer Brenda Winstead, Lighting Designer Denise Karczewski, Wig Designer Kevin Barthel, Props Designer Libby Fandrei and Sound Designer Matt Meier. The Stage Manager is Rebecca Green with Technical Director Ann Davis.
Founded in 1991, Theatre at the Center is a year-round professional theater at its home, The Center for Visual and Performing Arts, 1040 Ridge Road, Munster, Indiana. Theatre at the Center is conveniently located off I-80/94, just 35 minutes from downtown Chicago.
Performances are Wednesdays and Thursdays at 2:00 p.m.; Fridays at 8:00 p.m.; Saturdays at 8:00 p.m.; Sundays at 2:30 p.m. and Thursdays at 7:30, and Saturdays at 2:30 p.m. Also, for each show in the 2010 season, there will be one specific Tuesday performance at 10 a.m. Individual ticket prices range from $20 - $40, based on the performance date and time, seat location and are currently available for purchase. Season subscriptions to the 20th Anniversary Season are available for $125. New for this season will be subscription series events. The first of these events, the Wine and Theatre Series, will allow guests to enjoy delectable wines from all over the world at Theatre at the Center's home, the Center for the Visual and Performing Arts. An assortment of hors d'oeuvres will be served to complement the wines. This Wine and Theatre Series can be conveniently added to season subscriptions for $75. Finally, the Dinner Theatre series may be added to any subscription for only $105.25. Guests may enjoy pre-show special dinners conveniently located in The Center for Visual and Performing Arts, right across from the theatre lobby. To purchase season tickets, individual tickets call the Box Office at 219.836.3255 or Tickets.com at 800.511.1552. Group discounts, available for groups of 11 or more; and gift certificates, perfect for all special occasions are also available by calling the Box Office at 219.836.3255.
For more information on Theatre at the Center, visit www.TheatreAtTheCenter.com.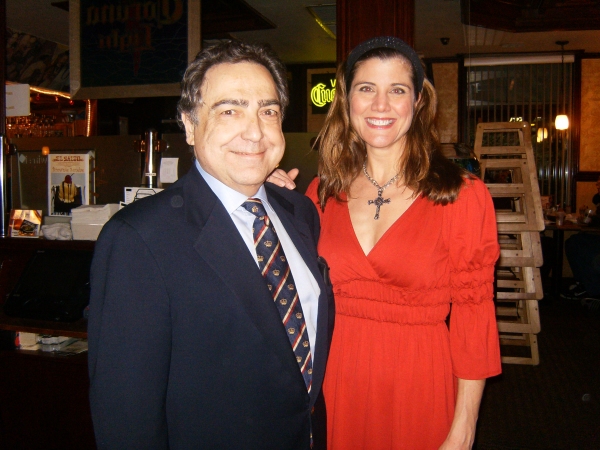 Director William Pullinsi and Laura Leonardo Ownby ('Linda Blair')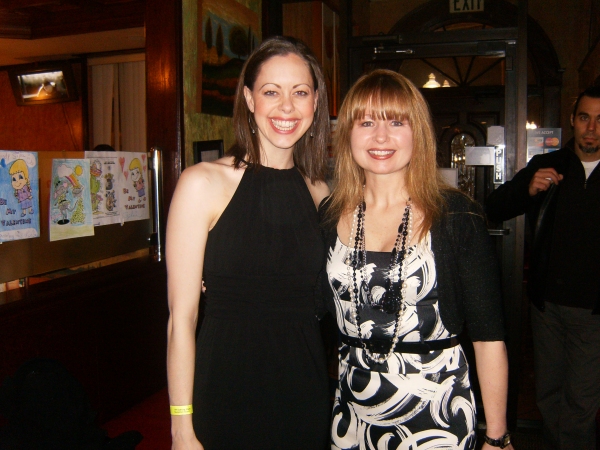 Laura E. Taylor ('Brooke Ashton') and Theatre at the Center Marketing Director Patty Bird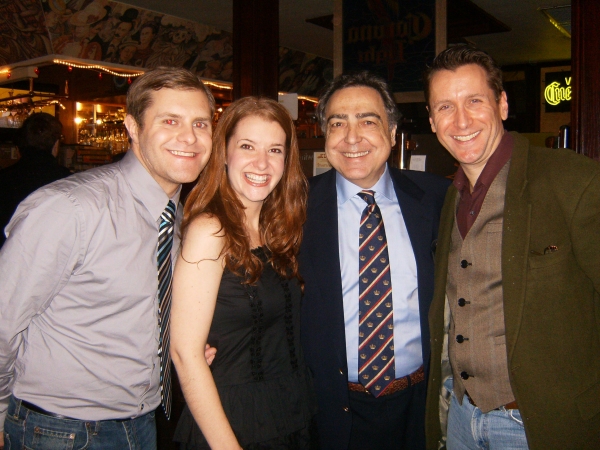 Jason Wroblewski ('Tim Allgood'), Anna Hammonds ('Poppy Norton-Taylor'), Director William Pullinsi and Jeff Cummings ('Garry Lejeune')

Clay Sanderson ('Frederick Fellowes') and Will Clinger ('Lloyd Dallas')

Director William Pullinsi and Wig Designer Kevin Barthel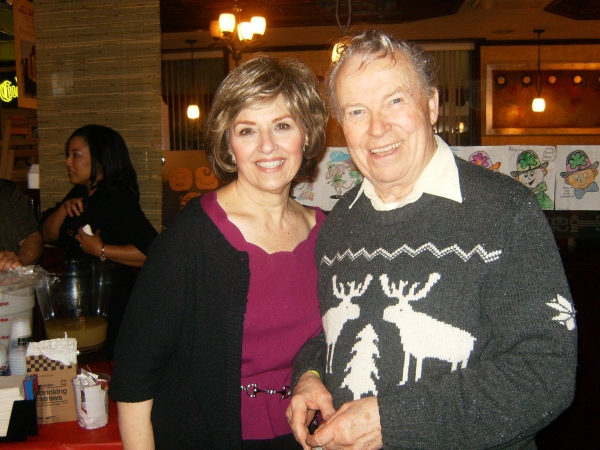 Marilynn Bogetich ('Dotty Otley') and Dale Benson ('Selsdon Mowbray')

Theatre at the Center Production Manager Chuck Gessert and Marketing Director Patty Bird