BWW Review: THE LAST NIGHT OF BALLYHOO at Florida Rep is Cheerful and Charming!
Florida Repertory Theatre's production of THE LAST NIGHT OF BALLYHOO was an absolutely charming show. There were many funny, lighthearted moments throughout the show, but there was also a good amount of tension between characters, due to differences in their faith. It was a unique and very beautifully done romantic comedy.
V Craig Heidenreich, who played Adolph Freitag, had some of the best lines in the whole show; even some of the one-word responses he would give other characters had the entire audience chuckling. The show's comedic timing was excellent, and Heidenreich had great delivery.
Olivia Howell, who played Sunny Freitag, and Jackie Schram, who played Lala Levy, were extraordinary in their characterization of the roles they were portraying. Their characters were very,
very different, and they did a spectacular job at showing the contrast between them. Lala is a pretty dramatic girl, and Schram did a great job at showing how over-the-top her character is. Sunny is a lot more subdued, and Howell illustrated that very well.
The rest of the cast, which consisted of David Friedlander, Britt Michael Gordon, Carrie Lund, and Stacey Scotte, were all just as excellent. They all truly brought their characters to life, and created a very distinct persona for the roles they portrayed. I also have to commend the entire cast for how well they project their voices--the back of the theater could easily hear their dialogue. That isn't always an easy thing to do, but they all did it quite well.
The set of THE LAST NIGHT OF BALLYHOO was beautiful, and is quite possibly one of my favorite play sets I have seen thus far. Of course, Florida Rep is always very creative and thorough with their sets; they always fit the production perfectly, and you feel like you are brought to another time and place. Even before the production started, Florida Rep brought the environment of the time and setting of this show to the theater through music from that era. THE LAST NIGHT OF BALLYHOO really showcased the fantastic work Florida Rep does.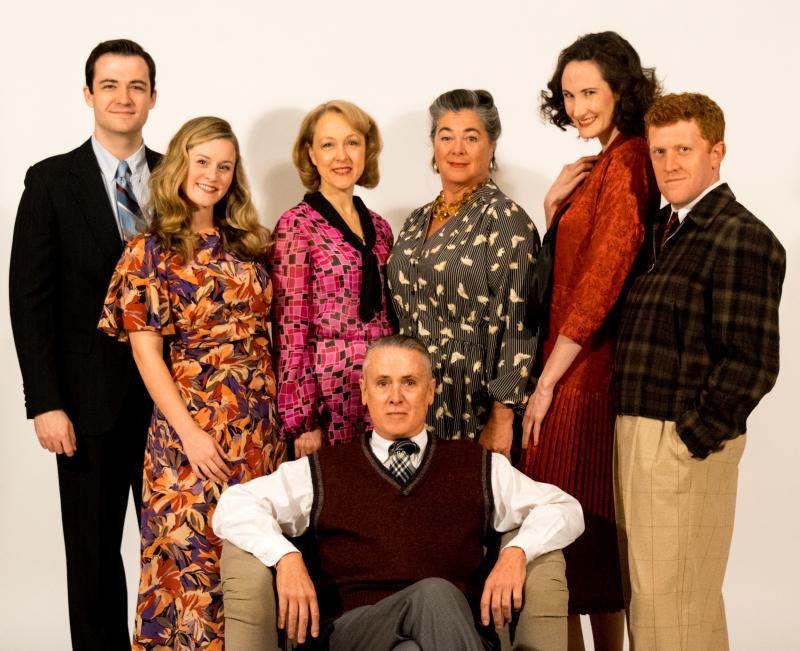 Something I appreciated and enjoyed about this production is that it is not a typical Christmas play; it shows what Christmas time is like from a Jewish perspective, which is something I did not know too much about, and introduces the audience to the "Ballyhoo," which used to be a traditional Jewish event for college-aged people. The plot involved a lot of different aspects about what it meant to be Jewish in that time, and perhaps some of it is still relatable for many people in the present.
Once again, Florida Rep has put on an incredibly heartfelt, hilarious, and profound show with THE LAST NIGHT OF BALLYHOO. With a mix of talented actors, incredible staging, a compelling story, and so much more, I definitely think this is one of Florida Rep's best productions thus far.
THE LAST NIGHT OF BALLYHOO is playing in the Historic Arcade Theatre at Florida Rep now through December 17. Performances are Tuesday-Saturday at 7PM, with 2PM matinees on Wednesday, Sunday, and selected Saturdays. To buy tickets, you can visit www.floridarep.org, call Florida Rep at 239-332-4488, or stop by the box office at 2268 Bay Street, Fort Myers, FL, 33901.