THE PINK HULK Solo Show From Cancer Survivor Valerie David Returns to Iceland This Month
The performance is on Friday, August 5 @ 9:10 pm ET.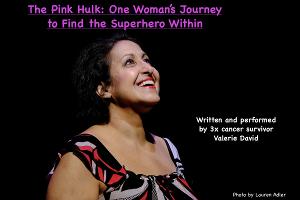 The Act Alone Theatre Festival in Suðureyri, in the Westfords of Iceland, is presenting Manhattan-based, three-time cancer survivor and patient advocate Valerie David's internationally acclaimed, awarding-winning comedic solo show The Pink Hulk: One Woman's Journey to Find the Superhero Within. Written and performed by Valerie, the performance will be followed by a talkback. Valerie and The Pink Hulk won the 2021 Act Alone Award at the Reykjavik Fringe Festival last July, and through this award and its funding, Valerie is thrilled to return to Iceland to perform The Pink Hulk in this prestigious festival.
Performance
Friday, August 5 @ 9:10 pm ET (@ 21.10 Icelandic time)
Venue
Hofsú
Aðalgata 13
430 Suðureyri, Iceland
Tickets are free to the public
Runtime: 60 minutes with no intermission (a 30- to 35-minute special talkback/audience Q&A will follow the performance next door at Fisherman Café, Aðalgata 14-16, 430 Suðureyri)
Special Talkback Guest: Thelma E. Hjaltadottir of The Sigurvon Cancer Association
Now battling breast cancer after fighting off lymphoma, Valerie does something most people facing cancer in their life probably wouldn't think of doing. With a fear that she might lose "the girls", she takes them out for one last hurrah. And does Valerie succeed? Is there a "happy" ending? Come see the show to find out! This sexy, adventurous solo show follows Valerie's journey to seek her own "hulk-like" strength to find her superhero within to become a 3-time cancer survivor. After all a cancer diagnosis means only one thing: Time to get laid.
The Pink Hulk inspires through Valerie's personal story of kicking cancer to the curb, living life on her own terms, and crushing the obstacles in her path. Her show is told with heartfelt honesty and lots of humor. An empowering and true story of inspiration for anyone facing ANY adversity in their own lives-not just from cancer!
Valerie "hulked out" on cancer; after her first two bouts with cancer-Non-Hodgkin's Lymphoma in 1999 and then breast cancer in 2014/2015. Then in September 2018, Valerie was re-diagnosed with breast cancer-this time Stage IV metastatic. As of April 2019, she has beaten cancer again and has continued to beat it! There is no trace of her cancer-zero evidence of disease. Her solo play is a celebration of being comfortable in one's own skin, of embracing and accepting one's own body-no matter the shape or size. The Pink Hulk is a true testament to never give up and always have hope!
The Pink Hulk has been accepted into more than 47 theater festivals since its 2016 debut, performing domestically in 25 cities and worldwide including in England, Sweden, Iceland and Finland, garnering rave reviews and winning several awards. She won the prestigious "Act Alone Solo Show Award" at the 2021 Reykjavik Fringe Festival in Iceland, and returning this August to perform in Iceland. Valerie is also the 2022 recipient of The Colby Award for Excellence in the Arts for The Pink Hulk, which is in recognition of her career achievements. "My show is not just about fighting cancer; it has a universal message of hope and empowerment. And what makes it stand out, is its humor," Valerie said.
Directed by Padraic Lillis and Maris Heller. For more info on Valerie and her show, visit https://pinkhulkplay.com/.
Valerie David (playwright/performer) wrote The Pink Hulk as a cancer survivor to express the empowerment to find humor and superhero inner strength going through her three cancer bouts, portraying over 20 different characters onstage. The Pink Hulk has been featured on TV, radio, in publications and on podcasts, including NBC 4 New York, CBS, FOX, amNY, Heal magazine, The IndyStar, Breast Friends Cancer Support Radio Network, Mia's World, First Online With Fran, The Crisis Help Show, the Jim Masters Show! Live, Tamara L. Hunter's Service Hero Show and Reykjavik Fringe Festival podcast.
The Pink Hulk was awarded the Queen's Medal for Valour Performance Award, presented to an exceptional performer who brings bravery, grace, and humor to extraordinary circumstances in the SaraSolo Festival, the Best Survivor Award at the Pittsburgh Fringe, was an Official Selection in the DivaFest in Indy, the Fringe Crush Award in the IndyFringe, the Audience Choice Award in the Shenandoah Fringe, the WOW Award in the Gothenburg Fringe "for the show which inspired awe in audiences with its creativity, humour and content" and many more. She is currently developing her new solo show Baggage from BaghDAD about her father and his family fleeing Iraq from religious persecution during the 1941 pogrom of Baghdad, "The Farhud"-and how their survival shaped who she is today. This new solo show will be premiering in Sweden's Gothenburg Fringe this September and then will be presented in the Stockholm Fringe Festival. Since 2018, this will mark Valerie's 6th Nordic Fringe Festival appearance.
The Pink Hulk solo show is also a 2022 recipient of the Mid Atlantic USArtists International Grant. This engagement is supported in part by Mid Atlantic Arts through USArtists International, a program in partnership with the National Endowment for the Arts, the Andrew W. Mellon Foundation, and the Trust for Mutual Understanding.
ABOUT SIGURVON CANCER ASSOCIATION: The Sigurvon Cancer Association was founded on November 4, 2001, and today there are almost 400 members. The main mission of Sigurvon's cancer society is to provide support to people undergoing cancer treatment, and their families, through their struggle. That support consists in providing information to people and financial support. People undergoing cancer treatment can apply for an annual grant to the association. The company also pays accommodation costs for people who have to stay in Reykjavík due to a hospital stay. The service office's opening hours are on Tuesdays from 14-16. The company's board of directors is composed of the following: Chair: Helena Hrund Jónsdóttir Treasurer: Martha Kristín Pálmadóttir Secretary: Þórir Guðmundsson Co-director: Hlynur Kristjánsson Co-director: Auður Ólafsdóttir. The company's employee is Thelma E. Hjaltadottir. Location: Suðurgata 9, 400 Ísafjörður, https://www.krabbsigurvon.is/
*Show has mature content.