SERIESFEST Announces Award Winners for Season 3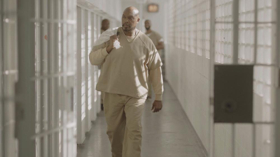 SeriesFest announced today the winners for this year's Season 3 festival, nominated from over 40 official selections screened in competition in the Independent Pilot, Digital Short Series and Late Night Competition sections at the Sie FilmCenter this week. Talent from this year's pilots included Nigel Barker, Michael Buscemi, Kevin Corrigan, Kyle Dunnigan, Melonie Diaz, Nathan Fillion,Linda Hamilton, Doug Jones, Wayne Knight, Terence Nance, Julie Klausner, Deirdre O'Connell, William Sadler, Horatio Sanz, Nick Searcy, Sasha Spielberg, Nick Thurston, Alan Tudyk and Reggie Watts.
In the Independent Pilot Competition, SeriesFest has named "Up North" as the Best Pilot in a Drama, "Giving Up" as the Best Pilot in a Comedy and "PPL: Wizard Oz" as the Best Pilot in an Unscripted Series. Pilots showcased innovative programming by both emerging and established creators and directors. The Independent Pilots in the Drama and Comedy categories for this year's festival were deliberated by an esteemed jury consisting of Cheri Barner (Cheri Barner Management), Bryn Sandberg (The Hollywood Reporter) and Chiké Okonkwo (Actor) on the Drama and Unscripted Series jury while Scott Mantz (Film Critic and Film Segment Producer, Access Hollywood), Kesila Childers (Director of Original Content Development, Vimeo) and Rebecca Blumhagen (Actor and Filmmaker) led the Comedy jury.
"Every year we continue to be more amazed at the amount of talent in the independent television community, and at the pilots being showcased here at SeriesFest," said Randi Kleiner, CEO of SeriesFest. "Our Independent Pilot Competition jury had no small task in determining the 2017 award winners, including the inaugural 'Best Unscripted' Award, and we want to congratulate the 27 incredible pilots in competition. This year's festival has been host to countless meetings with development companies, networks, and producers, and we are excited to see what the future has in store for these remarkable stories."
In the inaugural Digital Short Series Competition, "Disengaged" was awarded the "Digital Short Series Award" and "Urbance" took home the "Late Night Award" in the inaugural Late Night Competition, presented in partnership with Adult Swim. This year's Digital Short Series Competition jury was comprised of Amirah Vann (Actress, "Underground"), Charlie Sextro (Senior Programmer, Sundance Film Festival) and Vinny Chhibber (Actor, "No Tomorrow") while the Late Night Competition jury featured Dan Schoenbrun (Co-creator, "The Eyeslicer"), Kelly Sears (Experimental Animator) and Cameron Tang (Manager of Development, Adult Swim).
Additionally at the festival this year, Krista Smith was presented the 2017 "Visionary in Media Award" in celebration of her outstanding work in identifying and supporting emerging artists in the entertainment industry. SeriesFest honored Ms. Smith on Friday, June 30 with a welcome toast and extended conversation moderated by Eric Kuhn at the Sie FilmCenter.
El Rey Network bestowed "MEN" with the "El Rey Network Diversity in Storytelling Award" in partnership with SeriesFest. The winning pilot, which will receive a $5,000 cash prize, was voted on by El Rey Network's Vice President, Corporate and Brand Development, Theresa Vargas Wyatt.
"It is an honor to award the second annual 'El Rey Network Diversity in Storytelling Award' to 'MEN'," said El Rey Network's Vice President, Corporate and Brand Development, Theresa Vargas Wyatt. "Michael Michele and Chris L. Jenkins' exploration of a universal and unexpected side of the African-American male experience is a riveting story that elevates diversity on many levels and resonates strongly with our brand."
The annual Storytellers Initiative Screenwriter's Award, presented in partnership with Elysium Bandini Studios and Parallel Entertainment, went to Jack Robichaud's "You from the Future", who will receive a development deal with Elysium Bandini Studios and Parallel Entertainment and the opportunity for a professionally produced pilot presentation valued at $60,000. The three Storytellers Initiative finalists were selected to participate in a screenwriter's lab in Los Angeles on May 31-June 1, culminating with the winning script read aloud on Friday, June 30 at the Sie FilmCenter.
"Storytellers Initiative was born out of the festival's ongoing mission to mentor and support talented voices in the comedy writing landscape," said Kaily Smith Westbrook, CCO of SeriesFest. "We're so proud of all of our participants, and want to congratulate this year's winner, Jack Robichaud. We're thrilled to see this script come to life on Elysium Bandini Studios' platform."
SeriesFest and Seed&Spark announced Meenakshi Ramamurthy's "The Fob & I" as the $30,000 grand prize winner of this year's New Voice Crowdfunding Rally, a yearlong program presented in partnership with Fullscreen and MasterCard, at a special cocktail party on June 29. SeriesFest and Seed&Spark also premiered the winner of Fullscreen's Straight-To-Screen prize Table Talk, who produced their full series this spring. The New Voice Crowdfunding Rally was announced in 2016 as a way to discover and bolster new and diverse talent in episodic storytelling, with dozens of new projects launched during the funding rally. The winners announced at SeriesFest: Season 3 were selected by an esteemed jury, which included Eugene Hernandez, Theresa Vargas Wyatt, Raoul De Sota, and Tijuana Ricks.
For more information, visit www.seriesfest.com
Related Articles View More Denver

Stories

Shows
More Hot Stories For You