Photo Flash: First Look at SABRINA FAIR at Lowry's Spotlight Theatre
Lowry's Spotlight Theatre's production of " Sabrina Fair" is running now through March 18 at the
John Hand
Theater in Lowry. This classic romantic comedy was the toast of Broadway and the subject of two movie adaptations. BroadwayWorld has a first look at the cast in action below!
When the daughter of a chauffeur falls in love with not one, but both sons of the wealthy Larrabee family, complications arise. Set on Long Island in the 1950's, this Cinderella story will capture your heart. Sabrina is bright, well-educated, and has just returned from five years in Paris. She has come home to find out if she is still in love with the younger Larrabee son, David. The elder son, Linus, a cynical, good-humored tycoon who has taken control of the family fortune, detects Sabrina's feeling for his brother, and for his own amusement lays a trap to bring them together. It works: David falls in love with Sabrina and wants to marry her. At the same time, a rich young Frenchman who has known Sabrina in Paris turns up and asks her to marry him.
Director Rachel Bouchard has assembled a talented cast that includes Regina Steffen (Sabrina Fairchild), James O'hagan-Murphy (Linus Larrabee), Drew Hirschboeck (David Larrabee), Darcy Kennedy (Maude Larrabee), Cindy Laudadio-Hill (Julia), Claude Diener (Mr. Larrabee), Maru Garcia (Margaret), Stephanie Kidd (Gretchen), Perry Lewis (Mr. Fairchild) and Phil Luna (Paul).
Performances play Fridays, Saturdays and Monday, February 27 at 7:30.p.m., Sundays at 2 p.m. at The John Hand Theater, 7653 E. 1st Place, Denver, CO 80230. Tickets are $13 - $23 and available by calling 720-880-8727 or online at www.thisisspotlight.com.
Photo Credit: Soular Radiant Photography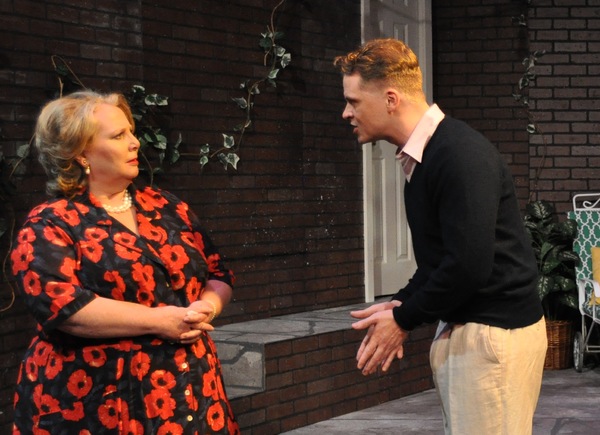 Darcy Kennedy
and Drew Hirschboeck
Drew Hirschboeck and Regina Steffen
James O'Hagan-Murphy
and Regina Steffen
Regina Steffen