Denver Children's Theatre Presents SLEEPING BEAUTY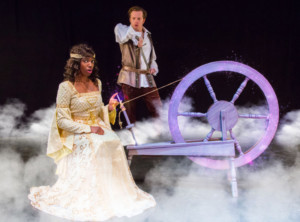 Celebrating its 21st Anniversary the Denver Children's Theatre presents the classic fairytale, SLEEPING BEAUTY opening on March 8th and playing through May 4th, running Sundays for families at 1 p.m. and most weekdays starting March 8th at 10 a.m. for school field trips (also open to the public). This live-action, professionally staged theatre production is presented in the Elaine Wolf Theatre at the Mizel Arts and Culture Center (part of the Staenberg-Loup Jewish Community Center) located at 350 S. Dahlia Street in Denver. The show is recommended for kindergarten age and up.
Written by Charles Way, this adaptation of SLEEPING BEAUTY is the story of Briar Rose (a.k.a. Sleeping Beauty), an independent, headstrong, in-your-face kind of princess and her best friend and companion Gryff, a smart-aleck half-dragon. This fanciful play also includes two witches, Branwen who is the good witch and her evil sister, Modron, who are trying to out-spell each other. When Briar Rose pricks her finger and goes to sleep, Prince Owain and Briar Rose's friend Gryff join forces on a funny and adventurous quest to save her, battling troublesome fairy-folk and a riddling Spider King along the way.
For the past 21 years, the award-winning Denver Children's Theatre has produced quality theatre for young audiences, presenting fully mounted main stage productions featuring superb sets and costumes and some of the finest adult professional actors in Denver. This year's show is directed by Steve Wilson and the cast includes: Rachel Graham, Ilasiea Gray (as Briar Rose), Austin Lazek, Damon Guerrasio, Maggie Tisdale, Sydnee Fullmer and Hannelore Rolfing.
The Denver Children's Theatre is located at the Mizel Arts and Culture Center in the Elaine Wolf Theatre at 350 S. Dahlia Street, Denver, CO 80246. Tickets for public performances are $10/$12 for children/adults and can be purchased at the box office at 303-316-6360 or online at www.maccjcc.org. For more information regarding weekday school performances call 303-316-6360. Discounts are available for Title I schools.