Arvada Opens Black Box Season with THE FOREIGNER, Performances Added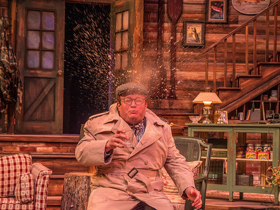 The Arvada Center for the Arts and Humanities has opened the 2017 - 2018 Black Box season with The Foreigner, directed by Geoffrey Kent. The Foreigner, by Larry Shue, earned two Obie Awards and two Outer Critics Circle Awards for Best New American Play and Best Off-Broadway Production when first produced in 1984. The play, a farce filled with comic surprise, has become a staple of both professional and amateur theatre. The 2017 - 2018 Arvada Center Theatre Season is sponsored by Lutheran Medical Center.
Performances are Thursday through Saturday at 7:30 p.m., with matinées on Wednesdays at 1:00 p.m.and Sunday at 2:00 p.m., through November 18. Additional performances have been added onNovember 4 and 18 at 2:00 p.m. Audience talkbacks are held throughout the run of the production. To purchase tickets go to http://arvadacenter.org/the-foreigner or call 720-898-7200.
Charlie Baker, a painfully shy Englishman, finds himself at a rural Georgia hunting lodge for a few days of peace and quiet. To save Charlie from having to speak to strangers, the local inhabitants are told that he's a foreigner who can't speak or understand a word of English. Soon the locals begin to share their deepest secrets with him, and Charlie must decide what to do with all of this information. The result is a hilarious look at secrets revealed, which explodes in a wildly funny climax. The Foreigner is the perfect mix of antic comedy and celebration of how someone unexpected can bring out the best in us.
The cast features Edith Weiss (Betty Meeks), Greg Ungar (Owen Musser), Lance Rasmussen (Ellard Simms), Jessica Robblee (Catherine Simms), Josh Robinson ("Froggy" LeSueur), Sammie Joe Kinnett (Charlie Baker) and Zachary Andrews (Rev. David Marshall Lee).
The Foreigner opens the Arvada Center's four-play Black Box theatre season, and includes members of the Center's ensemble company of actors, directors, technical artists, and designers. While The Foreigner is not performed in repertory, it introduces the company of actors who audiences will see throughout the season in a variety of roles. For information on upcoming Black Box productions, which include Sense and Sensibility, The Electric Baby and All My Sons, go to http://bit.ly/2xb2lBf
In addition to director Geoffrey Kent, the creative team includes Brenda King (costume design), Brian Mallgrave (scenic design), Vance McKenzie (lighting design) and Jason Ducat (sound design).
The Foreigner
Runs October 13 - November 18, 2017
Thursday - Saturday 7:30 p.m.
Wednesday matinée, 1:00 p.m.
Sunday matinée, 2:00 p.m.
Additional performances Saturday, November 4 and Saturday, November 18 at 2:00 p.m.
Chats with the Cast
Before every performance, a member of the ensemble will be in the Black Box Lobby greeting guests and answering questions about the show. After every performance, ensemble members will be available for informal discussion.
Audience Talk Backs
These discussions after the performance will cover particular interesting subjects about the production with the cast, director, and/or designers
Friday, October 20 after the 7:30 p.m. performance and Wednesday, November 1 after the 1:00 p.m.performance
About the Arvada Center for the Arts and Humanities
Since its opening in July 1976, the award-winning Arvada Center for the Arts and Humanities has grown to become one of the nation's largest multidisciplinary arts centers, devoted to all aspects of the arts and generously supported in part by the City of Arvada, the Scientific & Cultural Facilities District (SCFD) and Colorado Creative Industries. The Arvada Center is located at 6901 Wadsworth Blvd. and provides free parking for all its patrons. For more information go to www.arvadacenter.org or call 720-898-7200.
Photo: The Foreigner at the Arvada Center, 2017 Photo Zachary Andrews - Sammie Joe Kinnett as Charlie Baker Photo credit Zachary Andrews 2017