BWW Review: TERKEL - THE MOTHERFÅRKING MUSICAL at Tivolis Koncertsal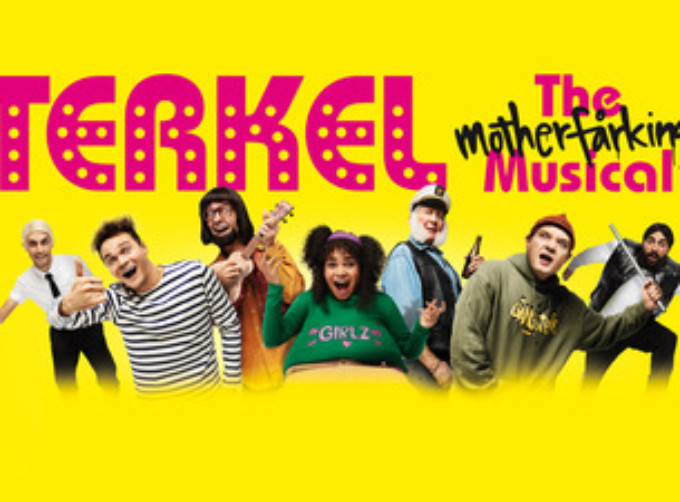 ******
Rablende gal! Så enkelt kan det siges. "Terkel - The motherfårking musical" er nemlig et vanvittigt projekt, der ud over at være hylende morsomt også viser et helt nyt publikum, hvad teater og musical kan!
Det er tydeligt, at "Terkel - The Motherfårking Musical" tiltrækker et helt nyt publikum. Da jeg går gennem gangen under Tivolis Koncertsal, er der nemlig også et publikum, jeg normalt ikke møder i teateret. En god blanding af teenagere og unge mennesker, der måske mere går til en hip hop-koncert end til en musical, hvor helten hele tiden bryder ud i sang. Her er hængerøvsbukser, kasketter og bredskuldrede mænd, der står i "Gangsters"-trøjer købt i souvenirshoppen. Det gør mig glad. Glad for at man har lavet noget, der appellerer så bredt til befolkningen, men også glad for at det nye publikum måske opdager, at teater kan noget specielt og får lyst til at komme igen.
"Terkel - The Motherfårking Musical" er skrevet på baggrund af filmen "Terkel i knibe" fra 2004 af Anders Matthesen. Jeg har ikke set filmen siden premieren dengang, så mine forventninger var egentlig ikke specielt høje eller med det store sammenligningsgrundlag. Jeg er ikke i tvivl om, at det har gjort min oplevelse anderledes end en hardcore fan, der har set filmen et utal af gange.
Fra starten går jeg med på præmissen. Her har vi mere eller mindre bragt en tegnefilm på scenen. Med karikerede bevægelser, gangarter og masser af tjubang-lydeffekter ser vi en tegnefilm for os. Det kunne gå rigtig galt! Men det bliver genialt. For skuespillere og ensemble formår nemlig at holde illusionen hele vejen igennem. Jeg bliver ikke på noget tidspunkt træt af, at se Terkel sjaske hen over scenen eller Jasons småløb. Til gengæld tager jeg mig selv i at grine af det igen og igen.
Tegneserie-præmissen sætter store krav til kulisser og rekvisitter, og også dette er løst på fornemmeste vis af Kim Witzel. Tingene overdimensioneres, og selv Fede Dorrits selvmord er genialt og en af aftenens bedste overraskelser, hvorfor jeg ikke vil gå i nærmere detaljer.
Scenen er ikke dominerende, og blender derfor rigtig godt ind, ligesom sceneskift kører, uden vi opdager dem. Samme tanke har man haft omkring kostumer, og med klare farver og oversize størrelser på mange fungerer det rigtig godt.
Historien er taget fra filmen. I første akt mangler jeg lidt en rød tråd. Jeg sidder lidt med en fornemmelse af, at man har lavet nedslag i fortællingen. Det bliver dog bedre i andet akt. Manuskript og dele af musikken har Clemens stået for. Hans nye sange er meget forskellige fra Anders Matthesens originale. Jeg synes dog, at begges passer godt ind. Clemens' er ofte rap eller up-tempo, hvor de ældre har en mere original lyd. Dét giver en god blanding.
Hovedrollen som Terkel spilles af karismatiske Ruben Søltoft. Han giver rollen charme og en skøn barnlighed. Han synger også fint. Han er et fund til rollen. Clemens spiller rollen som Jason. De to komplimenterer hinanden så fint i både udseende og samspil. At vi også får lov at høre Clemens rappe er kun et plus.
Fede Dorrit spilles af Lea Thiim Harder. Udover at synge helt fantastisk, giver hun også rollen karakter. Det gør, at jeg rent faktisk bliver rørt over hende.
Som Sten og Saki finder vi makkerparret Adam & Noah. Det er tydeligt, at de har en fanskare. Jeg kender dem ikke fra deres tv-program, men synes de var skønne sammen. Som to modsætninger fik de mig til konstant at grine.
Martin Brygmann gør det han er allerbedst til. Som en anden Lex & Klatten-figur guider han os igennem musicalen i dels en fortællerrolle dels som lærer. Han gør det fabelagtigt, og det passer rigtig godt til Jakob Randrups lalleglade hipsterlærer.
En af de sværeste roller besidder Thomas Bo Larsen som Stewart Stardust. Det er en rolle alle kender og har en holdning til. Jeg synes, at han klarer det rigtig godt. Selvom jeg godt kunne have ønsket, at han gav den endnu mere gas. Onkel Stewart er næsten for pæn.
Som Terkels far og skoleinspektør møder vi, altid smukt syngende, Henrik Launbjerg. Terkels storrygende mor spilles af Fie Alberte Damgaard-Lauritsen.
En af mine yndlings figur blev dog Silas. Simon Nøiers spiller rollen mere end almindelig irriterende, og han leverer bare en formstøbt karakter, jeg delvis elsker og hader. Derudover skal der lyde stor ros til både ensemble og orkester. Ensemblet er gennemført og danser også røven ud af bukserne til det velspillende liveorkester.
Jeg vil anbefale folk at se "Terkel - The Motherfårking Musical" på det varmeste. Det er fuldstændig vanvittigt, langt ude og langt over stregen. Du skal ikke være sippet, når du sætter dig i sæderne. Er du til gengæld til sort galgenhumor og blødende børn, er musicalen helt sikkert noget for dig.