BWW Review: BAREFOOT IN THE PARK at Candlelight Music Theatre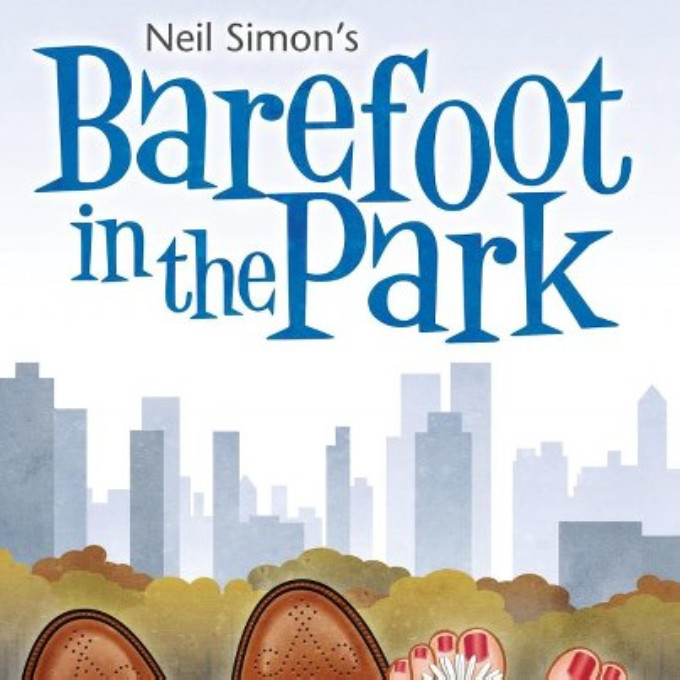 Great actors immerse themselves in their character such that one cannot consider anyone else playing the role. They study the writer's words to develop a full sense; bringing to life every shade and every nuance. Could you conceive anyone else but Pacino playing Michael Corleone or anyone else but Streep in SOPHIE'S CHOICE? No, of course not.
On the other hand, there may be that one role that is so very much like one's own personality that the director sees this innate kinship at audition and decides there is no alternative but that particular actor.
While I am not elevating Sarah Robertson (Corie Bratter), to the Olympian heights of Pacino or Streep, I state unequivocally not one actor I have seen regionally is more suited to play this part. She defines how playwright Neil Simon wrote Corie.
From first entrance, she lit up the stage with her plucky spirit and bewitching glee. Corie is the type of person you want to be around for her luminance rubs on you and makes you feel good about yourself. Perhaps this is how Sarah is offstage. If it is, more the power to her. But onstage one could not help but smile with delight with each tug and pull to convince Paul to 'dance barefoot in the park'.
Hubby Paul (Dave Polgar) returns to Candlelight after playing the befuddled Cary Grant role is ARSENIC AND OLD LACE last year. Now he is the straight laced, stuff shirted lawyer who is desperately in love with Corie but has an emotional uptightness in the understanding and attempt to cope with her unbridled spirit.
There is compelling chemistry between the Polgar and Robertson and Director Paul L. Nolan mines it competently. I would imagine Nolan saw how well they worked together and perhaps just got out of their way. If I were director, that would have been my best practice.
Paul enters breathless after a six floor walk up to the apartment. After a laugh line, the two kiss just as newlyweds' kiss - passionately. That was real. The audience saw that and it sealed the deal. Right then and there we were confident of their characters and we were engaged. Their Act II argument, leading to a short-lived divorce proposal, was as authentic as that first kiss and was reminiscent of squabbles I lived through with my ex.
Mrs. Banks, Corrie's mother (Susan Giddings) brings with her an impressive resume and the grand ability to zing a laugh line. She is an absorbing character actor.
The character of Victor Velasco (Ted Ford) is one of insouciant eccentricity; heralding a hippie vibe before there were hippies. Velasco is a bit of a roué in a charming and non-threatening way. For those older than 50, think Charles Boyer or Louis Jordan. Millennials, think Leo DiCaprio in CATCH ME IF YOU CAN. Ford misses the mark on an aging bon vivant. His 'polite' come on to Corie was a tad cringeworthy.
In past columns, I have inveighed against Candlelight's wig inventory. I grow weary. Velasco's wig was absurd, midnight black on a pale face and fitting so abominably I first considered he wore it backward. This offending barbarity perched (too) high on his head, jutting up and out like an African escarpment. It reminded me of the amusing criticism (deserved) of the Orange Snowflake presently residing at 1600 Pennsylvania Ave, whose own weaved follicles are matted on the sides, wispy, swept back and defying the laws of gravity and practicality.
In his headshot Ford has hair. Why then a wig from a pop up Halloween store?
Hint: If you want to do wigs with verisimilitude, see a performance of UD Rep Ensemble.
Telephone Repair Man (Frank Schierloh) had few on stage appearances but delivered one of the great lines of the evening in attempting to be a mediator between Corie and Paul.
Corie's red dress was perfect '70's yuppie, if there were yuppies back then. (Note: I know when hippies started. I was one. Not so much yuppies, for I was never one). Velasco's first act outfit attempted to persuade the audience of the character's international flair. The vest and jacket worked but the black satin pants did not match and were tres gauche.
Set Design by EnVision Productions set the scene impressively. The kitchen appliances were perfect and the angled skylight confirmed and 'highlighted' the concept of this six floor NY walkup.
Through Aug 27 CandlelightTheatreDelaware.com 302.475.2313
Next Up FUNNY GIRL Sept 16 and BEAUTY AND THE BEAST Nov 11