Photo Flash: First Look at The Human Race Theatre Co's THE FULL MONTY
The Human Race launches its 2015-2016 Eichelberger Loft Season with the smash hit THE FULL MONTY: THE BROADWAY MUSICAL. With a book by Tony Award winnerTerrence McNally and music and lyrics by Drama Desk Award winner David Yazbek, the hilarious and heartwarming story follows six unemployed Buffalo steelworkers who, in need of quick cash and low on prospects, come up with the outrageous idea to put on a strip act after seeing the local women's wild enthusiasm for touring Chippendales dancers. Opening night is tomorrow, September 11. Scroll down for a first look at the cast in action!
Short on time and with little talent or physical appeal, the gang promises their show will be better because they'll go "the full monty" and bare it all! As they prepare for the big night, they learn to let go of their doubts and insecurities-and their clothes-in this hilarious adaptation of the hit 1997 film from Fox Searchlight Pictures. Note: This production contains adult language and situations and, as the title implies, a bit of full frontal male nudity. It is definitely for mature audiences only.
The Human Race Theatre Company's production of THE FULL MONTY is directed by Resident Artist, Distinguished Professor of Musical Theatre at Wright State University and new Dayton Theatre Hall of Fame inductee Joe Deer, who has also directed Avenue Q, Big River, Lend Me a Tenor and It's a Wonderful Life for The Human Race. Resident Artist Sean Michael Flowers (HRTC's Avenue Q and Caroline, or Change) is the production's music director.
The Human Race's production features the talents of 19 gifted actors, many who perform multiple roles. The six down and out steelworkers daring to take it all off are played by Human Race Resident Artist Jamie Cordes (HRTC's Mame and Man of La Mancha) as "Harold Nichols," Christopher deProphetis (South Pacific national tour, Rent 10th anniversary cast) as "Jerry Lukowski," Josh Kenney (HRTC's Fiddler on the Roof) as "Ethan Girard," Dayton-area native Matt Kopec (Elf: The Musical and All Shook Up national tours) as "Malcolm MacGregor," Richard E. Waits(regional productions of Dreamgirls and Ragtime) as "Noah 'Horse' T. Simmons" and Matt Welsh (Into the Woods, Assassins) as "Dave Bukatinsky." The cast also includes performances by Tracey L. Bonner (Director of Dance at Northern Kentucky University) as "Susan," Human Race Resident Artist Deb Colvin-Tener (HRTC's Lend Me a Tenor and Dirty Blonde) as "Jeanette Burmeister," Peanut Edmonson (HRTC's Mame) as young "Nathan Lukowski," Leslie Goddard (HRTC's Mame and Becky's New Car) as "Georgie Bukatinsky," Gina Handy (founding artistic director of Magnolia Theatre Company) as "Joanie," Human Race Resident Artist Scott Hunt (Rent and LES MISERABLES on Broadway) as "Teddy," Jillian Jarrett (Legally Blonde: The Musical and Annie national tours) as "Pam Lukowski," Wright Stage University graduate Richard Jarrett (Legally Blonde: The Musical national tour) as "Keno," Andréa Morales (Magnolia Theatre's Parallel Lives and HRTC's #othello) as "Estelle" and "Molly MacGregor," Sonia Perez (Carmen and H.M.S. Pinafore national tours) as "Vicki Nichols," Adam Soniak (HRTC's Mame, Paper Mill Playhouse's The Sound of Music) as "Marty," Human Race Resident Artist Scott Stoney (HRTC's Mame, Other Desert Cities, Oliver!) as "Reg" and Wright State senior Cassi Mikat (HRTC's It's a Wonderful Life: A Live Radio Play) as the swing.
Scenic designer Dick Block (Mame, Fiddler on the Roof) returns to tackle the multi-scene set for another large musical on The Loft Theatre stage. Costume designer Janet G. Powell (Family Shots, Avenue Q) clothes each of the 19 actors in numerous outfits, including the revealing uniforms for the show's big finale. John Rensel is the resident lighting designer and the sound designer is Jay Brunner (Crowns, Taking Shakespeare). Kay Carver serves as the production stage manager and Preston D. McCarthy is the assistant stage manager.
In addition to his music director duties, Sean Michael Flowers plays lead keyboard and conducts a seven-member band featuring Kevin Anderson (percussion), Matt Anklan (trumpet), Ian Benjamin (second keyboard), Jay Brunner (guitars), Mark Edward Funke (reeds) and Joel Greenberg (bass).
Tickets and performance information on The Full Monty: The Broadway Musical are available at www.humanracetheatre.org or by calling Ticket Center Stage at (937) 228-3630, and at the Schuster Center box office.
Photo Credit: Scott J. Kimmins

Richard E. Waits, Matt Welsh, Christopher deProphetis, Matt Kopec, Peanut Edmonson and Jamie Cordes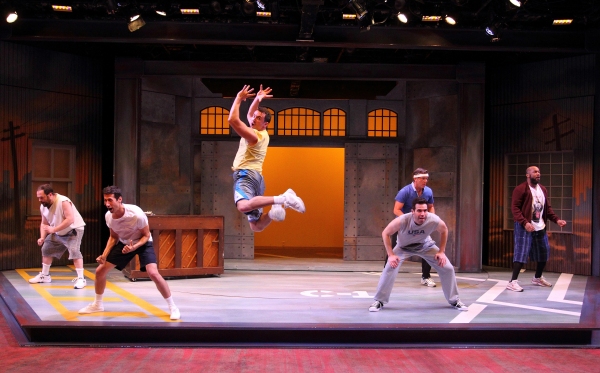 Matt Welsh, Matt Kopec, Josh Kenney, Christopher deProphetis, Jamie Cordes and Richard E. Waits

Richard E. Waits, Matt Welsh, Josh Kenney, Christopher deProphetis, Matt Kopec and Jamie Cordes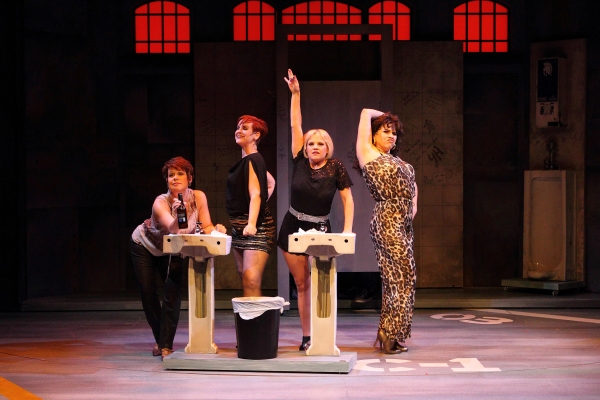 Tracey L. Bonner, Gina Handy, Leslie Goddard and Andrea Morales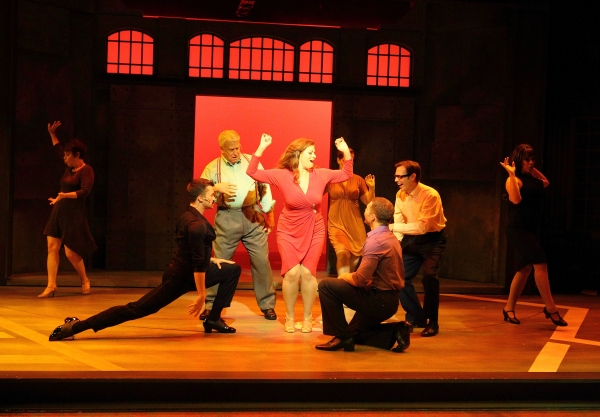 Tracey L. Bonner, Adam Soniak, Scott Stoney, Sonia Perez, Richard Jarrett, Gina Handy, Scott Hunt and Andeéa Morales

Christopher deProphetis, Jamie Cordes, Matt Welsh, Josh Kenney, Richard E. Waits, Matt Kopec and Deb Colvin-Tener