BANNED FROM BASEBALL Makes World Premiere At The Human Race Theatre Sept. 6–23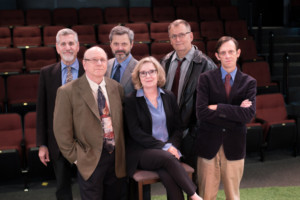 Like clockwork each Fall, the discussions around the Baseball Hall of Fame inductees begin. At the same time, the petitions to reconsider Pete Rose for the Hall of Fame resurface. It's one of the most hotly debated topics in sports history. This September, The Human Race Theatre Company takes us back to 1989, when the battle for the soul of Major League Baseball hit its peak as Commissioner Bart Giamatti and Pete Rose, the reigning Hit King, lock horns in the world premiere performance of Banned from Baseball, by Patricia O'Hara.
New York director Margarett Perry makes her tenth return to the Loft stage to helm this world premiere production. Perry's last show at the Loft was the comedic hit, The House, which she recently directed in Scotland.
The cast of five includes four Human Race veterans as well as a new face to local audiences.
Brian Dykstra, who appeared on Broadway with Tom Hanks in Lucky Guy and was last seen on the Loft stage in Lewis Black's One Slight Hitch, plays Pete Rose. Chicago actor Doug MacKechnie makes his Human Race debut as Bart Giamatti. Scott Hunt, no stranger to the Loft stage (HRTC's The Glass Menagerie, Sweeney Todd, and 26 Pebbles), will play Fay Vincent. Marc Moritz, (HRTC's Mystery of Edwin Drood, Broadway's Sondheim/Prince musical, Merrily We Roll Along) plays the role of Reuven Katz, and K.L. Storer (HRTC's Caroline, or Change, Fiddler on the Roof) returns to The Race for the fourth time and will play the role of John Dowd.
Special Recorded Performance
"The script calls for voiceovers by an unnamed Sportscaster," said Moore who reached out to Marty Brenneman, The radio voice of the Cincinnati Reds, "After reading the script, Brenneman eagerly agreed to lend the support of his unique voice to the project."
Patricia O'Hara (Playwright) is a writer and Professor of English Literature at Franklin & Marshall College, in Lancaster, PA. At Franklin & Marshall she teaches all manner and forms of Nineteenth-Century British Literature, creative writing, and her course that has proven to be perennially popular: Baseball in American Literature and Culture. Banned from Baseball is O'Hara's first play.
Tamara L. Honesty (scenic designer) returns to the Human Race to design her 8th HRTC production. Janet Powell (costume designer), Resident Artists John Rensel (lighting designer) and Jay Brunner (sound designer) round out the design team. Jacquelyn Duncan is the production stage manager.
Biographies on the cast and creative team can be found on The Human Race Theatre Company's website under Banned from Baseball.
The preview performance of Banned from Baseball is Thursday, September 6. Opening night is Friday, September 7.
The Human Race Theatre Company's production of Banned from Baseball is sponsored by Marion's Piazza, Beth and Alan Schaeffer, and John and Tamara Clough.
Photo (LtoR): Marc Moritz, K.L. Storer, Doug MacKechnie, Patricia O'Hara (playwright), Brian Dykstra, and Scott Hunt
Photo courtesy of Heather N. Powell
Tickets for Banned from Baseball start at $14. Prices vary depending on the day of the week and seating location. Group discounts are available for parties of 10 or more. The Sunday, September 9 7:00 p.m. performance is "Sawbuck Sunday," when any available seat can be purchased in person for just $10 at the Loft Theatre box office two hours prior to the show. Prior to the Tuesday, September 18 7:00 p.m. performance is "Beer, Here!", which will begin at 5:30 p.m. Additional information and details for "Beer, Here!" can be found on our website and Facebook Events page. Discounts are subject to availability and some restrictions apply.
All performances are at the Metropolitan Art Center's Loft Theatre, located at 126 North Main Street in downtown Dayton, Ohio. Show times for Banned from Baseball are 8:00 p.m. on Thursday, Friday and Saturday evenings. Performances on Sunday, Tuesday and Wednesday evenings begin at 7:00 p.m., and at 2:00 p.m. on Sunday matinees.
Tickets and performance information for Banned from Baseball are available at www.humanracetheatre.org or by calling Ticket Center Stage at (937) 228-3630, and at the Schuster Center box office.