Extra! Extra! Plaza Theatre Company's NEWSIES Opens This Friday!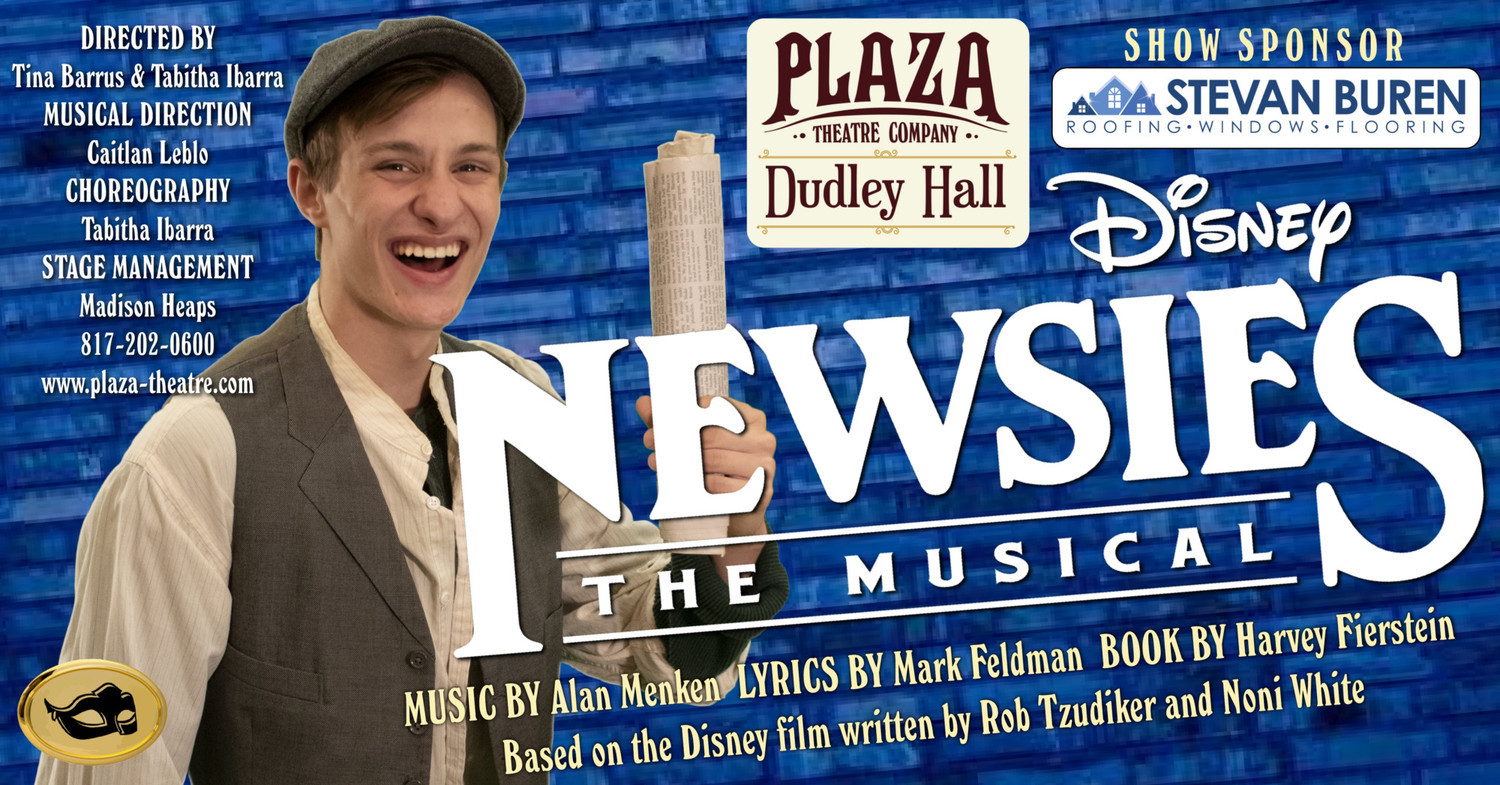 This Friday, February 1st, Plaza Theatre Company opens DISNEY'S NEWSIES THE MUSICAL at PlazaCo's Dudley Hall location at 305 S. Anglin Street in Cleburne, TX opening on February 1st and playing thru March 2nd, 2019. The show will be the 126th produced by Plaza Theatre Company since its inception in November of 2006.

Based on the 1992 Disney film, Newsies is the tale of newsboy Jack Kelly, who dreams of a better life far from the hardship of the streets. When Joseph Pulitzer raises distribution prices, Jack finds a cause to fight for and rallies his army of newsies to strike. Featuring lively music and energetic dances, Newsies is a crowd-pleasing recent Broadway smash. The show features music by Alan Menken, lyrics by Mark Feldman and book by Harvey Fierstein and is based on the Disney film written by Rob Tzudiker and Noni White.
Additionally, opening night Friday, February 1st will also feature Plaza's Opening Night Social where the audience is invited to celebrate the opening with the cast and crew after the show. Desserts and beverages are served as part of the event.
The Cast List for DISNEY'S NEWSIES THE MUSICAL is: (Double Cast where noted)
Jack - Evan Beggs
Katherine - Jillian Harrison
Pulitzer - Luke Hunt, Chris Wagner
Crutchie - William Power
Davey - Parker Barrus, Jarrett Self
Les - Jonah Jaxon Barrus, Nicholas Reed
Medda - Chimberly Carter Byrom
Race - David Midkiff
Albert - Nolan Moralez
Finch - Angel Somarriba
Romeo - Alvaro Aguilar
Specs - Landon Guilliams
Elmer - Stephen Newton
Spot Conlon - Jack Snyder
Snyder - Jay Cornils
Bunsen / Jacobi - Kevin Poole
Seitz - JaceSon Barrus
Hannah / Nun - Emily Warwick
Stage Manager / Mayor / Goon - Jose Marroquin
Wiesel - Jeff Meador
Teddy Roosevelt / Goon - Mark Midkiff
Morris Delancey / Nunzio - Jesse Bowron
Oscar Delancey - Tra Newman
Bowery Beauty / Nun / Woman - Megan A. Liles
Bowery Beauty / Nun - Hannah Nickerson, Julia Wood
Nun - Parker Gerdes, Alina Jennings
Nun - Rylee Mullen
Darcy / Scab 1 - Sam Tarron
Bill / Scab 2 - Gabriel Tarron
Scab 3- Sam Bond
NEWSIES - Trey Estes, Ethan Leake, Emmie Vaughn / Marissa Wheat, Josh McLemore, Nate Frederickson, Landon Denman, Eden Barrus / Lena Moralez, Makenna Clark, Pearce Chadwick
ENSEMBLE - Braedon Carlton / Gavin Clark, Maddox Marino / Eli Poole, Sam Bond, Jacob Renfroe / Grayson Oliver, Carson Clay / Aaron Hyatt, Rylee Mullen, Mimi Barrus, Greta Wilhelm, Ruth Power / Kenlie Earheart, Matthew Leake /David Arendse, Sam Tarron, Gabriel Tarron, Parker Gerdes / Alina Jennings
The production is under the direction of Tina Barrus and Tabitha Ibarra with musical direction by Caitlan Leblo, choreography by Tabitha Ibarra and Stage Management by Madison Heaps.
DISNEY'S NEWSIES THE MUSICAL will open on Friday February 1st at 7:30pm. The show will then play every Thursday, Friday and Saturday evening thru March 2nd at 7:30pm with Saturday matinees every Saturday afternoon at 3pm. Ticket prices are $25 for Adults, $23 for Seniors and Students and $15 for Children.
Reservations are recommended and can be made by calling 817-202-0600, by visiting www.plaza-theatre.com or visiting the Plaza Box Office between the hours of 10am and 6pm Monday thru Saturday.
Related Articles View More Dallas

Stories

Shows
Kyle Christopher West is obsessed with the arts. Growing up on Cape Cod, Massachusetts, Kyle trained as a gymnast and dancer where he performed across (read more...)