BWW Review: SOMETHING ROTTEN! at Bass Performance Hall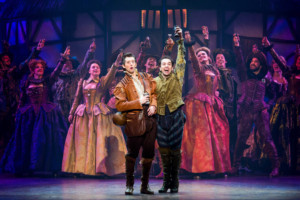 It's Hard to be the Bard. In fact, it is extremely hard to write anything original today. Hollywood keeps revamping the classics, Television keeps remaking the greats, and Broadway keeps reviving the hits. So when Something Rotten! arrived on Broadway in 2015, bypassing its initial proposed preview in Seattle, the unprecedented play had a bit of buzz backing its debut. Finally, an original musical comedy was taking an angle that no other had attempted--the origin of the musical!
Set in 1595, this hysterical book by John O'Farrell and Karey Kirkpatrick with music and lyrics by Karey and Wayne Kirkpatrick, weaves a tumultuous tale of two artist brothers. Nick and Nigel Bottom yearn to write a successful play for the masses. However, the local Renaissance royalty, good ol' Bill Shakespeare or "The Bard", has cornered the market in new works. The Bottom brothers are shown as paupers amongst the arts community, and predictably lose their financial backing for not creating anything unique. Nick Bottom's wife, Bea, sees their struggle yet forbids Nick from dipping into their savings to stay afloat. Instead, she proposes that she will work to earn their daily bread. Nick, desperate to overthrow Shakespeare and preserve his masculinity, secretly removes their savings and seeks out a soothsayer who in turn prophesizes the future of theatre.
Nostradamus (no, not that one, his nephew... Thomas Nostradamus...) forsooths that someday the most successful productions will involve song and dance, but he doesn't quite see every detail in crystal clarity. Mistakenly, the fortune teller mixes and mars a number of well-known musical hits in addition to Shakespearean works--picking and piecing together a hilarious thread of showstopping concepts. Poor Nick takes these suggestions as gospel and thus the brothers set off to create the very first musical!
Meanwhile, The Bard himself has contracted a hefty case of writer's block and in an effort to burgeon his own works, he poses as a mere player in the Bottom Brothers' acting troupe to snake ideas from younger brother, Nigel. Nigel's works hedge on a forbidden love he has blossomed with fellow philomuse, Portia, a lady of Puritan upbringing. With star-crossed lovers and bobbled benedictions, Something Rotten! manufactures a hysterical cacophony of romance, deception, and surprise musical numbers!
Director and choreographer Casey Nicholaw shrewdly starts off the show with a raucous choreography number pairing traditional Court dances with contemporary social dance. Gregg Barnes costumes also expertly coordinate as Renaissance inspired pieces are influenced by current fabrics and lines. This blend of modern day meets the past is a theme carried throughout the production in musical style and vernacular. Kirkpatrick and O'Farrell are nothing short of genius; their script frequently plays on inside jokes between the live musical theater audience and the onstage characters that have no knowledge of modern-day musical theatre. A word of advice: don't laugh too hard or long at each musical theatre reference, or you may miss the next!
Rob McClure correctly carries the show as the foolhardy playwright, Nick Bottom, with a bit of a Napolean-syndrome. Josh Grisetti is adorable as the sidekick, lovesick, and secretly more talented younger brother, Nigel. But the honest stars of the show are Blake Hammond (Nostradamus), Adam Pascal (Shakespeare), and scene stealer Maggie Lakis (Bea).
Lakis as the older Bottom brother's feminist wife has possibly the strongest voice of the cast and pulls focus in all the best ways. Though on stage seldom, she fills her scenes with abundant heart and over-the-top characterizations of a woman working in a man's world. Hammond, as the not quite all-seeing soothsayer, bounds into his scenes and commands the stage with gale force confidence. But it is Adam Pascal who rightfully owns the show. As the famed Shakespeare, Pascal boasts a haircut worthy of Bowie, a saunter worthy of Depp (a la Captain Jack Sparrow), and an opening performance that harkens back to days of yore... when Criss Angel was actually cool. Pascal benevolently navigates the stage as a Broadway veteran and his ease and comfortability in his role truly fits the hype of The Bard.
This week the National Tour made their stop in Ft. Worth, TX at the elegant Bass Performance Hall and was greeted with a packed house. In the January 17th performance, few details indicated that this was an opening night in a new space. I would be remiss to not mention that the sound was somewhat muted for actors' vocals in the first two numbers, a balance issue that was later eradicated once Lakis entered the stage. Hard to say if her vocals were heard above the live orchestration due to sound board efforts or her own extraordinary lungs! There was also a tap contagion amongst the ensemble during a big chorus number that could have been crisper in execution. One could chalk that up to, again, sound issues or perhaps the hazard of tour flooring.
But truthfully, brief glimpses of near missteps hardly contaminate the overall spectacle of this uproarious presentation. Something Rotten! is truly an original, possessing one of the most intelligent scripts formulated in recent years. It is not hard at all to understand why audiences flock to see this fresh and funny show! Something Rotten! runs at the Bass Performance Hall January 17-21. Tickets can be purchased online through www.basshall.com or by calling the ticket office at 817-212-4450.
CHRISTINA KUDLICKI HOTH is a born and bred native of the Dallas/Ft. Worth dance scene. As a skilled educator in multiple techniques, Hoth's choreography has (read more...)