BWW Review: OLD JEWS TELLING JOKES at Eisemann Center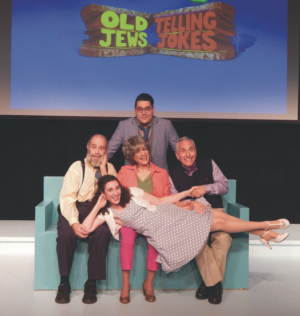 Old Jews Telling Jokes: there couldn't be a more accurate and precise title for a show. A spunky cast of five tells classic Jewish jokes- themed around the stages of life, relationships, and of course, sex- throughout the duration of the performance. Although there is no plot, the humor is punctuated by the occasional telling of a heartwarming story centered around the imperative role that humor plays in the persistence of a culture. Be you a Gentile or a Jew, Old Jews Telling Jokes reminds us that humor is universal.
As the onslaught of side-splitting laughter ensues, each character takes a turn telling a joke, whether it be individual or as a group. In most plays, cues can be easily given based on the preceding line or though context. Not this one! There is no linear progression when it comes to telling straight jokes, so the amount of sheer memorization involved was impressive.
Before the bits begin, the hilarious Nathan (David Samuel) relaxes the audience by leading them in a through a charming sing-along number. His performance was undoubtedly the standout of the night. Samuel's manner from the start of the show makes you feel at ease- he speaks to the audience like an old friend, a sly smile never far from his face. His whole personage gives off an air of quick-wittedness and sprezzatura.
Reminding me a bit of Robert Morse, Michael Small played Morty- a mischievous and charming older gentleman. His jokes were told with wild facial expressions and an entertaining physical humor. Bunny (Sharon Geller) elicited laughs from all throughout the show, especially with the way she threw her voice and adopted a charming Yiddish accent. Rounding out the show were the non-"Old Jews"- the younger Debbi (Emily Freeman) and Reuben (Robyn Eli Brenner). Freeman's performance was action-packed, spirited, and of course- hilarious. Though the show is no musical, Freeman showed off an impressive soprano voice in the opening musical number. Brenner's comedic timing and delivery was solid, though his performance lacked some of the zest and energy present in the other cast members.
The chemistry between all actors was superb. At different parts in the show, the five would "gather 'round" as they listened to stories and jokes- oftentimes laughing themselves, seeming as though it was the first time they had heard some of the jokes themselves. The whole atmosphere was very familiar- like something you might see at one of your own family gatherings.
The set, lighting, and props were all quite simple for this show. There were no distractions to take away from the comedy. Simple block set pieces were moved from time to time to serve as a bench in one scene, or a stool in another. A projector was often used to describe the current theme of a joke, or to play old comedy bits, such as Alan King's "Survived by his Wife."
I applaud Jeremy Quinn for directing such a seamless show. Despite putting on a show that lacked a storyline, there was not one awkward pause, movement, or sequence. The flow was incredibly smooth.
So shlep every mentsh, schlemiel, and shmendrik you know to Old Jews Telling Jokes! You will leave the theatre with a full heart and a few more laugh lines.
Find showtimes and tickets at the Eisemann Center website.
Kathleen Anwar graduated from the University of Texas at Austin in 2016 with a BA in government and a minor in computer science. During her (read more about this author...)