BWW Review: DOGFIGHT at Onstage In Bedford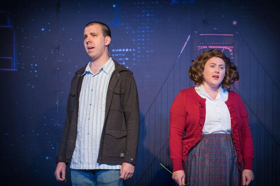 Teenagers can be mean to one another. Add to that the stress and fear of war, as well as the traditions of their fathers, and it can turn downright cruel. Yet, cruelty doesn't have to be the end result: it can lead to teachable moments, understanding and love. That's the foundation for the plot of DOGFIGHT, a thought-provoking and heart-touching musical currently playing at Onstage in Bedford, directed by Lon Barrera.
DOGFIGHT, based on the 1991 film of the same name, takes place in a flashback to 1963, during Kennedy's escalation of the Vietnam War. A group of Marines, three of whom are best friends called "The Three Bees" because of their last names (Birdlace, Bernstein and Boland), are spending their last night stateside before shipping out for the unknown. Their adrenaline and stupidity of youth, as well as misogynistic Marine tradition, lead to their hosting a "dogfight," a dance where each man brings the ugliest girl they can find for the chance to win an anted pot. Enter Rose (played by Diane Powell), an awkward, overweight waitress who becomes the target of Eddie Birdlace (one of the "Bees," played by Preston Isham) in his hunt for a date. I won't spoil the rest of the plot, but that night becomes a string of unexpected surprises for both of them.
Although Onstage's production is not perfect, the heart of the show still shines through brightly. The music by Benj Pasek and Justin Paul, who also wrote such hits as DEAR EVAN HANSEN and the film scores for La La Land and The Greatest Showman, is beautiful and touching. The offstage band, led by Music Director Kristin Spires, plays wonderfully, acting as a strong lead for the cast. The set design by Jim Scroggins, Wendy Rene'e Searcy and Lon Barrera is simple but effective. However, the main reason to come see this performance is Diane Powell as Rose. Not only is she a talented vocalist, but she embodies the quirkiness and gawkiness of her character and allows her character's desire for love and acceptance to be seen. The best moment of the show is her Act I closing number "Pretty Funny," where her vulnerability is palpable.
Preston Lee Isham, as Birdlace, is able to showcase his trained and talented tenor voice in the challenging music from this piece. In fact, the "Three Bees" (Isham, Cole Shuffield as Bernstein and Jacob Clemmons as Boland) all have strong singing skills, which makes all their numbers pleasant to listen to. Regrettably, with Isham, the moments of realization and transformation are missing and the audience is refused the opportunity follow his character's arc.
The ensemble truly plays an ensemble role as they each take on several characters throughout the performance. Even Stage Manager Nicole Lugar is brought in on the action, doing double duty as a stagehand and multiple walk-on roles. Andrew Friedrich likely has the most stage time of the ensemble, playing a Southern bus rider, a rough tattoo artist, a snooty waiter, and a tone-deaf lounge singer (which starts off as a funny joke, but goes on too long to be endearing and turns into an ear-bleeding distraction from the plot).
There were some technical issues, specifically sound problems with mics going in and out on opening night, that will hopefully be fixed for future performances. Also, as a side note, the curtain speech at the performance I attended caused the audience to believe that the show would be ultra-offensive, but it was tame compared to the warning.
To catch DOGFIGHT at Onstage in Bedford, tickets may be purchased at http://www.onstageinbedford.com/. The show will run through July 15, 2018. In addition, as part of some community awareness related to the issue of PTSD, the cast and team are participating in a fundraiser for Guitars for Vets (G4V), a program that encourages self-expression and relationship building through music to restore feelings of joy and purpose that can be lost after suffering trauma. To donate to that effort, You May Go to https://www.facebook.com/donate/1045587148928155/10211383627736150/.