Greece Is Represented at the Contemporary Dance Festival With ION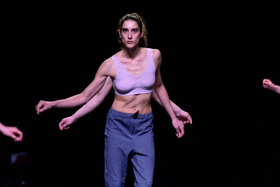 Greece is represented at the 21st Cyprus Contemporary Dance Festival with the work Ion, a production of the Onassis Cultural Centre, in choreography of the important choreographer Christos Papadopoulos. The flying of birds and a series of other micro-phenomena that make up the world of nature, are the reason for the choreographer's kinetic research that poses questions of human nature, because out there we are all ions, electrically charged.
Α living system of ten dancers, pulsating and coordinating, attracting and repulsing, tracing orbits that follow the mechanisms of nature.
Ion is a performance that focuses on the microphysics of motion, the volume of detail that can derive from a kinetic pattern allowing the eye to wander, to travel through the boundless eld of human relations.
The ight of birds, the coordination of re ies, a series of microphenom- ena that comprise the world of nature become a starting point for the kinetic research of the choreographer. With his new work, Ion, Christos Papadopoulos submits a multisensory experiment, which does not exhaust itself in easy attention-seeking mechanics. He focuses on the repetitiveness of kinetic motifs, on stage space clarity formed by lighting and action. The choreographer relies on the primal elements composing his work: rhythm, movement, place and time. Still, the way he weaves the acts allows us to gradually discover the interaction of movement with other elements, light showcasing the movement of the bodies and the e ect of music on the sound environment, which does not merely guide but also converses with the choreography.
Concept & Choreography: Christos Papadopoulos
Dramaturgy: Tassos Koukoutas, Music: Coti K
Lighting design: Tasos Palaioroutas, Costume design: Angelos Mentis
Set design: Evangelia Therianou, Production Coordination: Theodora Kapralou
Dancers: Maria Bregianni, Nontas Damopoulos, Nanti Gogoulou, Amalia Kosma, Hara Kotsali, Giorgos Kotsifakis, Dimitra Mertzani, Ethymis Moschopoulos, Ioanna Paraskevopoulou, Alexis Tsiamoglou
Produced by: Onassis Cultural Centre Athens
With the support of: Fondation d'entreprise Hermès, within the framework of the New Settings programme. Co-production: Théâtre de la Ville (Paris), Le Lieu unique, Scène nationale de Nantes (Nantes). In collaboration with: Dublin Dance Festival (Ireland)
Embassy of Greece: 22455111
Thursday 28/6 @ Rialto Theatre, 20:30
Rialto Theatre - Information / Reservations 77 77 77 45
E-tickets: www.rialto.com.cy
Tickets € 5
Free admission for pupils, students, soldiers, pensioners and dance professionals
Related Articles View More Cyprus

Stories

Shows
More Hot Stories For You