Baseball Legend Rube Waddell at Center Of RUBE! at the Brea Curtis Theatre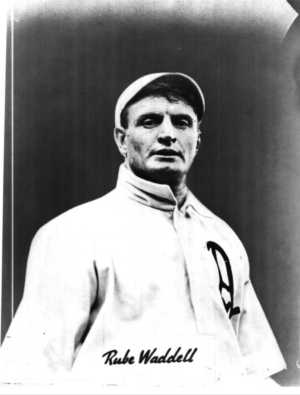 "Rube!" a play that sold out two Orange County theaters in its first two runs in 2003 and 2004-and was featured by the sports columnists for both the Orange County Register and The Los Angeles Times-- returns for a third time - at the Brea Curtis Theatre for three weekends, Sept. 13-29.
Written by Joel Beers, an award-winning theater critic for OC Weekly, the play is based on the real-life exploits of legendary Major League Baseball pitcher Rube Waddell, who pitched in the first decade of the 20th Century, most noticeably for the Philadelphia Athletics, managed by the equally legendary Connie Mack.
Rube posted amazing statistics and generated a plethora of outlandish stories during his blazing nine years in Major League Baseball, but his unpredictability and oversized personality (along with possible mental illness and drinking disorder) hastened an early departure from the game he loved. Less than three years after his last major league game, he died penniless and alone.
Some 10 years after Rube's flame-out, sportswriter Grantland Rice is charged with the mission of interviewing those who knew Rube, attempting to sort through the tall tales and notorious exploits to attempt to uncover who the real Rube Waddell was, and how someone with so much talent faded into obscurity. But the more Rice dives into his subject matter, the larger the legends seem to grow.
(more)
Rube's embrace of life-and equal rejection of most social mores-- dominates the play, which blends fact and fiction and also includes historical figures such as muckraking journalist Ida Tarbell and half of fame players like Ty Cobb, Chief Bender and Ed Delahanty.
Set against the backdrop of the social agitation of the first decade of the 20th century, which included segregation, women's suffrage, labor strife and immigration, "Rube!" is a story about stories, blending fact and fiction, legacy and legends, all swept up in the freewheeling, and tragic, life and career of one of the strangest men to ever play Major League Baseball.
"It's uncanny how so many of the issues that still confront America today either had their roots or were dominant forces during the time of this play," says director Patrick Gwaltney,
a veteran actor and director on OC stages, who will helm this production for the third time. "So even though this is a story about stories, a story about Rube's stories, and a story about baseball in its early years, it's also a story about America, past and present."
Another nod to the past is the fact the third iteration of the play is being produced at the 199-seat Curtis Theatre, which is owned by the city of Brea, where another legendary baseball player, Walter Johnson, one of the members of the inaugural Baseball Hall of Fame class in 1936 moved to at the age of 14.
"The Big Train's star was just starting to rise as Rube's was fading," says producer Todd Huffman, principal producer of Pipeline Digital Media. "And even though Johnson is just mentioned in this play, it's very fitting that this play, about a pitcher with all the talent in the world, is being done in the hometown of another pitcher with amazing gifts whose career started in the same era but who managed to last long far longer than Rube did."
Rube opens Sept. 13 and will be performed Fridays and Saturdays at 8 p.m. and Sundays at 3 p.m. It closes Sept. 29, and additional matinees may be scheduled. Tickets are $22-$30. For more information on tickets, visit: http://curtistheatre.com/1238/Rube---A-Story-About-Baseball Note: A Special VIP performance for members of the media and other guests will be held Thursday, Sept. 12.
Related Articles View More Costa Mesa

Stories

Shows
More Hot Stories For You