THE NUTCRACKER SUITE & SPICY Returns For 9th Year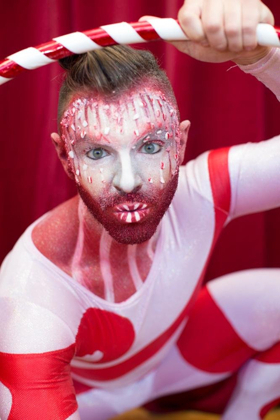 "The Nutcracker Suite & Spicy"-a rousing, toe-tapping, high-kicking spin on the classical ballet choreographed and directed by Carolyn Paine and performed by CONNetic Dance is returning for its 9th year to delight audiences Dec. 21-23, in the Aetna Theater at the Wadsworth Atheneum Museum of Art, located at 29 Atheneum Square North in Hartford.
Audiences this year are in for a treat, as "Suite & Spicy" will again feature a diverse and talented cast including Hartford legend Tang Sauce as well as eye-popping LED costuming set against its iconic backdrop.
Set to a compilation of music inspired by Pyotr Ilyich Tchaikovsky's original score, "The Nutcracker Suite & Spicy" fuses ballet, tap, jazz, ballroom and hip-hop techniques to breathe new life into the timeless tale of an imaginative young lady and her beloved nutcracker.
"The Nutcracker Suite & Spicy" is a quirky, innovative production infused with humor and updates to better reflect a contemporary, urban holiday. The curtain opens on a raucous Ugly Christmas Sweater Party, during which a young woman Clara is presented with a Nutcracker-a gift of which she is not fond-by the mysterious and suave Drosselmeyer. Amid the chaos of the party, Clara is struck on the head by the Nutcracker, falling into a deep sleep. She awakes to find her Nutcracker come to life as an attractive prince and a fantasy world in which they attend the Snow Ball-a beautiful snow scene with dancers gliding across the stage on large pearly white exercise balls. Continuing their travels, Clara and the Nutcracker visit the Club of Sweet Temptations, where cocktails from around the world dance their unique flavors, led by the sassy hip-hop Sugar Rum Cherry. There is a brawl between the Club Rat and Clara's Nutcracker, and CONNetic Dance's signature Florettes, who perform a Rockettes-inspired Waltz of the Flowers.
"This production really celebrates diversity. It brings together dancers of all disciplines and backgrounds to retell the classic tale in a relatable contemporary way that truly reflects an urban environment like Hartford," says Paine, a Boston native and graduate of the University of Hartford. "I am honored to have been at the center of this production and to have worked with such a varied cast over the years."
CONNetic Dance has long championed a diverse company of professional dancers-some having been classically trained in the studio, and others having honed their skills on the street. Stemming from this principle, "The Nutcracker Suite & Spicy" features dancers from myriad backgrounds performing a variety of dance methods and techniques. The result is a cast as wide-ranging and multifaceted as the city of Hartford. A focus on incorporating local artists is paramount for Paine and her annual production-many of this year's performers are Hartford natives and alumni of the Capitol Region Education Council (CREC)'s Academy of the Arts. Featured this year are Hartford legend Tang Sauce who brings his hip-hop style and music to the show, Kayleigh Crocetto as Clara for the eighth year and veteran Alex Zarlengo returning to his title role of The Nutcracker after recovering from injury.
Performances will be held December 21, 22 and 23, in the Aetna Theater at the Wadsworth Atheneum Museum of Art in downtown Hartford. Specific times are: Friday, Dec. 21, 8 p.m.; Saturday, Dec. 22, 8 p.m.; and Sunday, Dec. 23 at 2 p.m. Audiences are encouraged to wear Ugly Christmas Sweaters to Sunday's matinee, which will feature a live music opening and special visit by Santa.
Tickets ($40) will go on sale October 15, at www.conneticdance.com, or by calling (860) 251- 9194. Discounted group rates are available. A "Cyber Monday" sale will be held Monday, Nov. 26, during which tickets will be discounted to $25 apiece.
CONNetic Dance is a professional contemporary ballet company based in Hartford, Conn., that is known for its unique, athletic choreography, accentuated by exciting lifts and partnering work. The company, formed in 2009, is comprised of a talented and diverse ensemble of professional dancers under the direction of Carolyn Paine. CONNetic Dance has performed throughout Connecticut, New York and Massachusetts, and is committed to dance education, partnering with area public schools, Camp Courant, and the United Way to offer enrichment programs that inspire students to see dance differently.
"The troupe has gained a reputation for being innovative and different, as anyone who's attended their now annual production of "The Nutcracker Suite and Spicy" can attest." - CT NOW
CONNetic Dance company director Paine has trained around the world, with the likes of the Boston Ballet, Jose Mateo's Ballet Theatre Academie de Danse Classique in Monaco, Steps, and the Broadway Dance Center. She has been featured as a dancer in ABC's New Year's Rockin' Eve, Vogue Magazine, and in productions at Lincoln Center and in The Playroom Theatre in New York City. Paine is also an actress who has appeared in RevryTV's new series "Unsure/Positive," "Law and Order: SVU," in various productions on ESPN, the Oprah Winfrey Network, and the Style Network, and in national commercials. Additionally, Paine is a comedienne who has toured with Hannibal Burress, has been featured in Glamour Magazine, WNPR's The Nose with Colin McEnroe, and in numerous showcases in Boston, Chicago, and New York City.
Carolyn was also featured in the cover story of the October 2018 Hartford Magazine as one of the area's most exciting young artists.
"Carolyn Paine is almost always on her toes. The entrepreneur/actor/dancer/comedian extraordinaire has years of dancing under her belt and a relentless creative streak." - Innovation Hartford
Related Articles View More Connecticut

Stories

Shows
More Hot Stories For You