Photo Flash: First Look at Pantochino's BEAT BUGS: A MUSICAL ADVENTURE
Award-winning Pantochino Productions Inc., a not-for-profit professional theatre company for family audiences, presents the world premiere of "Beat Bugs: A Musical Adventure" for a three-week run at the MAC, Milford Arts Council in Downtown Milford now through October 28th.
Based on the original, Emmy Award-winning Netflix series "Beat Bugs" created by Josh Wakely, the new stage version is written by Sean Cercone and David Abbinanti and features music made famous by The Beatles. The story follows five adorable anthropomorphic insects; Walter, Crick, Jay, Kumi and Buzz, in their quest to save Strawberry Fields from the villainous Mister Mustard. Musical highlights include "Good Day Sunshine," "Nowhere Man," "Come Together," "In My Life" and many more.
"We're thrilled to be presenting the world premiere production of the Beat Bugs musical here in downtown Milford," beamed co-producer and director Bert Bernardi. "Our mission is to foster and present new musicals, and this exciting, delightful new show, with its familiar characters and outstanding music from the Beatles songbook is a perfect fit for what we do," he added.
Broadway Licensing president and co-author Sean Cercone said "Creating a Beat Bugs musical using The Beatles' catalogue, is incredibly cool and tremendously exciting. It's heartwarming to watch this show with my kids and experience how these iconic songs can teach such important messages while being highly entertaining."
David Abbinanti, Broadway Licensing's Vice President of Music & Creative said "The Beatles' message of love, peace and friendship is universal and more important than ever." He added, "It will be a thrill to see families come together in a live theatrical setting and experience The Beatles' music in a brand new way."
The cast is lead by five fresh faces, Barrett Crowder of New York City as Walter, Gian DiCostanzo of New York City as Jay, Ariana Morales of New York as Kumi, Sydney Maher of Milford playing Buzz and David Katz of Wilton as Crick. They are joined by familiar Pantochino company members, Jimmy Johansmeyer, Mary Mannix, Justin Rugg, Shelley Marsh Poggio and Don Poggio. Also in the cast are Michael Battista and Anna Hicks. The new musical features sets by Von Del Mar, costumes by Johansmeyer, lighting by Jeff Carr, sound by Sara Brown, and music direction by Rugg.
"Beat Bugs: A Musical Adventure" is sponsored by The Milford Bank, and season sponsor is Connecticut Post Mall. Performances are Fridays at 7:30pm, Saturdays at 2 & 5:30pm and Sundays at 2pm. Tickets are $22.00 online, or $25.00 at the door. Advance tickets are strongly suggested. Seating is at tables and chairs and audiences are invited to bring their own food and drink to enjoy during the performance. The intimate MAC (Milford Arts Council) theatre is located at 40 Railroad Avenue South on the east bound side of the Metro-North tracks. Free parking is available in the train station lots. Further details are available at pantochino.com.
Photo Credit: KVON Photography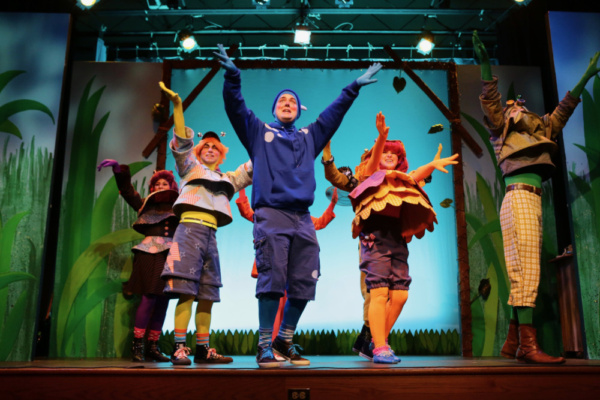 AriAna Morales, Gian Raffaele DiCostanzo, Barrett Crowder, Sydney Maher, David Katz

Jimmy Johansmeyer and Mary Mannix

Cast of "Beat Bugs"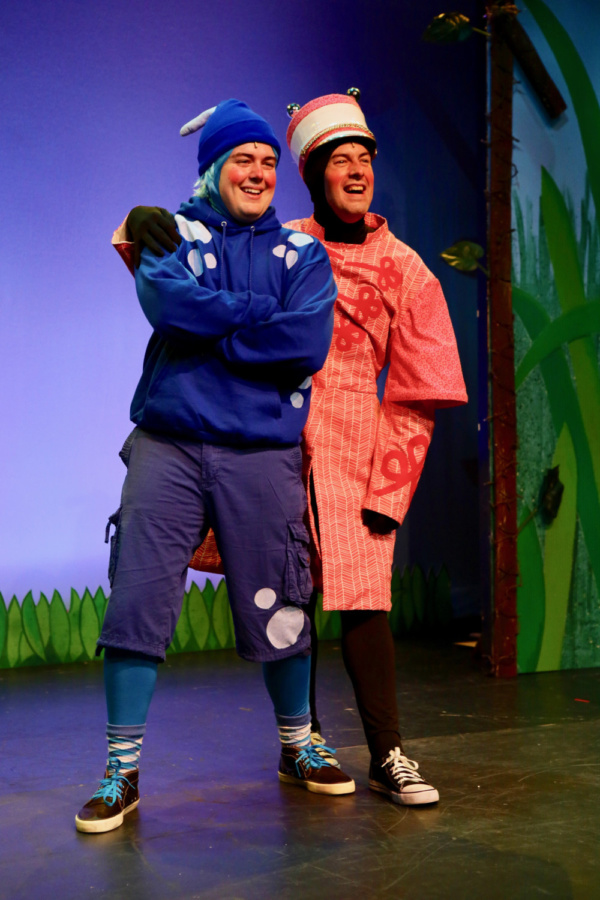 Barret Crowder and Justin Rugg

Cast of "Beat Bugs"