Local Actors Star In THE ROCKY HORROR SHOW At Music Theatre Of Connecticut
The cult-classic musical is a humorous tribute to the science fiction and horror B movies of the 1930s through to the early 1960s.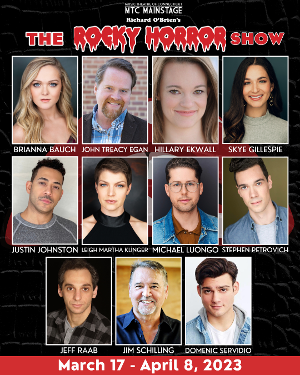 Music Theatre of Connecticut MainStage (MTC MainStage), Fairfield County's professional award-winning theatre company located in Norwalk, CT, concludes their 36th MainStage Season with the humorous, naughty, and wildly entertaining musical, Richard O'Brien's The Rocky Horror Show.
This cult-classic takes place on a stormy night when Brad and Janet, a simple engaged couple, get their lives turned upside down by Frank 'N' Furter and his household of strange Transylvanians. The Rocky Horror Show will run four weekends from March 17th - April 8th, 2023 with performances on Fridays & Saturday at 8pm and Saturdays & Sundays at 2pm.
A humorous tribute to the science fiction and horror B movies of the 1930s through to the early 1960s, this musical begins when sweethearts Brad and Janet, stuck with a flat tire during a storm, discover the eerie mansion of Dr. Frank 'N' Furter. As their innocence is lost, Brad and Janet meet a houseful of wild characters, including a rocking biker and a creepy butler. Through elaborate dances, rock songs, and the audience favorite "Time Warp", Frank 'N' Furter unveils his latest creation: a muscular man named "Rocky."
MTC MainStage's production of The Rocky Horror Show is the original musical. There will not be a "shadow-cast" and the movie (The Rocky Horror Picture Show) will not be playing. For the safety of the live actors and other audience members, bringing or throwing props is NOT permitted. Costumes and shout outs are encouraged.
The Rocky Horror Show stars Justin Johnston (B'way & Off B'way- Rent) as Frank 'N' Furter, Michael Luongo (Nat'l Tours- Finding Neverland, Barney Live!) as Brad, Skye Gillespie (Pantochino Prod- The Rocky Horror Show, Legacy Theatre- The Great Gatsby: A Live Radio Play) as Janet, Domenic Servidio (Off B'way- Friends the Musical, Royal Caribbean- Grease) as Rocky, Jeff Raab (Elm Shakespeare- The Tempest, Palm Beach Dramaworks- Woody Guthrie's American Song) as Riff-Raff, Leigh Martha Klinger (Sharon PH- Beauty & the Beast, MTC- Sunset Blvd) as Magenta, Hillary Ekwall (Nat'l Tours- Cabaret, How the Grinch Stole Christmas) as Columbia, John Treacy Egan (B'way- My Fair Lady, Casa Valentina, Bye Bye Birdie) as Eddie/Dr. Scott, MTC co-founder Jim Schilling (Hamlet with Tony Roberts, South Pacific with Jamie Farr) as The Narrator, and Brianna Bauch (Disney World- A Totally Tomorrowland Christmas, Elm Shakespeare- Love's Labour's Lost) and Stephen Petrovich (Nat'l Tours- Love Never Dies, Beauty & The Beast) as Phantoms.
MTC and Actor's Equity Association are committed to a safe and sanitary performance for both the audience and actors alike. In order to be inclusive of everyone's health and safety concerns, MTC has allocated one performance of The Rocky Horror Show as a "Masks Required" performance. This performance will be on March 24th at 8pm. As the name suggests, all audience members and staff will be required to wear masks while inside MTC. Actors on stage will not wear masks. All other performances of The Rocky Horror Show are mask optional.
Ticket prices range from $40-$65 plus fees and can be purchased online (www.musictheatreofct.com/rocky-horror) or over the phone (203-454-3883). MTC MainStage is located at 509 Westport Ave in Norwalk, CT.