BWW Review: RAGS at Goodspeed Opera House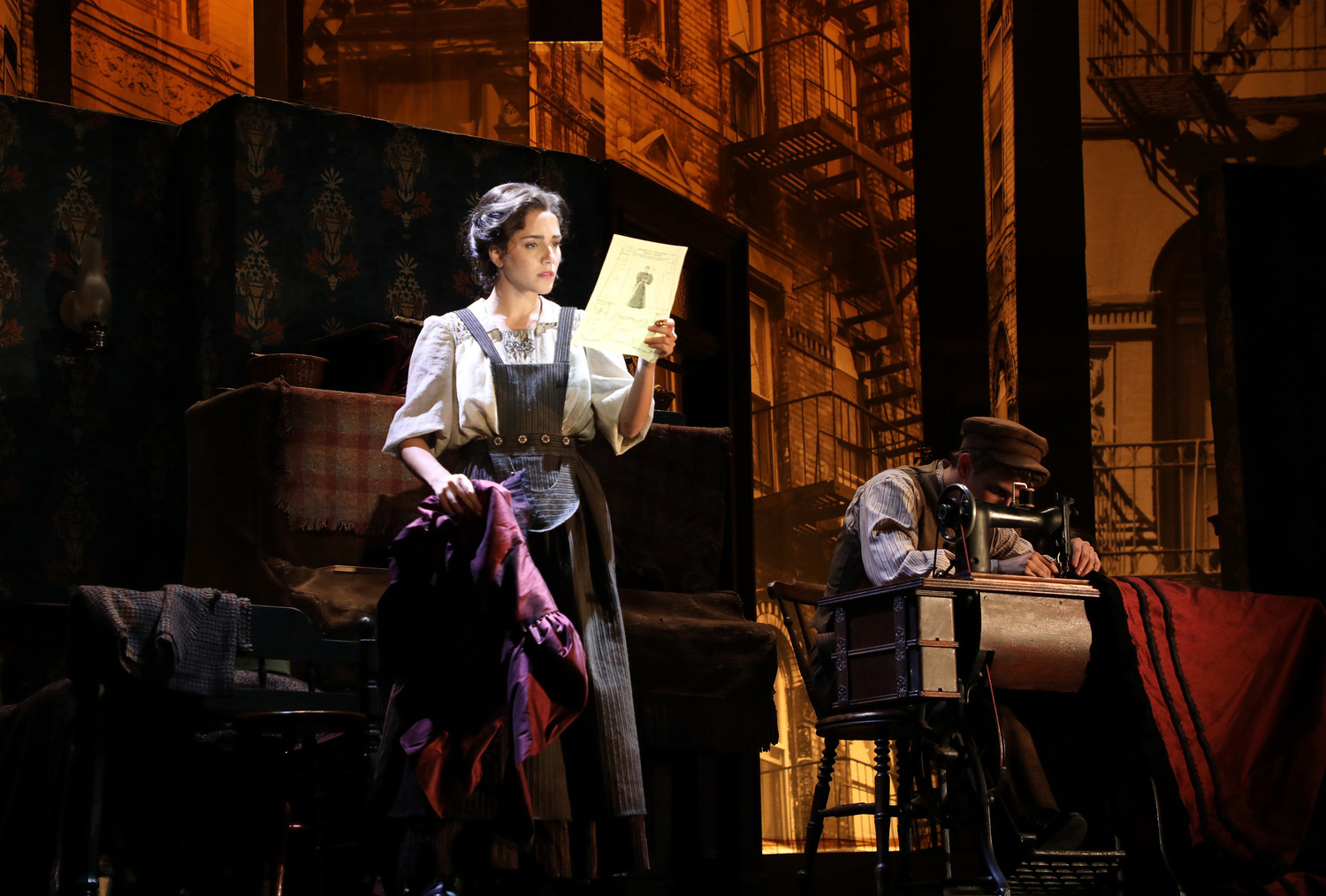 Over the last few centuries, people from all over the world have dreamed of a better life and sought out opportunities to live that life to the fullest. For many, a dream of a better life in America caused them to give up everything familiar, leave friends, family and their way of life to try and make it in this land of freedom. Whether refugees from violence and war or immigrants looking for greater opportunities, for so long, people have looked to America as a beacon of hope and a place to make a new beginning. And just like those immigrants who came here with a second chance to live their lives to the fullest, RAGS, the musical that played only four performances on Broadway when it premiered in 1986, has been given a second chance to share the story of the immigrant experience in a new and exciting way on the Goodspeed Opera House stage. And boy what a second chance! Goodspeed's RAGS is a brilliant, heartwarming and powerful tale that everyone should have the chance to experience.
RAGS sports a musical theatre pedigree rarely seen - with music by Charles Strouse (ANNIE, BYE BYE BIRDIE), lyrics by Stephen Schwartz (WICKED, PIPPIN, GODSPELL) original book by Joseph Stein (FIDDLER ON THE ROOF, ZORBA) and a revised book by David Thompson (STEEL PIER, SCOTTSBORO BOYS). The creative team have completely reworked the show, reshaping the story, adding (and removing) characters and focusing on telling the story of the immigrant experience in New York in the early part of the 20th century through the eyes of a small group of family and friends. The story is tight and strong, the songs are beautiful, and the staging on the intimate Goodspeed stage works so well.
RAGS centers on Rebecca Herskowitz (Samantha Massell) who travels to America with her son David (Christian Michael Camporin) to escape the violence in her home country. She meets a friend, Bella Cohen (Sara Kapner) on the ship which sets her on the course for her new life. Rebecca and David Are soon welcomed into Bella's family who all live together in a tiny "sweatshop tenement" on the Lower East Side, making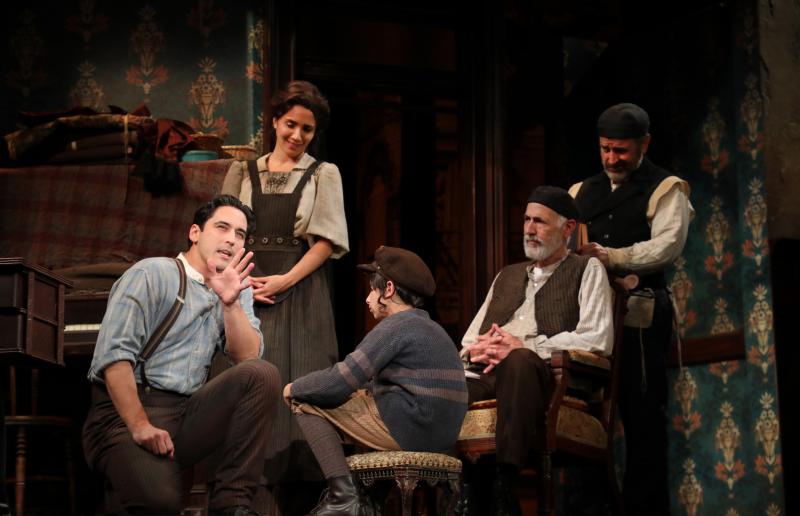 dresses for Max Bronfman (David Harris). In the small apartment live Avram, Bella's father (Adam Heller), and Jack and Anna Blumberg (Mitch Greenberg and Emily Zacharias), Avram's sister and brother-in-law. They work long days sewing dresses, each playing a part - presser, schlepper, baster, finisher. Other residents of the neighborhood play important roles in this small family's life, including Ben Levitowitz (Nathan Salstone) who runs the sewing machine, Sal Russo (Sean MacLaughlin) the Catholic neighbor who also serves as the family's "shabbos goy" and Rachel Brodsky (Lori Wilner) a friend of the family who peddles vegetables on the block. Rebecca is able to quickly make an impact on the lives of her new friends with her sewing talent, her creativity, and her determination. These characters illustrate the simple, yet difficult life of so many immigrants of the time and the daily challenges they faced, including intolerance, racism, violence, and unfair labor practices.
RAGS is a simple, yet beautiful musical that captures the spirit and hope of its characters from the first chords of the overture. Rebecca's determination to succeed and build a better life for herself and her son is the thread that weaves itself into the entire show. She takes risks, she pursues her goals and she does what it takes to succeed. She is a survivor and is the true heroine of the story. Performing this powerful role is Samantha Massell who is equal parts spitfire and terrified young woman. She delivers a number of thrilling songs including the title song, and a heart-wrenchingly beautiful "Children of the Wind" which works so well in its new place as the closing song for the show. As Avram, Adam Heller is brilliant. He is at times a perfect caricature of the Jewish father or when getting to know Rachel, he is simple, sweet and shy. But it is in his final scenes that Mr. Heller truly shines. His raw, emotional portrayal during the Kaddish scene is something I will remember for a very long time.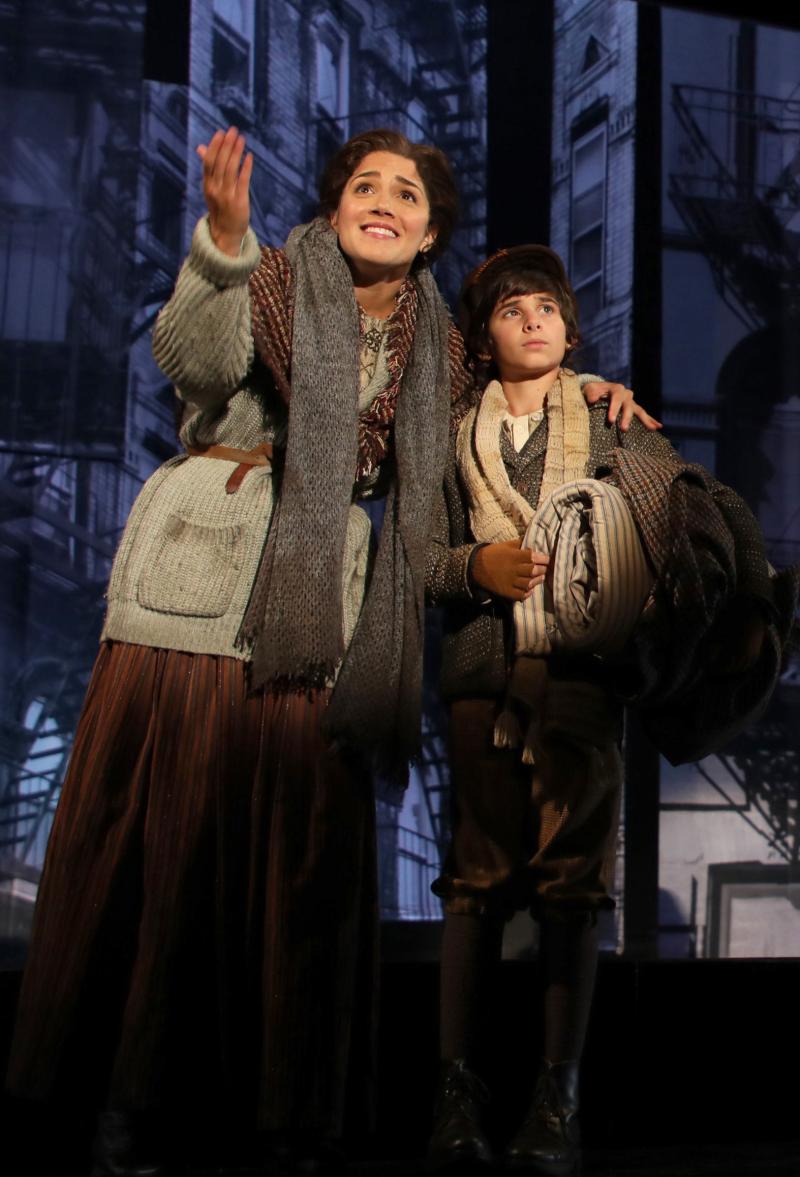 As director, Rob Ruggiero's vision for the production is truly inspired. He has worked closely with the creative team to deliver something that is rarely seen - a completely new take on an existing show. In terms of the creative elements, I must call out Michael Schweikardt's sets, and in particular the small tenement apartment that almost becomes a character of its own. It transforms before your eyes and when it turns it creates a sense of energy and movement. This is especially apparent in the closing scene, where the room is empty - evoking one end and another beginning. Linda Cho's costumes are beautiful, especially the dresses that Rebecca designs, and Luke Hegel-Cantarella's projections add such an emotional depth and historical grounding to the story, especially in the poignant and moving images during the final scene. Dan DeLange's orchestrations, David Loud's vocal arrangements and Michael O'Flaherty's music direction are all extremely strong.
Goodspeed Musicals has really outdone itself with this production of RAGS. They have taken a show that many had written off as, simply, one of those shows that just didn't work, and they pulled it apart and put it back together as a fresh, vibrant, timely and important story. I fully expect that this will become the definitive telling of this story, and it should. Especially now, with the country divided, with refugees and immigrants still seeking the American dream, and with some people still singing "Take Our Country Back" as the upper-class do in the show, through RAGS, Goodspeed audiences have the chance to spend a couple hours living through the eyes of these hard-working, determined people who gave everything they had to make America great. But a show like this doesn't come around often, so don't miss it!
--
RAGS runs at the Goodspeed Opera House in East Haddam, CT through December 10, 2017. Curtain times are Wednesday at 2:00p.m. and 7:30 p.m., Thursday at 7:30 p.m. (with select performances at 2:00 p.m.), Friday at 8:00 p.m., Saturday at 3:00 p.m. and 8:00 p.m. and Sunday at 2:00 p.m. (with select performances at 6:30 p.m.). For more information, call 860-873-8668 or visit www.goodspeed.org. The Goodspeed Opera House is located at 6 Main Street, East Haddam, CT.
Photo credits: Top photo: And all who could not make this journey: we're alive here...and we'll thrive here" Samantha Massell in Goodspeed Musicals' Rags, now playing at The Goodspeed through December 10. Photo Credit © Photo by Diane Sobolewski
Mid photo: Meet an Italian" Sean MacLaughlin as Sal with Christian Michael Camporin and Mitch Greenberg (seated), Samantha Massell and Adam Heller in Goodspeed Musicals' Rags, now playing at The Goodspeed through December 10. Photo Credit © Photo by Diane Sobolewski
Bottom photo: It's a "Brand New World" for Rebecca Hershkowitz (Samantha Massell) and her son David (Christian Michael Camporin) in Goodspeed Musicals' Rags, now playing at The Goodspeed through December 10. Photo Credit © Photo by Diane Sobolewski