BWW Review: PETER AND THE STARCATCHER at Playhouse On Park
There is something thrilling about discovering the backstory behind a treasured book, film or play. Learning about the origins of a favorite character or the life lessons gained long before they were introduced to you is a special thrill. This unique type of discovery, telling the tale of Peter Pan before he became the boy who would not grow up, is being brought to boisterous life in Playhouse on Park's inaugural production of their 10th season, Rick Elice's PETER AND THE STARCATCHER.
PETER AND THE STARCATCHER, which is based on the novel by Dave Barry and Ridley Pearson, tells the origin story of Peter Pan - how he got his name, how the magical creatures that inhabit his world came to be, and how he became the hero to constantly thwart the villainous Captain Hook. The play, which is told by a troupe of actors who slip easily from ensemble to character and back, begins with two ships - the Neverland and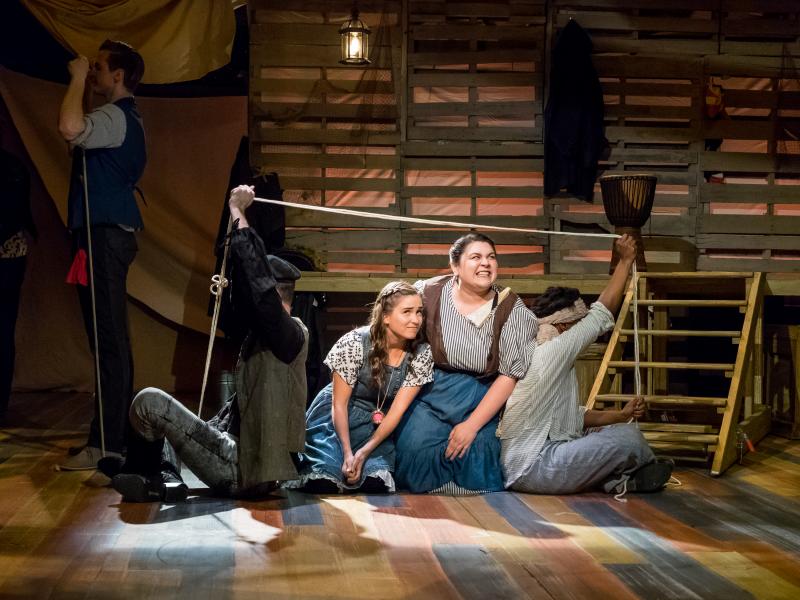 the Wasp, both on a journey from England to the island of Rundoon. On the Neverland are three orphans Ted (Nick Palazzo), Prentiss (Brianna Bagley), and the Boy who will become Peter Pan (Jared Starkey) on the journey to Rundoon, unaware that they are to be fed to the King's snakes. Also onboard is young Molly Aster (Natalie Sannes) who is traveling to Rundoon with her Nanny, Mrs. Bumbrake (Colleen Welsh) to meet her father, Lord Aster (James Patrick Nelson) who is on a top secret mission from Queen Victoria. He is aboard the faster ship, the Wasp, when it is captured by pirates led by the nefarious Black Stache (Matthew Quinn) and his sidekick, Smee (Miss Sandra Mhlongo). But all is not as it seems. Unbeknownst to the others, Lord Aster and his daughter are Starcatchers (gifted with the power to harness the special magic from fallen stars) and they are determined to protect a chest of "star stuff" from falling into the wrong hands. Molly soon befriends the orphans, and the Boy in particular, and begins a non-stop adventure that includes storms at sea, shipwrecks, mermaids, and a secluded island filled with strange natives.
Nimbly directed by Sean Harris, PETER AND THE STARCATCHER is a thrilling two hours of theatre. It is visually exciting, fast paced, and most of all, laugh-out-loud funny. Rick Elice's script is so quick witted, and so creative that the audience is often barely finished laughing at one turn of phrase before the next is dropped. Mr. Harris has done a great job utilizing the space at Playhouse on Park to convey two ships and an island with a few strategically placed boxes, a pier and a staircase. The ensemble is, to the person, outstanding, and each actor has a chance to shine at various points in the play. Stand out performances include those of Mrs. Bumbrake (Colleen Welsh -
who displays a lovely singing voice in a number of key moments) and Alf, her beau (James Fairchild), Slank (Thomas Daniels) the slimy captain of the Neverland, and Fighting Prawn (Elena V. Levenson) who is quite hilarious in each of her scenes. There is a real chemistry between Peter/Boy (Jared Starkey) and Molly (Natalie Sannes) as she teaches him how to be a leader and how to free himself from the things that keep him from soaring (literally and figuratively). But it is Matthew Quinn's hilarious portrayal of Black Stache that makes PETER AND THE STARCATCHER so enjoyable. His quips with Miss Mhlongo (Smee) are hilarious and he brings to the character a real excitement and strong comic timing, keeping the audiences constantly in stitches.
Helping bring the story to life are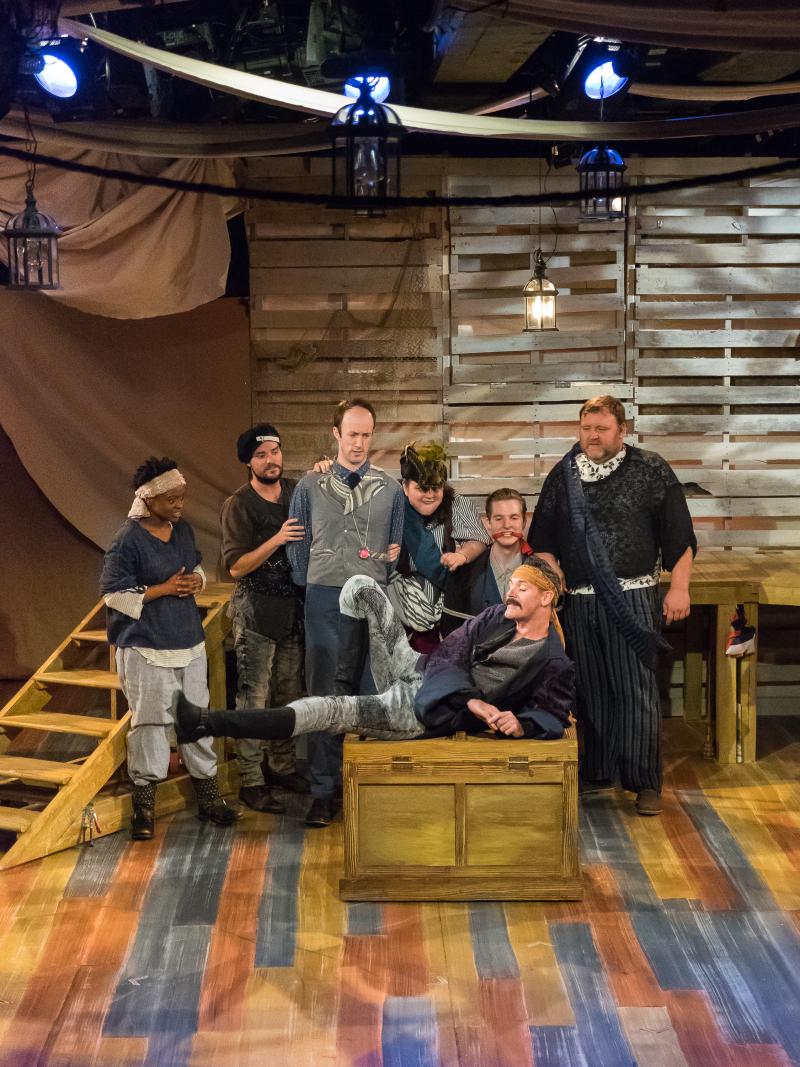 amazing costumes by Kate Bunce, flexible and effective scenic design by David Lewis and strong lighting design by Joe Beumer. And though PETER AND THE STARCATCHER is not technically a musical, it does have some very nice music by Wayne Barker woven in that adds depth and color to the story.
Overall, Playhouse on Park's PETER AND THE STARCATCHER is an exciting and hilarious look at the back story before the story of Peter Pan. It is such a thrill to meet new characters (and familiar ones) and follow them on an adventure that, along the way, sheds light on how some of the iconic parts of the tale so many of us know and love came to be. It is fast paced, visually pleasing and really, really funny. It is definitely a show that should delight young and old alike and is a great start to Playhouse on Park's 10th season.
PETER AND THE STARCATCHER runs at Playhouse on Park in West Hartford, CT through October 14th. For more information, call 860-523-5900 ext. 10 or visit www.PlayhouseOnPark.org. Playhouse on Park is located at 244 Park Road, West Hartford, CT 06119
All Photos by Curt Henderson
Top Photo: Jared Starkey as Peter and the cast of Peter and the Starcatcher
Mid-Photo 1: Natalie Sannes as Molly, Colleen Welsh as Mrs. Bumbrake
Mid-Photo 2: Elena Levenson, Natalie Sannes as Molly, Brianna Bagley as Prentiss, Nick Palazzo as Ted, Jared Starkey as Boy/Peter
Bottom Photo: Miss Sandra Molongo as Smee, Thomas Daniels as Bill Slank, James Patrick Nelson as Lord Leonard Aster, Colleen Welsh as Mrs. Bumbrake, Matthew Quinn as Black Stache, Nicholas Dana Rylands as Cpt Robert Falcon Scott, James Fairchild as Alf