Click Here for More Articles on Avenue Q
BWW Review: AVENUE Q at Playhouse On Park
As a young child, one of my favorite things to do was sit in front of the television, probably with a bowl of sugary cereal, and see what my friends who lived on Sesame Street were learning (and teaching me) that day. I consider the lessons I learned in my living room as the foundation that my future education was built upon. But what happens when characters like that grow up? Do they still rely upon each other for support and to help work out how to navigate the growing complexity of life? Do they still have helpful lessons to share? And would their style (and humor) grow up with them as well? It is this concept that grounds Robert Lopez, Jeff Marx, and Jeff Whitty's Tony Award winning musical, AVENUE Q, which opens the 9th season at West Hartford's Playhouse on Park.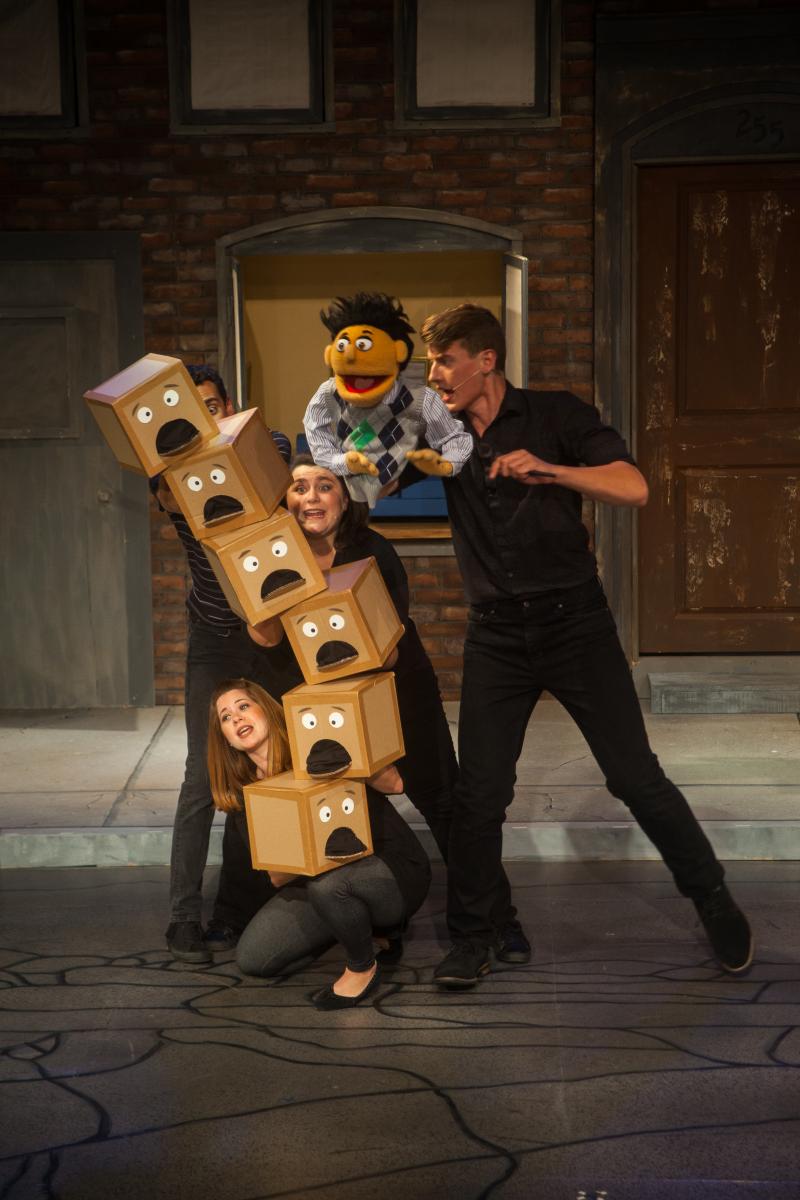 AVENUE Q introduces the audience to a number of larger than life characters, both human, puppet, and even monster, who all live in an apartment building on Avenue Q in New York City. We meet unemployed comic Brian (James Fairchild) and his fiancée Christmas Eve (EJ Zimmerman), odd couple roommates Rod (Weston Chandler Long) and Nicky (Peej Mele), Kindergarten teacher Kate Monster (Ashley Brooke), newcomer Princeton (also Weston Chandler Long) and the building superintendent Gary Coleman (Abena Mensah-Bonsu), yes, that Gary Coleman. These friends and neighbors teach us many lessons about Purpose, the Internet, Commitment, and even Schadenfreude. And they do this through simple, yet hilarious songs, often with adult content and humor.
Playhouse on Park's AVENUE Q is the perfect show to open their season. It is an extremely fun and entertaining production. The cast, as a whole, is very talented, especially when you consider that most not only have to capture the nuances of their characters, but do it through a puppet as well. Weston Chandler Long, doing double duty as Princeton and Rod has a background in puppetry, having trained with the Sesame Workshop. He has a real infectious energy about him throughout the evening and flips between the young Princeton to the conflicted and neurotic (and closeted) Rod with ease. Ashley Brooke who plays Kate Monster and Lucy lends her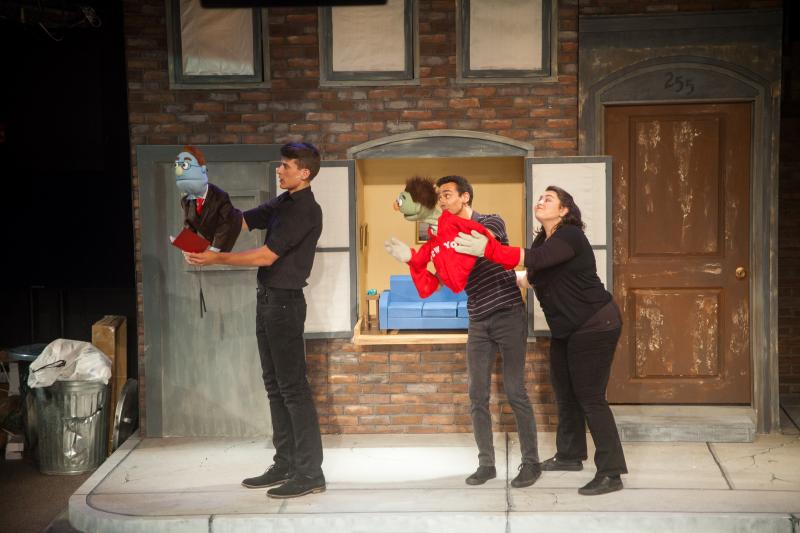 powerhouse vocals to Kate's songs while also capturing Kate's sensitive and shy demeanor. Peej Mele is hilarious as Nicky and Trekkie Monster and perfectly mimics the familiar Sesame Street characters that they resemble. Both Ashley and Peej were favorites from last season's TITLE OF SHOW at Playhouse on Park and it was exciting to see them again taking on two very different roles. EJ Zimmerman is hilarious as the fiery Christmas Eve. Her delivery of "The More you Ruv Someone" is stellar, channeling the powerhouse chanteuses of the past delivering their iconic swan songs in a smoky club. As her husband, Brian, James Fairchild is goofy and funny in each of his scenes. And, as Gary Coleman, Abena Mensah-Bonsur is mostly a characterized version of the familiar TV star, but has a few chances to shine, including the previously mentioned "Schadenfreude." Rounding out the cast is Colleen Welsh who not only plays a very funny Mrs. T. and one half of the Bad Idea Bears, but adeptly teams with others when an extra hand is needed (quite literally.)
The scenic design for AVENUE Q (by Emily Nichols) works extremely well. The static apartment building opens up in numerous ways revealing miniaturized versions of select apartments and allowing for characters to pop in and out easily. Kyle Brand's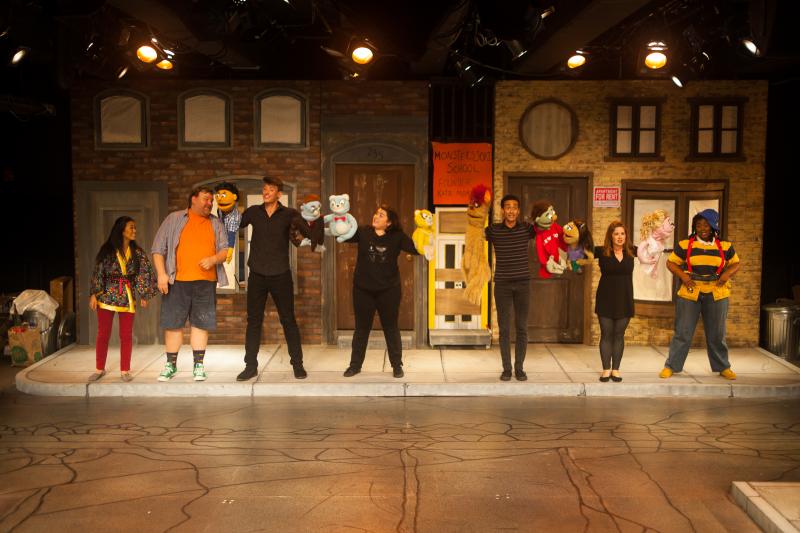 direction and choreography is appropriately frenetic and energized and easily conveys both the over-the-top children's television style of acting as well as the more nuanced and emotional moments between these characters. Kate Bunce's costumes are colorful and fun (as you would expect) and the puppets (conceived and designed by Rick Lyons) are quite creative. The music, which is directed by Robert James Tomasulo and performed by a small band of five is really great.
Overall, Playhouse on Park's AVENUE Q is an irreverent, funny, and grown up exploration of the struggles so many of us face. From the recent college graduate looking for direction, to complicated love (both unrequited and otherwise) life is not always easy. But, with friends to laugh at (and with) and to be there for you when you need them, you can get through it together. And, though your life may feel like it sucks today, we can get through because, it is only for now.
AVENUE Q runs at Playhouse on Park in West Hartford, CT through October 8th. For more information, call 860-523-5900 ext. 10 or visit www.PlayhouseOnPark.org. Playhouse on Park is located at 244 Park Road, West Hartford, CT 06119
Photo credits: Curt Henderson, Imagine It Framed. All credits listed from left to right.
Top Photo: Colleen Welsh as Nicky, James Fairchild as Brian, Peej Mele as Trekkie, Weston Chandler Long as Princeton, Abena Mensah-Bonsu as Gary Coleman, EJ Zimmerman as Christmas Eve
Mid Photo1: Peej Mele, Colleen Welsh, Ashley Brooke, Weston Chandler Long as Princeton
Mid Photo 2: Weston Chandler Long as Rod, Peej Mele & Colleen Welsh as Nicky
Bottom Photo: :EJ Zimmerman as Christmas Eve, James Fairchild as Brian, Weston Chandler Long as Princeton/Rod, Colleen Welsh as Bad Idea Bears, Peej Mele as Trekkie/Nicky, Ashley Brooke as Kate Monster/Lucy The Slut, Abena Mensah-Bonsu as Gary Coleman