THE KING AND I Premieres in Columbus with Ohio Native in Lead Role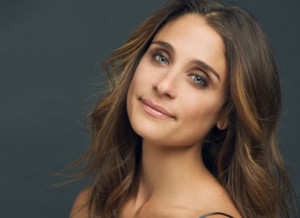 The national tour of the Lincoln Center Theater Production of Rodgers & Hammerstein's The King and I will make its Columbus premiere at the Ohio Theatre April 24-29 with an Ohio native in the lead female role of Anna Leonowens. Hailing from Chagrin Falls, Elena Shaddow takes on the character of the British schoolteacher hired by the King of Siam to educate his wives and children.
"I don't think there is anyone in the American theater who possesses Elena's rare combination of qualities-a soaring, pure voice, extraordinary acting skill, all held together by uncommon grace. She genuinely lights up the stage," stated Director Bartlett Sher. "And she is almost born to play the part of Anna in The King and I. She has power, a strong will, and immense kindness. And she can break your heart onstage. She is all heart, and a perfect voice."
Tickets start at $34 and can be purchased at the CAPA Ticket Center (39 E. State St.), all Ticketmaster outlets, and online at www.ticketmaster.com. To purchase by phone, please call (614) 469-0939 or (800) 745-3000. Orders for groups of 20 or more may be placed by calling (614) 719-6900.
The performance schedule is as follows:
Tuesday, April 24, 7:30pm
Wednesday, April 25, 7:30 pm
Thursday, April 26, 7:30 pm
Friday, April 27, 8 pm
Saturday, April 28, 2 pm & 8 pm
Sunday, April 29, 1 pm & 6:30 pm
Elena Shaddow (Anna Leonowens) and Jose Llana (King of Siam) will lead the national tour of the Lincoln Center Theater production of Rodgers & Hammerstein's The King and I. Joan Almedilla will play Lady Thiang with Brian Rivera as Kralahome, Q Lim as Tuptim, Kavin Panmeechao as Lun Tha, Charlie Oh as Prince Chulalongkorn, Rhyees Stump as Louis Leonowens, and Baylen Thomas as Captain Orton/Sir Edward Ramsey.
The ensemble includes Madeline Trumble, LaMae Caparas, Andrew Cheng, Kristen Choi, Max B. Ehrlich, Marie Gutierrez, Rie Hatanaka, Marina Kondo, Darren Lee,
Stephanie Lo, Michael Lomeka, Saki Masuda, Nobutaka Mochimaru, Yuki Ozeki,
Kevin Schuering, Marcus Shane, Alicia Shumway, Ryan Stout, Michiko Takemasa and Jeoffrey Watson, with Kayla Amistad, Jaden Amistad, Sydney Chan, Spencer Donovan Jones, Noah Toledo, CJ Uy and Keira Belle Young as the Royal Children.
The King and I, directed by Tony Award winner Bartlett Sher, won four 2015 Tony Awards including Best Revival of a Musical. Hailed as "first-rate, sumptuous" (The New York Times) and "too beautiful to miss" (New York Magazine), the production played 538 performances on Broadway at the Vivian Beaumont Theater.
Bartlett Sher is reunited with the award-winning creative team from Rodgers & Hammerstein's South Pacific and The Light in the Piazza. The King and I has music direction by Ted Sperling, sets by Michael Yeargan, costumes by Catherine Zuber (Tony Award winner for The King and I), lighting by Donald Holder, sound by Scott Lehrer, and casting by Telsey + Company/Abbie Brady-Dalton, CSA. The King and I features choreography by Christopher Gattelli based on the original choreography by Jerome Robbins.
One of Rodgers & Hammerstein's finest works, The King and I boasts a score that features such beloved classics as "Getting to Know You," "Hello Young Lovers," "Shall We Dance," "I Have Dreamed," and "Something Wonderful." Set in 1860's Bangkok, the musical tells the story of the unconventional and tempestuous relationship that develops between the King of Siam and Anna Leonowens, a British schoolteacher, whom the modernist King, in an imperialistic world, brings to Siam to teach his many wives and children.
For more information, please visit www.thekinganditour.com, or on Facebook and Twitter.