Columbus Children's Theatre Presents BRING IT ON: THE MUSICAL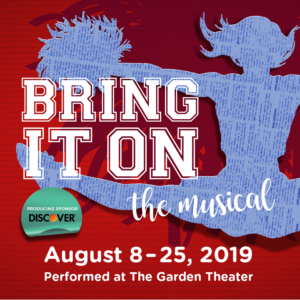 Do you have what it takes to win? CCT presents the regional premiere of Bring It On: The Musical in two different locations! The premiere weekend from August 8-10, 2019 will be performed at Eastmoor Academy High School, and the weekends following from August 16-25, 2019 will be performed at The Garden Theatre.
Join this high-flying cast of high schoolers who will do whatever it takes to get to the top. Follow Campbell through the tangled mess of high school as she is redistricted from Truman High during her senior year, which lands her with no cheerleading team to back her up. Campbell and Danielle, the captain of the dance team at Jackson High, band together to form an unlikely bond and create a team ready to take on the championships. Bring It On: The Musical is inspired by the hit film of the same title, and takes the audience on a journey of friendship, determination, and what it means to really become a winner. This production features Maria Dalanno (Campbell), Amirah Lomax (Danielle), Caleb Jeffries (Cameron), Keegan Sells (Randall), Alese Johnson (Nautica), Marshawn Clodfelter (La Cienega), Ellie Kahle (Bridget), Tanner Sells (Steven),
Avery Bank
(Eva),
Sophie Stiltner
(Skylar), Kate Mason (Kylar), William Harrington (Twig), Toby Hattemer (Ensemble),
Corinne Gorgas
(Ensemble), Whitney Locke (Ensemble), Carly Sells (Ensemble), Hope Adair (Ensemble), Lauren Drexel (Ensemble), Zuri Clarno (Ensemble), Bianca Moore (Ensemble), Jocelyn Edwards (Ensemble), Mari Hannah (Ensemble), Samaria Rodgers-Gossett (Ensemble), Karrin Smith (Ensemble), Nana Eschun (Ensemble), Amelia Starcher (Ensemble), Elijah Underwood (Ensemble), Maya Seri (Ensemble),
Kyle Channell
(Ensemble),
Katie Wagner
(Ensemble & Skylar cover).The production staff includes
Dionysia Williams
(Director & Choreographer), Seth Harms (Asst. Director), Lisa Glover (Associate Choreographer), Patrick Carmichael (Cheer Coordinator), Jesika Lehner (Production Coordinator), Abby Zaszotek (Music Director), Zac DelMonte (Music Supervisor), Stacie Bigl (Stage Manager),
Kyle Swearingen
(ASM), Hannah Pohlman (Prod. ASM), Paul Kavicky (Sound Designer), Geoff McTurner (Lighting Designer), Izzy Nichols (ME Intern), Michael Brewer (Scenic Design), Isaac Steinhour (Technical Director),
Edward Carignan
(Costumer), Mitchell Kallner (Asst. Costumer), Marya Spring-Cordes (Acting Teacher), Dr.
Kathleen Allen
(Vocal Music Teacher). Columbus Children's Theatre will present "Bring It On: The Musical" Thursday and Friday at 7:00pm, and Saturday at 3:00pm at Eastmoor Academy High School, 417 South Weyant Avenue, Columbus 43213. And from August 16-25, CCT will present "Bring It On: The Musical" Thursday, Friday and Saturday at 7:00pm and Saturday and Sunday at 1:00pm at The Garden Theater, 1187 N High St, Columbus 43201. Tickets are $19-$42. Call 614-224-6672 or visit
www.columbuschildrenstheatre.org
.
Related Articles View More Columbus

Stories

Shows
More Hot Stories For You