BWW Review: MARK CRABTREE'S WHEN PIGS FLY at Short North Stage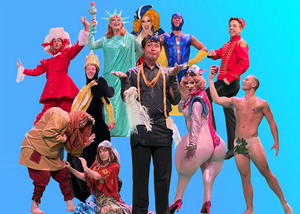 When the curtain falls on the Short North Stage version of Howard Crabtree'S WHEN PIGS FLY, the silence can be almost deafening.
It is not that the show lacks humor, talent, or heart. What the musical revue, written by Dick Gallagher and Mark Waldrop, lacks is an audience.
The current COVID 19 pandemic may have kept the Short North Stage from performing the 1996 musical live. However, director Edward Carignan and videographer Jerri Shafer filmed the cast's individual performances, spliced the bits together and now are currently live streaming the show. WHEN PIGS FLY will be available for viewing Sept. 21-30 for $25.
"It was most challenging to film each actor individually and then meld them together to make them look like they are onstage (at the same time)," Carignan said. "The actors did a remarkable job of working off each other even without being in the space together."
The result is pure dragon acid (drag on acid), a wildly campy musical that still finds a way to make poignant statements between its punchlines. The revue that consists of upbeat numbers, flashy costumes and creative word play ran for two years off Broadway and earned the Outer Critics Circle Award for Best Off-Broadway Musical and the Drama Desk Award for Best Musical Review.
The loosely strung together plot centers on Howard (Jiovanni Daniel), who is trying to put together a Ziegfeld-like revue through a series of hurdles and self-doubt. Howard is haunted by the memory of his guidance counselor Miss Roundhole (Luke Bovenizer), who encourages a younger Howard to choose a more mundane choice on a vocation survey.
Roundhole berates Howard, "You were supposed to pick one of the pre-printed (career choices), not write something in."
"But you didn't have my career goal on your list," Howard counters.
Roundhole hisses, "Being an Ice Capade is not a career goal."
While Nina West, who starred on the Emmy-winning RUPAUL'S DRAG RACE, is one of the most familiar names in the cast, Daniel, Bovenizer, Zachary Bigelow, Nick Hardin, and Thom Christopher Warren round out the extremely talented troupe.
The whole show-within-a-show rewards its audience with sketches like "Coming Attractions," which previews "new" musicals like "Quasimodo" (a love story between the Hunchback of Notre Dame and Esmeralda with the sample lyric "I've got a hunch ... I'm in love") and "Annie 3."
One of the show's highlights was "Not A Man," which almost works better as a filmed piece than it would in a live theater setting. At the beginning of the song, the camera focuses in on Bigelow's upper body as he pumps iron. He complains, "I want to blend in/I want to belong/but I can't fight this feeling that something's wrong. Why do they say I am not all man?" Shafer then pulls the frame back to reveal Bigelow's character is in fact a centaur, man from the waist up, horse from the belt line down. Bigelow's character then concludes "I've got muscles to burn, a studly physique. You have to admit my silhouette is classic Greek ... Part of me is hung up on fitting in and part of me is hung like a ..."
The show also features Hardin's earnest delivery of a torch song trilogy throughout the show. In 1996, the trilogy centered around the singer's preoccupations with Newt Gingrich, Strom Thurmond, and Rush Limbaugh. These, of course, would seem very dated. In the SNS version, he is preoccupied with the Donald, Mike Pence and Vladimir Putin.
"I instantly called Waldrop, to ask if he would support a virtual production of this fun revue," Carignan said. "Mark was on board right away, and offered to write some new, pandemic-specific material for the piece. After that, everything fell into place."
"While there was no live audience, we did our best to be a virtual audience for each other and with these funny guys it wasn't much of an issue to keep the laughter flowing."
WHEN PIGS FLY will be available for streaming on Vimeo Sept. 21-30. Tickets are $25. Visit https://www.shortnorthstage.org/when-pigs-fly to purchase tickets.