Review: HAIRSPRAY at Ohio Theatre - An Inspiring Musical with Blazing Energy
BWW Review: HAIRSPRAY at Ohio Theatre - An Inspiring Musical with Blazing Energy
The audience was thrilled to welcome home Columbus's own sextuple superstar, Andrew Levitt aka Nina West, who has successfully conquered the entertainment genres of TV, film, theatre, music, web series, and most recently as an author of children's book, "The You Kind of Kind." His role as Edna Turnblad is just icing on the cake.
Based on the film written and directed by John Waters, this new non-equity touring production by NETworks reunites Broadway's original Director Jack O'Brien and Choreographer Jerry Mitchell, with book by Mark O'Donnell and Thomas Meehan, and original score by Academy Award-nominated Marc Shaiman with lyrics by Marc Shaiman and Scott Wittman.
HAIRSPRAY is an endearing and timely story set in Baltimore, Maryland in the 1960's. It tells of quirky, pint-size/plus-sized, white teenager Tracy Turnblad who dreams of dancing on "The Corny Collins Show" and integrating racial equality onto the show. "I wish every day was Negro Day!" she joyously proclaims. Tracy faces bullying from the network producer, Velma, and her pretentious and popular daughter Amber who calls her "Beehive Buffalo" among other spiteful remarks. The relentless and tenacious Tracy eventually aligns with host Corny Collins, heartthrob Link, and Motormouth Maybelle who help her succeed in her mission of integration. Throw in brightly colored costumes, big hair, infectious tunes, whirlwind choreography, and a superb cast led by Columbus's own Andrew Levitt, and you get a fun, lively musical with a timely message of inclusion that's not to be missed.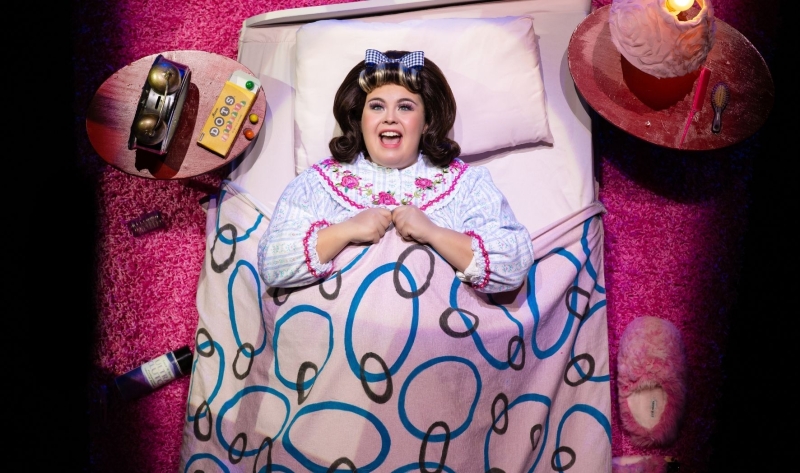 Niki Metcalf is dynamite as Tracy Turnblad. She embodies a confidence and positivity that is wonderfully contagious. She's perfectly bubbly and charming wrapped up in a blazing ball of energy and spitfire who is ready to "eat some breakfast then change the world." And her singing and dancing are spectacular!
Andrew Levitt aka Nina West as Edna Turnblad is a master at his craft. She received roaring applause from the moment she appeared, and commanded the stage with every scene. Previously played by Broadway's original Tony-Award winner Harvey Fierstein and later John Travolta in the most recent film version, Levitt had big shoes (or hair) to fill. And he did so with a motherly heart, tender humility, and big, boisterous passion.
On opening night, Sage played the role of Seaweed. He was a dynamo of energy, enthusiasm, and extraordinary natural talent. Only a junior at the University of Cincinnati, he will have a long career in theatre ahead of him.
Other standout performers are Sandie Lee as Motormouth who blew the roof off the theatre in "I Know Where I've Been," Emery Henderson as Tracy's spunky friend Penny Pingleton, Joi D. McCoy as Little Inez, a charming Corny Collins played by Billy Dawson, and mother/daughter team Velma and Amber Von Tussle as played by Addison Garner and Ryahn Evers. The rest of the cast all brought their A-game with incessant momentum and heartfelt joy, especially in the anthem "You Can't Stop the Beat." Columbus fans especially appreciated the references to our hometown with some shout-outs to our college Buckeyes.
There's no better time than now to see HAIRSPRAY which sends a powerful message of acceptance, equality and inclusion in a way that's not preachy, but rather compassionate, light-hearted, fun, and with a whole lot of gusto.
Tony-Award winning HAIRSPRAY, by original director Jack O'Brien and original choreographer Jerry Mitchell, is now playing through November 13 in Columbus at the Ohio Theatre, presented by CAPA and PNC Broadway in Columbus. To purchase tickets, visit www.CBUSArts.com or www.BroadwayInColumbus.com, call 614-469-0939 or visit the CBUSArts Ticket Center at the Ohio Theatre (39 E. State St.). Ticket prices start at $39. Learn more about the new touring production at www.hairspraytour.com.