Mavis Staples Comes to Playhouse Square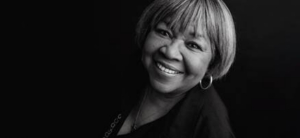 The Rock & Roll Hall of Fame will honor the powerful voice of soul and gospel by bestowing on Hall of Fame Inductee Mavis Staples the new Rock Hall Honors award, sponsored by Klipsch Audio and PNC Bank. A career celebration and full night of music from Mavis takes place at Playhouse Square's KeyBank State Theatre at 8 p.m. ET on Friday, September 20, 2019.
Tickets can be purchased at www.playhousesquare.org, at the Playhouse Square Ticket Office and by phone at 216-241-6000. Tickets will go on sale to Rock Hall Members and Donors beginning Wednesday, August 14, and to the general public on Friday, August 16, both at 11 a.m. ET. A limited number of premium seats and VIP packages will also be available by contacting the Rock & Roll Hall of Fame's development office at (216) 515-1201 or development@rockhall.org.
"Mavis is one of the greatest singers of all time and her signature voice has crossed musical boundaries from gospel to soul and Americana and all points between. The impact of her work is reflected by the power of music in our lives, which is what Rock Hall Honors is about," said Greg Harris, CEO and President, Rock & Roll Hall of Fame.
"I am so thrilled to receive the Rock Hall Honors tribute. When my family, the Staple Singers, were inducted into the Rock & Roll Hall of Fame, it was exciting for the whole family. For me to now come back on my own as a solo artist to receive this honor is just beyond belief and I know my father, Pops Staples, would be so proud. I am thrilled that they would think to honor me with this, and I can't wait for the event in September," said Mavis Staples, 1999 Rock & Roll Hall of Fame Inductee.
Mavis takes the KeyBank State Theatre stage on Friday, September 20 with her breathtaking voice that powered one of America's most celebrated family bands, the Staple Singers. Fans can expect a full set of her hits as well as recent releases and a powerful lineup of artists that will perform on stage with her. Additional performers will be announced shortly.
Following the concert, on Saturday, September 21, fans can head to the Museum to enjoy a day of live music, films, activities, and spotlight artifacts to celebrate the life and music of Mavis Staples. In addition, a keynote and panel discussion celebrating Mavis' musical and cultural impact will be held on Thursday, September 19 at Case Western Reserve University. More information about these events will be shared in the coming weeks.
Mavis toured the world with her family as part of the Staple Singers, creating some of the best and most inspirational music of the past half-century. She's sang for the Rev. Martin Luther King Jr. and spent weeks on the Billboard charts. She's collaborated with a wide variety of musicians, including Prince, The Band, Van Morrison, Willie Nelson, Chuck D, Norah Jones, Hozier, Gorillaz, and Bob Dylan.
Rock Hall Honors is an evolution of the longstanding Music Masters series, which began in 1996 with a show honoring Woody Guthrie and continued through 2016 paying tribute to Johnny Cash, featuring artists performing works of the honorees. Rock Hall Honors makes the honoree the star performer, joined by fellow artists of his or her choice. The format change shines a spotlight on the honoree's impact, influence and legacy.